Tell us a bit about yourself...
I am from a small town in the south of Italy, but I have been living in London for the past eight years. I studied graphic design, but soon realised that working on a computer made me feel very detached from what I was making, and I started feeling the need to reconnect with drawing and painting, and creating things with my hands. When I moved to London I decided to attend the MA Illustration course at the Camberwell College of Arts, which was a crucial time for my creative development. Since graduating I have been freelancing and teaching illustration at the Chelsea College of Arts.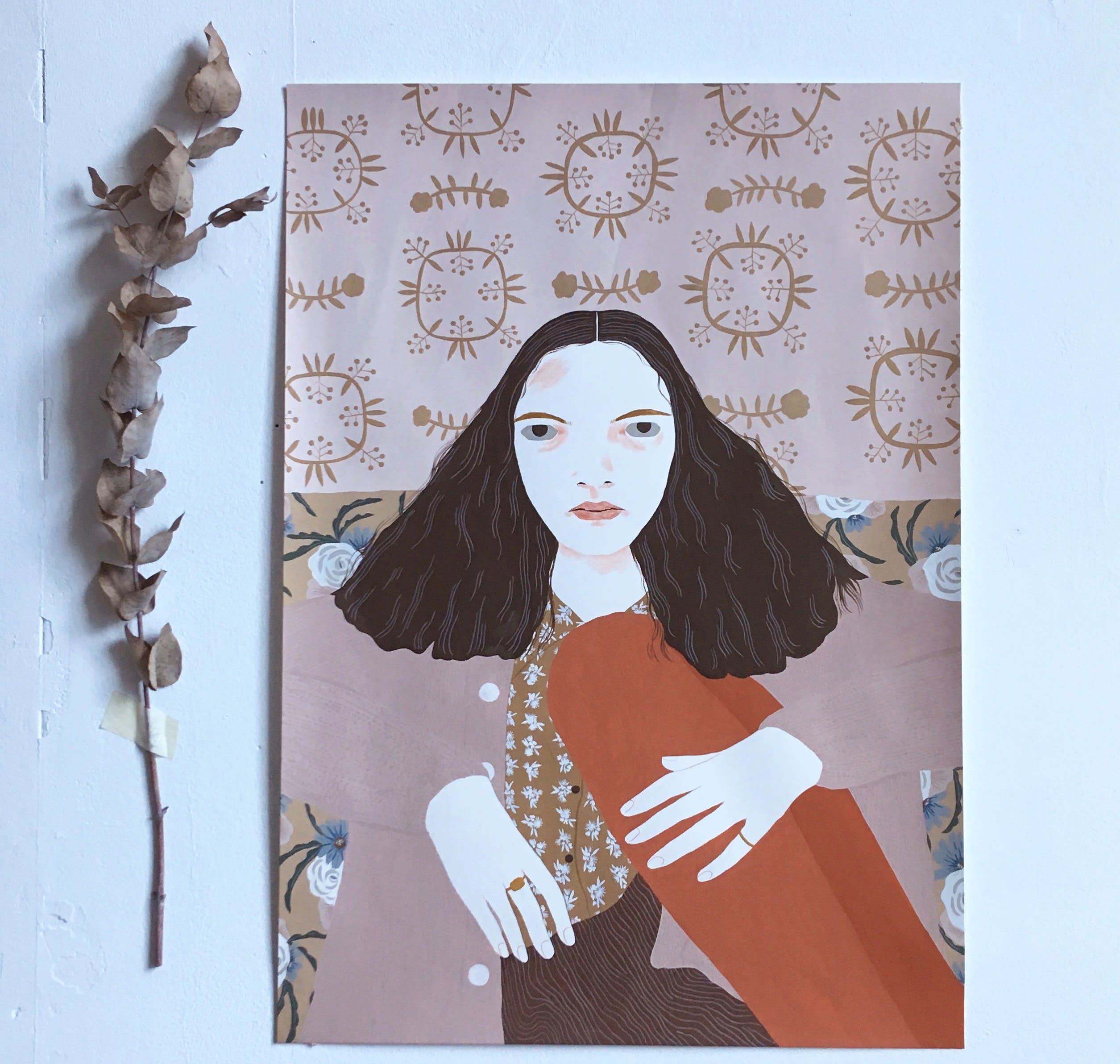 Describe your average working day
I start every day by walking my dog Kira to the park, which is also the route to my studio in Hackney Wick. I feel lucky to have the chance of being surrounded by nature every day, as nature is also one of my main source of inspiration. I like painting with natural light, so the time I spend in the studio is always very intense, taking just a few breaks for coffee. I work quite quickly, and I find it hard to leave a painting unfinished - it ends up being something I cannot stop thinking about until I have completed it.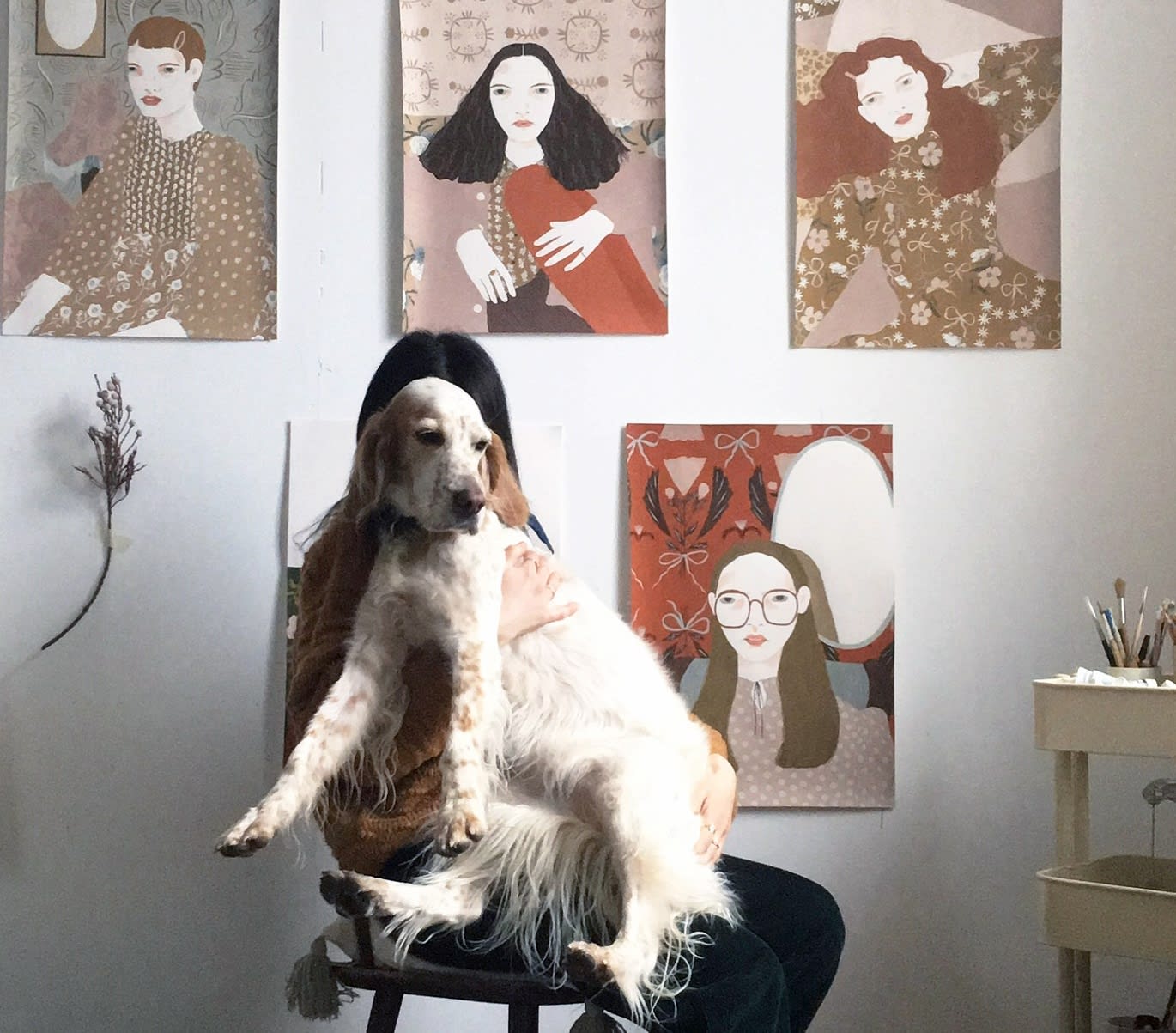 What inspires your work?
What surrounds me is always quite inspiring to me, even if it is not directly translated visually into my work. I am attracted to decorative motifs like flowers and leaves, as a representation of the natural world I feel a connection with. The female figure is my main source of inspiration, as a reflection of the way I perceive myself, as well as the women I walk past everyday. I try and convey a sense of intimacy in the way the characters are often alone, but also the strength and fragility of these women. The way I paint my women evolves constantly as my sense of self does.
Which is your favourite artwork in the Contemporary Watercolour Competition?
I like the simplicity and intimacy captured in the objects painted by Clare Duvergier, and the muted colours and nostalgic atmosphere in Philip Youd's painting.
Your works often show details of pattern and decoration. Is fashion and textile design something that you're interested in?
I am fascinated by patterns and shapes, and how they complement the people who wear them, while saying something about them. I have always been interested in fashion, and grew up surrounded by fashion magazines my mum would always buy. Some of the textile elements are a reference to interiors I visited or was surrounded by as a kid. Others mirror my interest in the work of textile designers like William Morris, Anni Albers, Maija Isola, as well as medieval botanical illustrations and herbaria.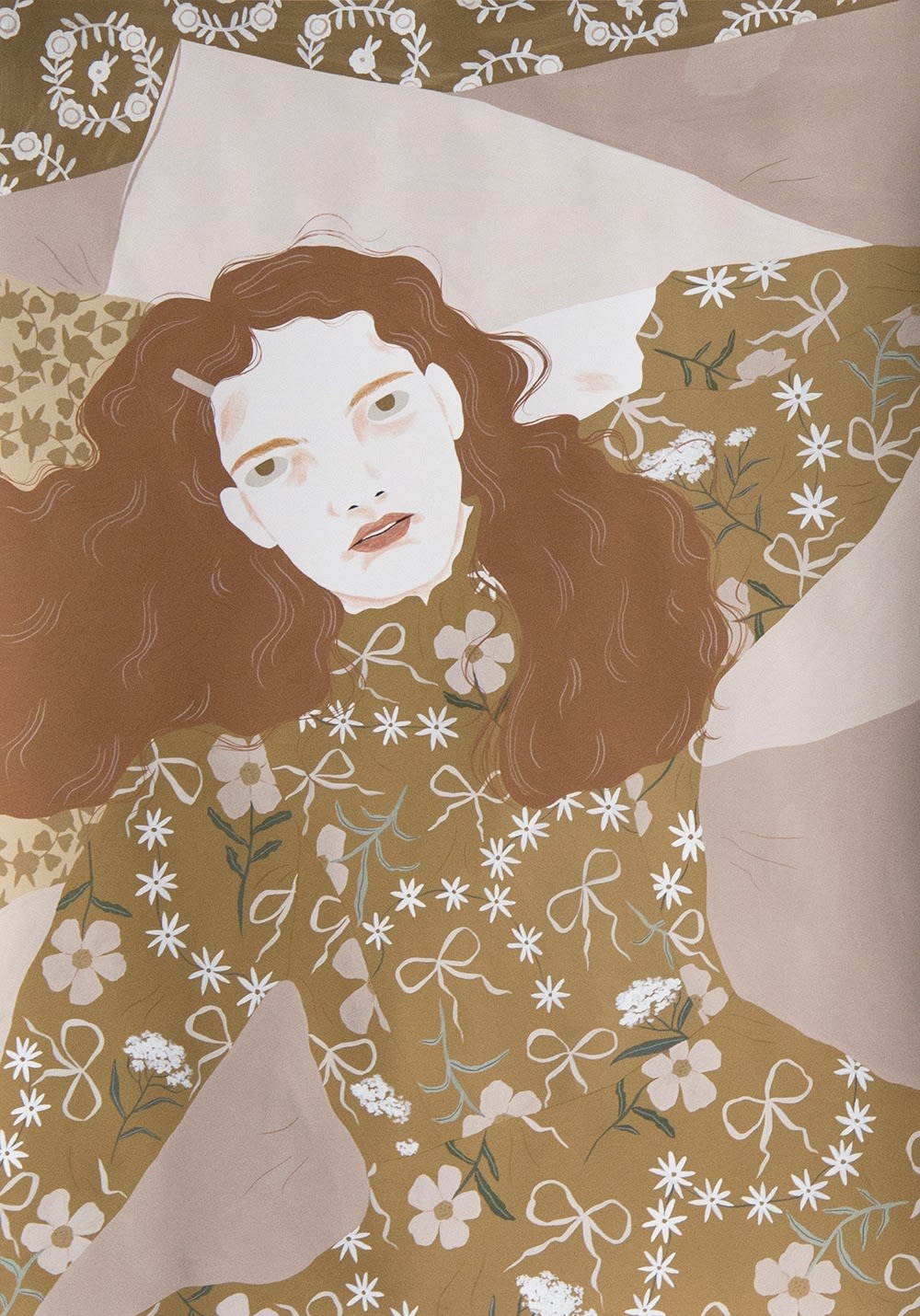 Alessandra Genualdo, Karin's Face, gouache & coloured pencil, £1200
Your Instagram account has over 50,000 followers, wow! Do you have any tips or advice for budding artists who need help with self promotion?
I would suggest to be genuine in the content posted, so your online presence would reflect your real interests and personality. It is good to be consistent, but at the same time not to let the pressure of constantly posting something new get to you. Creating new work for yourself not your followers is the most important thing.
How do you feel to be the first ever winner of the RWS Young Artist Award, giving you guest membership to the Society for the next 2 years?
It is an incredible and unexpected honour, and I am really looking forward to be able to exhibit at the Bankside Gallery in the next two years.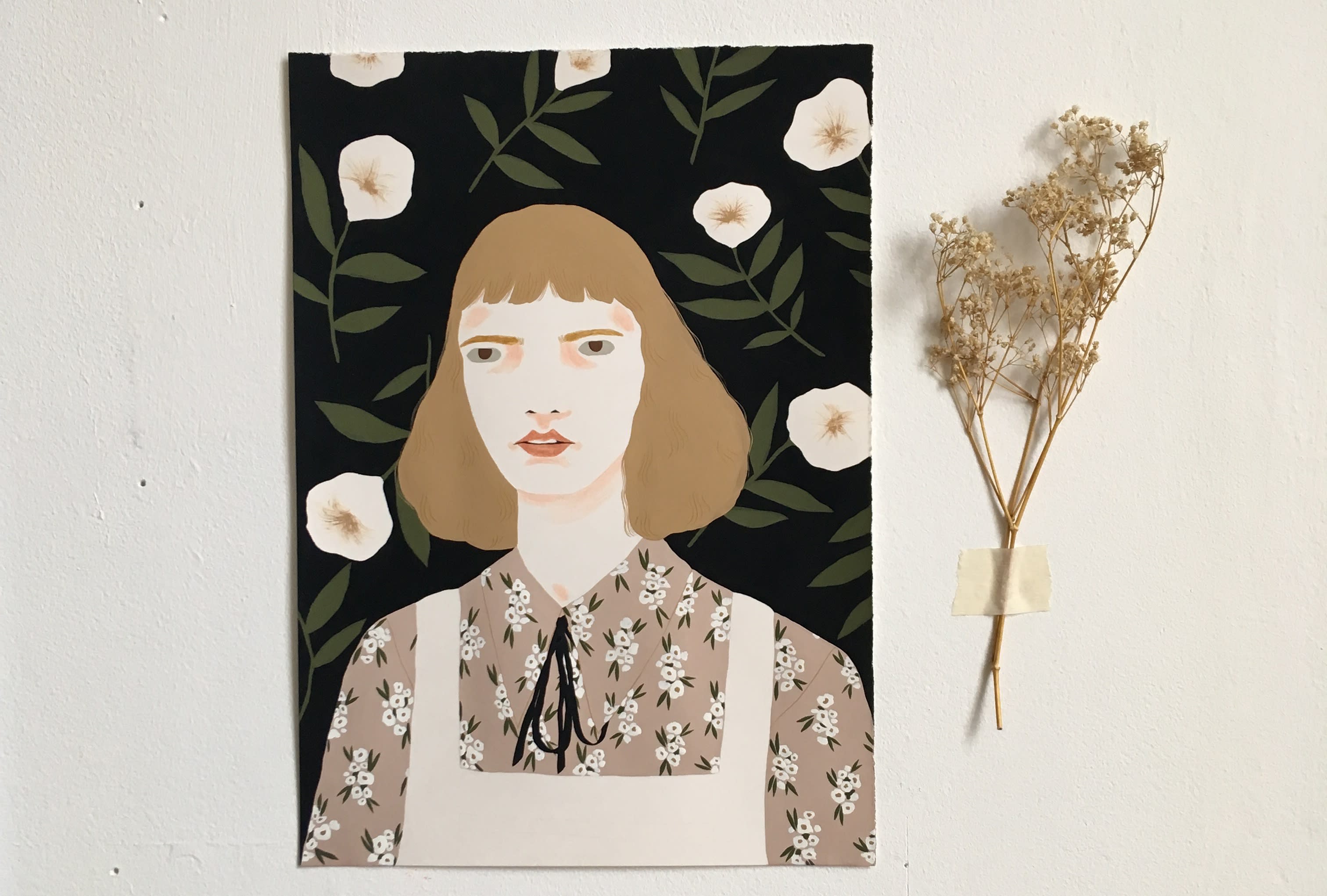 Which artists do you admire?
I have been influenced and inspired by a variety of artists since approaching painting - some of my favourites are Tove Jansson, Matisse, Jonas Mekas, Niki de Saint Phalle, Pipilotti Rist, Lily Van Der Stokker, Grandma Moses, Henri Rousseau.
When making your work, what type of person do you picture buying the piece? Or who would be your dream client?
To be honest I never imagine who would buy my paintings when I make them, but one day I would love for them to be in the home of one of my favourite artists, musicians or filmmakers.
Do you have any art in your own collection?
I like to collect old botanical illustration prints and vintage drawings of English setters, including a painting I inherited from my grandfather, who passed his passion for hunting dogs to me.
What do you aim to achieve in your 2 years as an RWS guest member?
Having the chance of exhibiting in the RWS shows will definitely push me to be more prolific and grow further as an artist. I would like to experiment more with bigger scale paintings, and to get inspired by the other artists members of the RWS.
As the recipient of the RWS Young Artist Award, Alessandra will receive guest membership to the Royal Watercolour Society for the next two years allowing her to exhibit in Society exhibitions at Bankside Gallery.
---
More like this on the Blog...
Read / Watch: Abstract Art: In the Studio with Lisa Traxler
Read: Interview with Gertie Young
Read: Interview with Jill Leman
Watch: In the Studio with Bridget Moore.
Watch: In the Studio with James Faure Walker.
Watch: In the Studio with Denis Ryan.
April 12, 2019