Richard Russell // Weekend Gallery Manager
I responded to this picture largely due to the stunningly captured atmospheric moment recording the transition between day, evening and night.

Manmade lighting emerges and overlaps harshly with Nature's softer disappearing daylight, when her skies subdue and succumb to the dark.

Sophie's use of watercolour has always been impressively used, but here there is more edgy detail and the air is pungent with moisture and a soaking mistiness. Buildings emerge and evaporate as the damp clouds dissolve, revealing and concealing with the ghostly mist that's almost fog-like.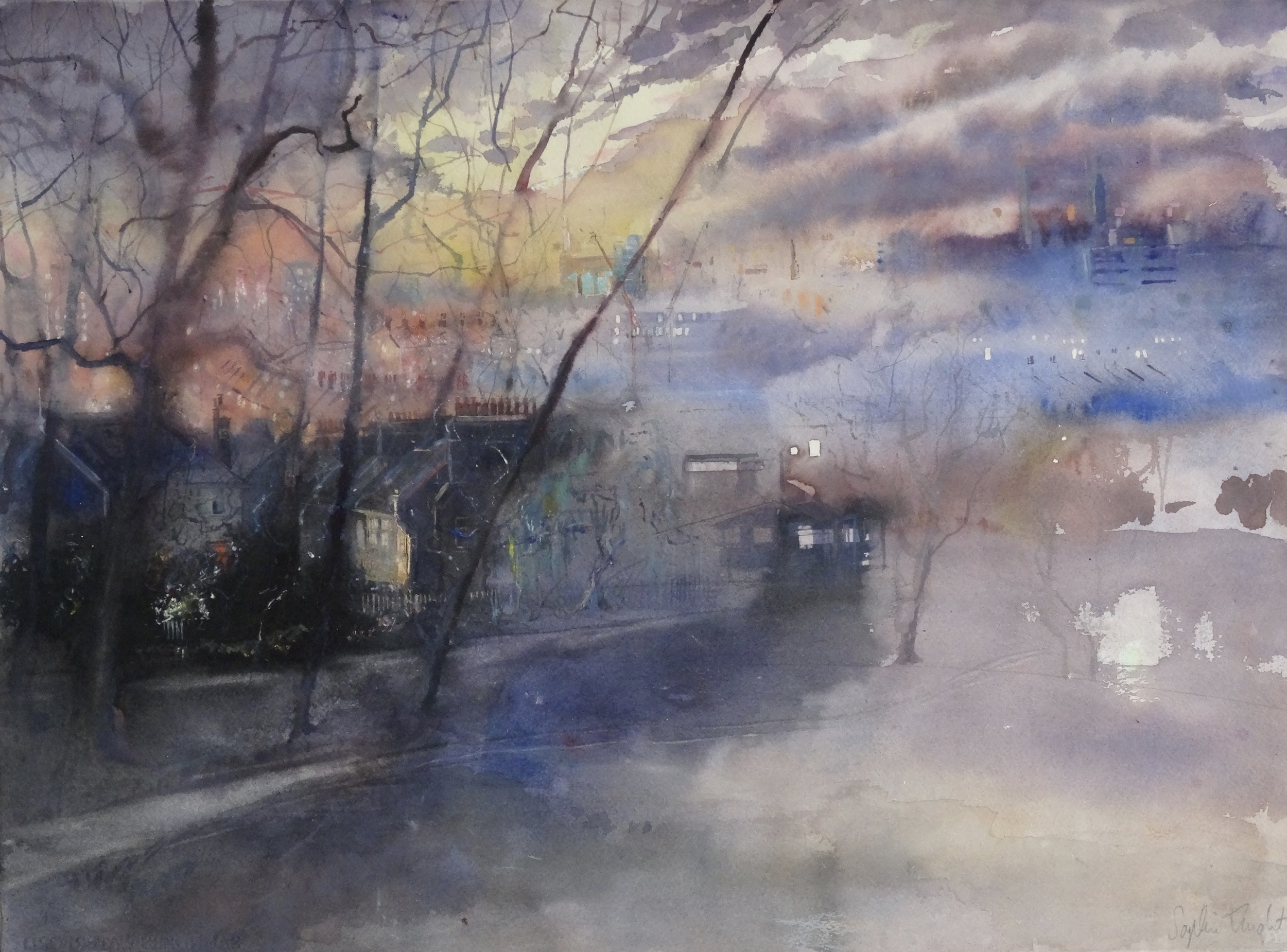 Day Turns to Night at Telegraph Hill, London
mixed media
£1400
---
Tim Donovan // Gallery Assistant
Even before you know the title, it is instantly recognisable as India. I really like the light that Stuart has achieved with his use of colours and the sense of movement that his style conveys. There is a lot going on in this picture!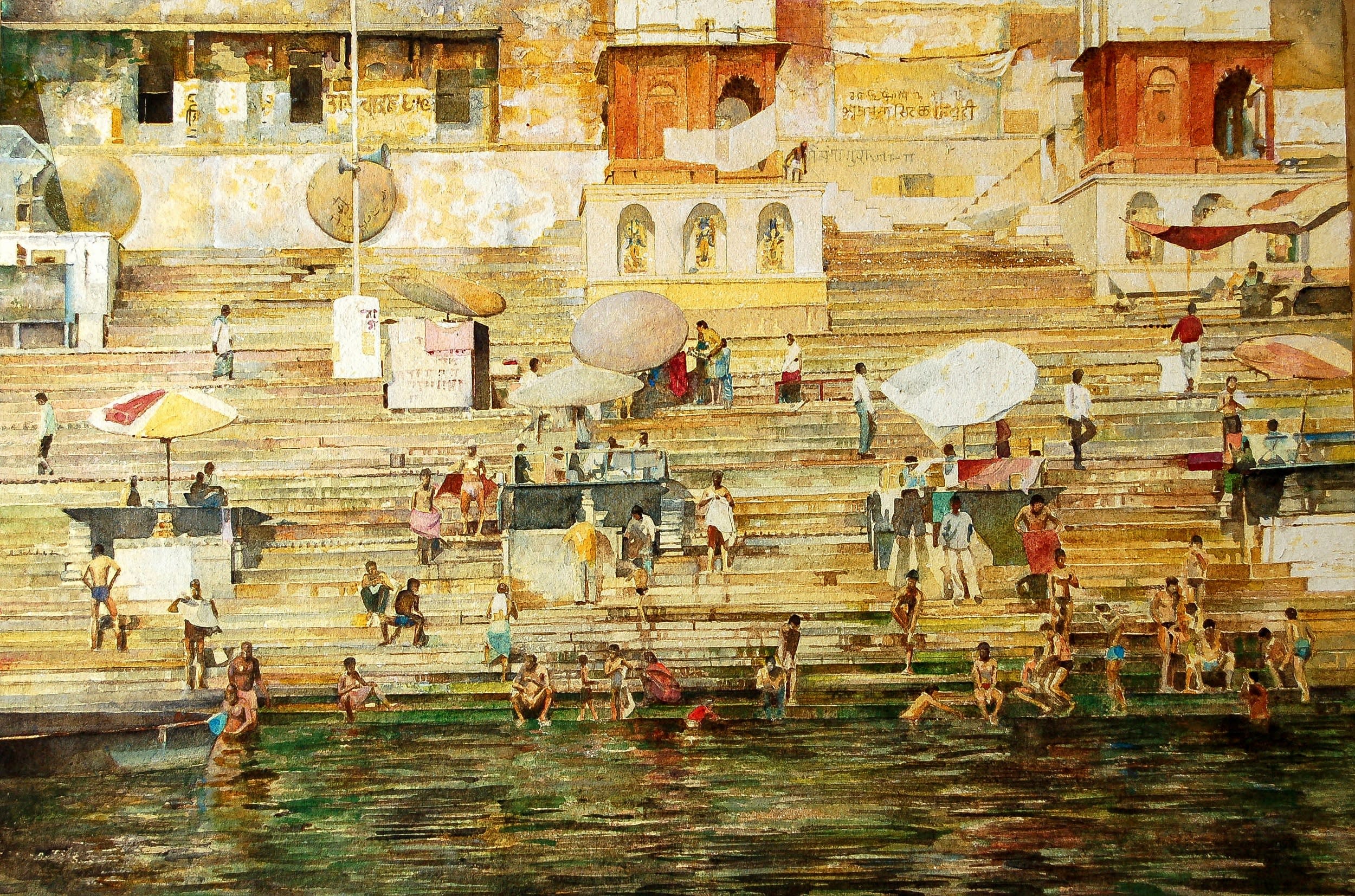 Varanasi Bathers
watercolour
£2700
---
Edith Dormandy // Gallery Assistant
Rika is one of the RWS's newest members, and I was excited to see her work for the first time in the Contemporary Watercolour Competition earlier this year. As I understand it, she has been inspired by an amazing display of microscope slides at the Grant Museum at UCL. I have long loved this museum and I really like the meticulous and yet free way Rika has responded to the specimens.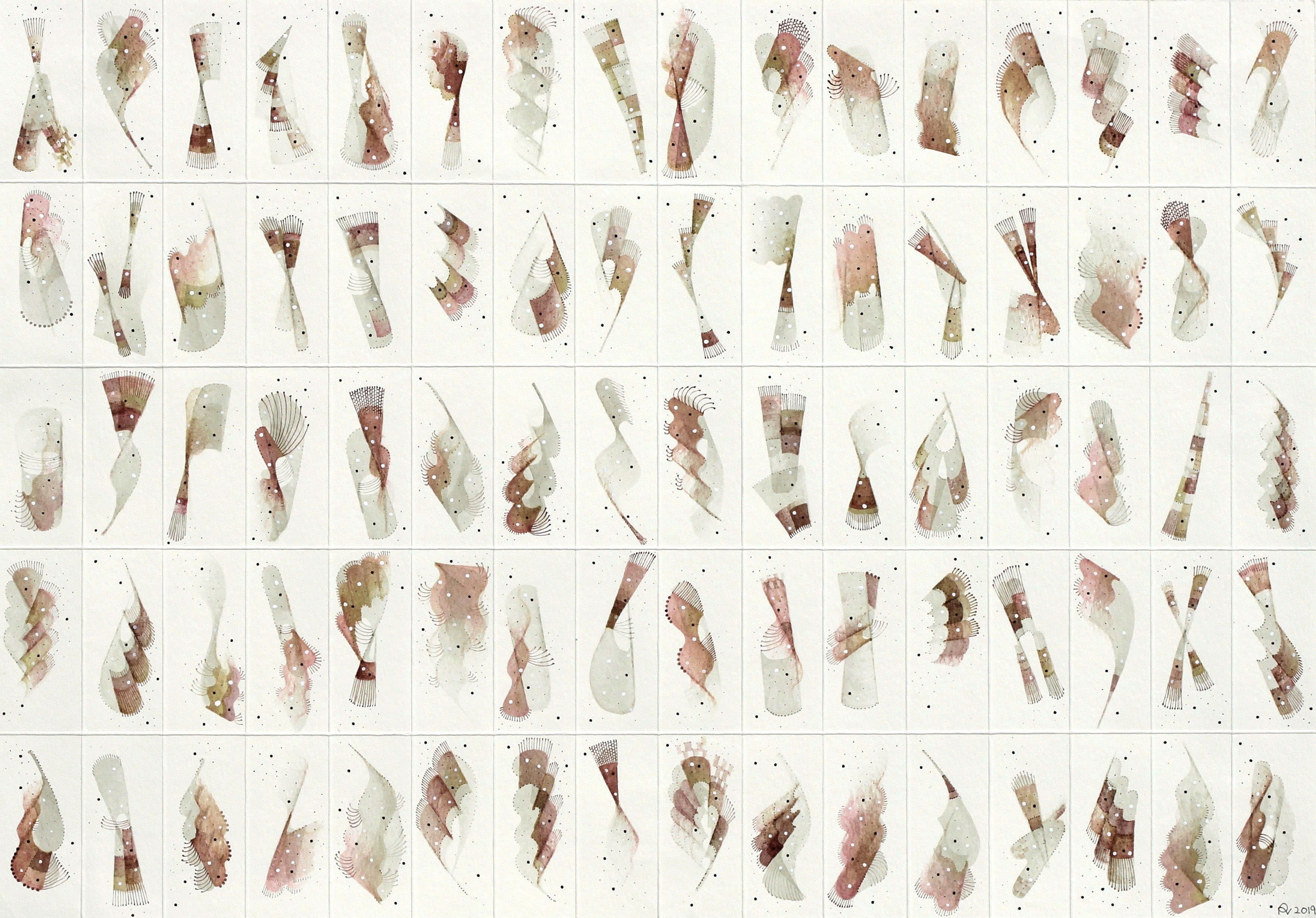 Red Façade No.2
ink
£650
---
Sali Davies // Weekend Gallery Manager
My favourite painting? By Jim Dunbar. As usual, it's a case of an almost microscopic examination of texture. Weatherbeaten wood and metal against a tranquil loch. An enigmatic and beautifully executed work.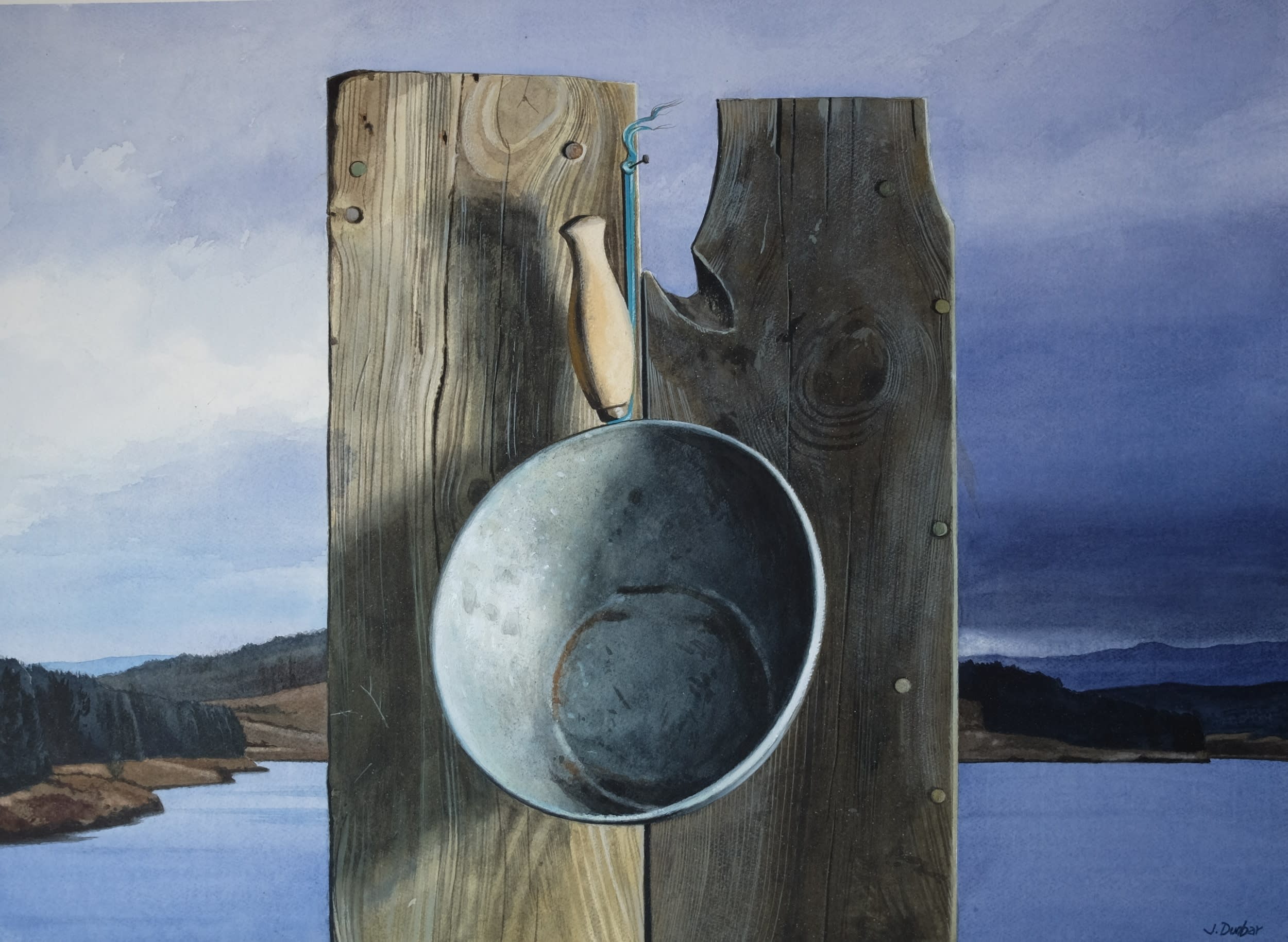 Scoop
watercolour
£1950
---
Ed Parsons Brown // Gallery Manager
When looking at it I feel I am zipping between looking at an abstract painting and looking at a forest floor.
There is a pleasing ambiguity about how far away things are, further complicated by the effect of things like reflections and shadows. I think this makes it more dynamic.
It has a vibrant sense of the place, light conditions etc. it represents, but also stands alone as its own object.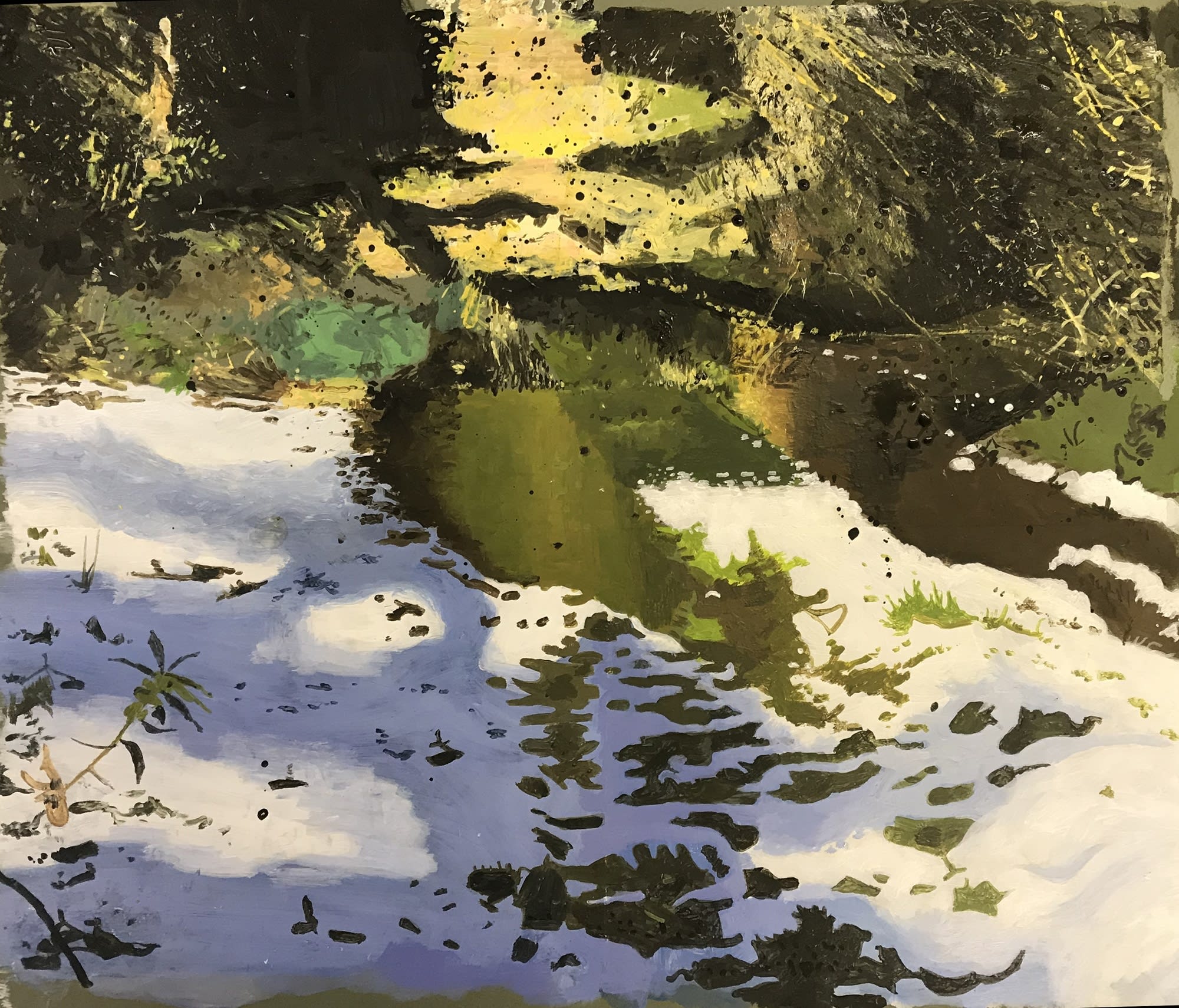 Drax Forest Dorset - Winter Study 1
acrylic
£320
---
Jasia Szersynska // Gallery Manager
The monumental temple has a great presence but it is the depiction of the school party listening attentively to their guide which I love. The artist manages to capture their mood and thoughtfulness with just a few colourful brushstrokes. I find it totally extraordinary!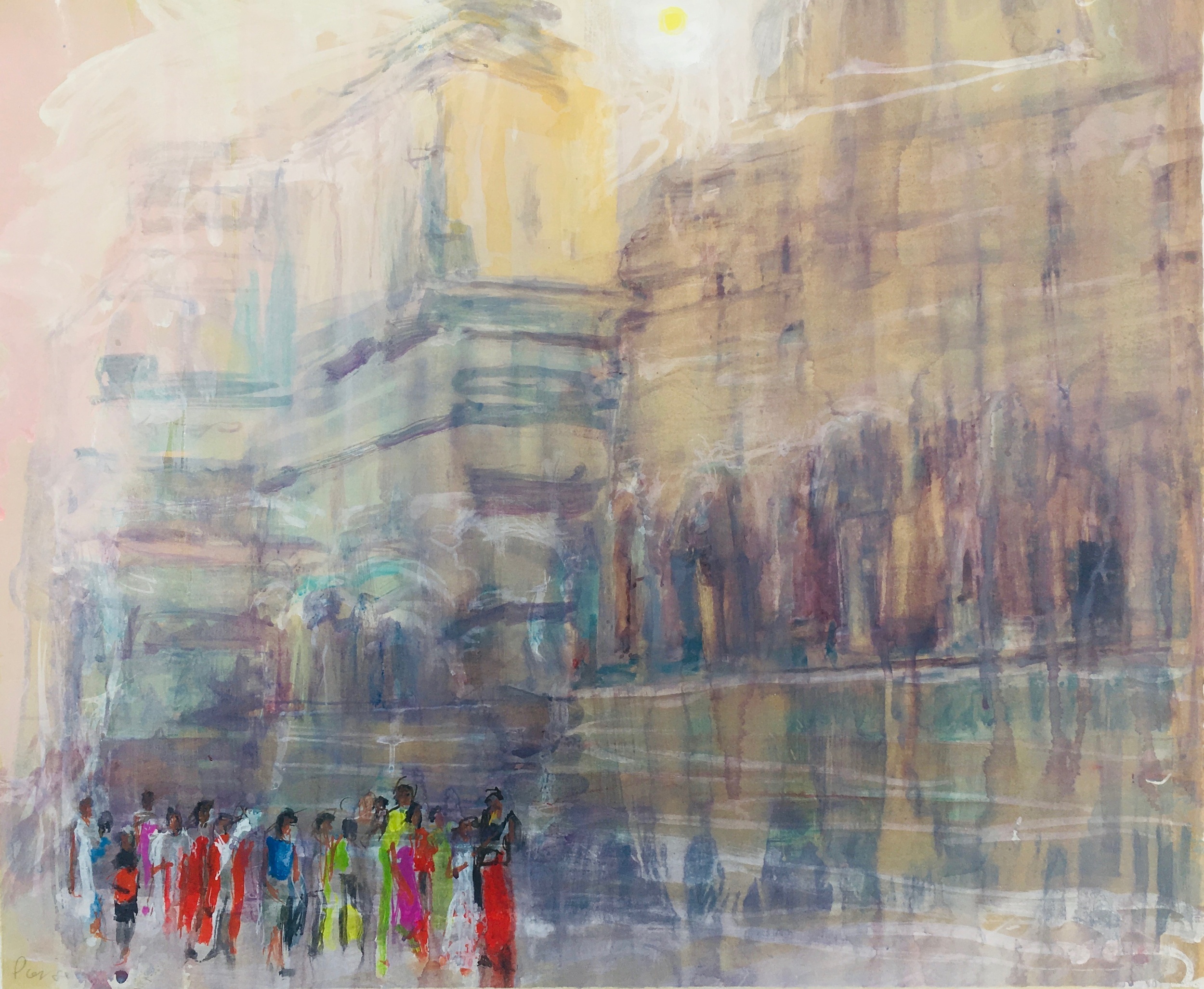 School Party in Great Kailasa Temple
watercolour & ink
£550
In the Studio by Royal Watercolour Society continues at Bankside Gallery until Saturday 27 April. View other works from the exhibition here.
April 11, 2019