When Picasso said "Art washes the dust of everyday life away from the soul" it's unlikely that he was thinking of Bankside Gallery but he certainly could have been.
Home to the Royal Watercolour Society and the Royal Society of Painter-Printmakers and host to a myriad of frequently changing exhibitions, it's been variously described by its fans as exciting, friendly, unexpected, elegant, refreshing, welcoming, fun and, perhaps best of all, free!
First-time visitors and casual passers-by often remark that it's a little gem. Collectors love the fact that they can purchase the art on exhibition and the small but expertly stocked bookshop has its own set of devoted fans.
It's equally unlikely that Oscar Wilde had Bankside in mind when he claimed that "All art is quite useless"; certainly the enormous pleasure that the gallery provides its visitors seems to prove him wrong!
We're delighted to be launching the BG Feed. Here we hope to inform, entertain and educate readers with an ongoing series of posts related to all things BG. Enjoy!
---
For our first post we'd like to introduce the Presidents of our two historic societies, Jill Leman (President of the RWS) and Mychael Barratt (President of the RE). We've asked Jill and Mychael to answer a couple of quick fire questions to tell you a bit more about them and the artists they represent.
JILL LEMAN PRWS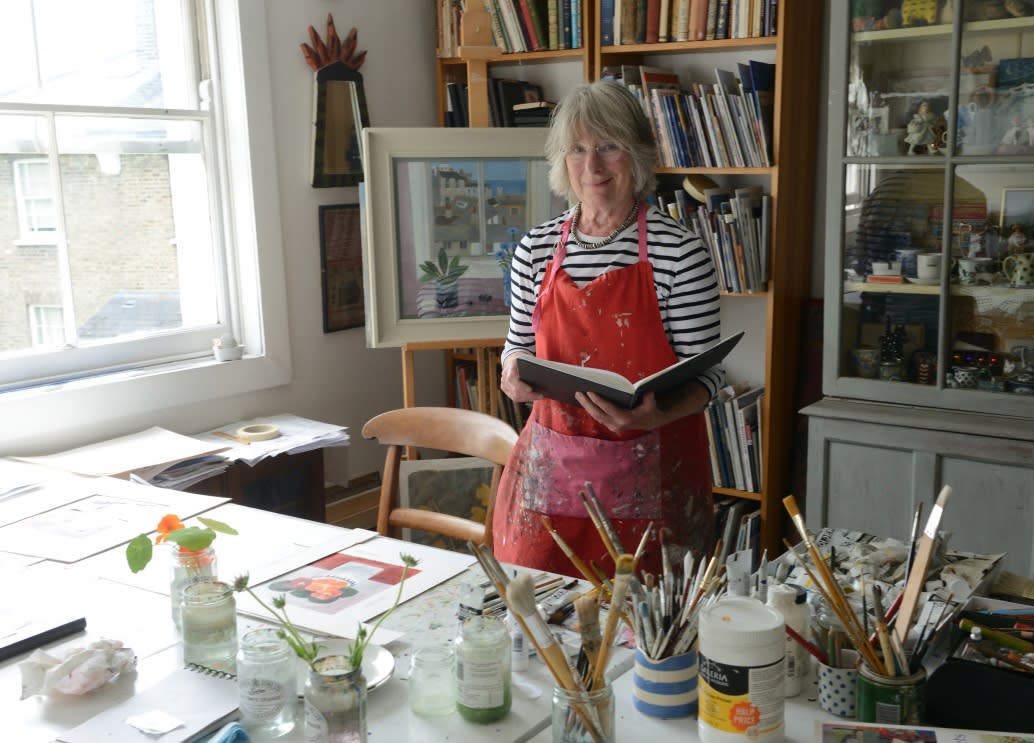 What sort of music do you listen to while you work?
When I go to my studio to work I turn Radio 4 on and listen to whatever programmes are on that day - I like the wonderful variety of voices, music, opinions, stories, books, science, drama, comedy, news, arts and all the other amazing programmes on the schedule. Sometimes if I really can't take the goings on in Ambridge I turn it off and catchup with something I've missed on my iPad.
What are the best and worst things about being an artist?
I think it was David Hockney who said the wonderful thing about being an artist is that you get to live in Bohemia - I think that's a way of saying that art and being an artist is a way of life and artists create a world of their own which they inhabit. The worst thing is when people assume being an artist is very relaxing and stress free!
What does your job as RWS President involve?
So many things! Most importantly to promote the RWS and it's artists; I think it's also vital to know and be interested in everything the Society and it's Members are doing now and what we can achieve in the future. I try to be tactful and diplomatic - not always successfully.
What is the proudest moment of your artistic career?
In 1996 after a career in design and publishing, I decided to return to drawing and painting full time and I was really thrilled to get a painting accepted by the RWS in what was then called the Open Competition. Artists really need a nice thing to happen every once in a while to keep them going - that was my first. My most recent was having a portrait accepted by the Royal Society of Portrait Painters for their 2018 exhibition. I was also very proud when I was elected ARWS (Associate Member of the RWS) in 2009, RWS (Full Member of the RWS) in 2012, and (woohoo!!) the first ever female President of the RWS in 2017.
What is your most exciting memory of Bankside Gallery?
On the opening evening of the 2017 Contemporary Watercolour Competition Woody Harrelson and Laura Dern wandered in - very exciting! All of the Evening Receptions are fun - it's great to look at the work and catch up with other artists and Hollywood stars!
Tell us something about yourself that not many people know.
As the Bruce Springsteen song goes, I was born in the USA. My Father and Mother met in England during the Second World War - he was American, she was English. We lived in New Jersey for a few years with visits to the UK via The Queen Mary and returned to live here permanently in the early 1950s.
Do you have a favourite spot around the Bankside area?
I walk through Borough Market on my way to Bankside Gallery - it's a great place to wander round, buy food and people watch. I like the exhibitions at Zandra Rhodes' Fashion and Textile Museum in Bermondsey - full of colour and life.
Who is your 'art idol'?
There are so many but I have a special fondness for Mary Fedden - her drawing ability was terrific and her paintings look as though she really enjoyed art and life. Sometimes if I'm having problems with a painting I ask myself 'What would Mary do?' and just go for it!
The Royal Watercolour Society Spring exhibition, New Work | New Year continues until Saturday 21 April.
---
MYCHAEL BARRATT PRE
What sort of music do you listen to while you work?
I never work in silence so always have either the radio or podcasts playing. If it's a specific musician, it would always be David Byrne and Talking Heads.
What are the best and worst things about being an artist?
The best thing about being an artist is having a job where the whole world is my source book. I am constantly on the lookout for ideas and when a moment of inspiration hits, there's really few things better. Worst thing about printmaking is the clean up.
What does your job as RE President involve?
RE President is a remarkably varied job and hard to pin down to a simple description. It's basically about promoting the work of the Society and its members and assisting in any way possible in the smooth running of Bankside Gallery. My idea when I was elected was to front-load my five year term with projects and plans so that life would get easier later. It hasn't really planned out that way and I'm sure I've never been busier.
What is the proudest moment of your artistic career?
Probably the unwrapping and first proper view of the mural I painted on a three-storey building on the Mile End Road. It was the ultimate 'out of my comfort zone' experience, in part because I'm not fond of heights!
What is your funniest memory of Bankside Gallery?
It was one particular Council meeting when Anita Klein was President of the RE. She had lost a bet with Trevor Price and myself and the forfeit was that she had to wear a fancy dress coconut bra to the meeting. We should have pushed for the grass skirt as well.
Tell us something about yourself that not many people know.
I once spontaneously jumped onto a freight train with a friend. We were up for an adventure but the train only went another few miles before stopping in a rail yard. We eventually realised that it wasn't going anywhere so climbed down to commence the long walk home. Exhilarating half an hour though.
Do you have a favourite spot around the Bankside area?
I'm a huge fan of the Globe Theatre. I love the walk upriver especially after a midnight matinee when the Thames Pathway is virtually deserted bar a handful of knackered but jubilant groundlings. The city never looks more beautiful.
Who is your 'art idol'?
Work that is funny but also taken seriously has always appealed to me. It's for that reason that I love the music of David Byrne so much. He's not so much an art idol as a creative lodestar.
The Royal Society of Painter-Printmakers annual exhibition, RE Original Prints opens on Friday 18 May.
April 2, 2018