Congratulations to all of the newly elected Associate RE Members!

The Royal Society of Painter-Printmakers held their annual elections in June 2022. We are so excited to welcome these brilliant new Associate Members - and can't wait to see more of their work up on the walls of Bankside Gallery.
---
Michelle Avison ARE

Having started etching whilst studying for her foundation in 1983, it was not until her final year at The Slade that she would revisit the medium. Michelle would then go on to study for an MA in Printmaking at Wimbledon in the early 90's. This eventually led her to Morley College in 1993 where she still resides as the head of her department. In 2010 she set up her own print studio with her husband called SLAUGHTERHAUS Print Studio.


Printmaking is a major part of Michelle's practice, but it is not making prints that is important to her, rather using process to make new discoveries. The possibilities of combination of techniques, mark making and difference feed my work. She work's instinctively, and is always ready to make changes, or to start again- the work constantly evolves as she aim to capture a combination of memory, place and abstract composition. Techniques from print come back into drawing and painting and vice versa- she is always trying to blur the boundaries between them. She often makes single images, rejecting the idea of an edition. Michelle responds to accident and chance, often working directly on the press to resolve an image. I work on the prints like paintings, embracing change.


---
Theodora Ballantyne-Way ARE

Theadora Ballantyne-Way born 1988 is an editioner at Thumbprint Editions, London, and is the founder and director of Atelier21, a contemporary art and print studio in Bristol, where she specialises in traditional photographic printmaking processes including polymer photogravure, screenprint and cyanotype. Since studying at Central St Martins, University of Reading and University of West of England, her work has been widely exhibited including at the International Original Print Exhibition and the Royal Academy.


Theadora takes every day harmless objects and fuses them into romanticised suburban landscapes in the great tradition of surrealist art. In much of her practice, mundane utensils become monumental industrial components; a transformation that elevates them into objects of aesthetic consideration and bizarre emblems of middle-class terror. Her enlargement of these objects is as much a critique of consumer habits as they are a celebration of the surreal – a playful conceit on the rich history of the English pastoral. Probing at our sense of perception, her use of the textures and antiquated processes of traditional printmaking produces a false sense of legitimacy; one that is at odds with most contemporary image production.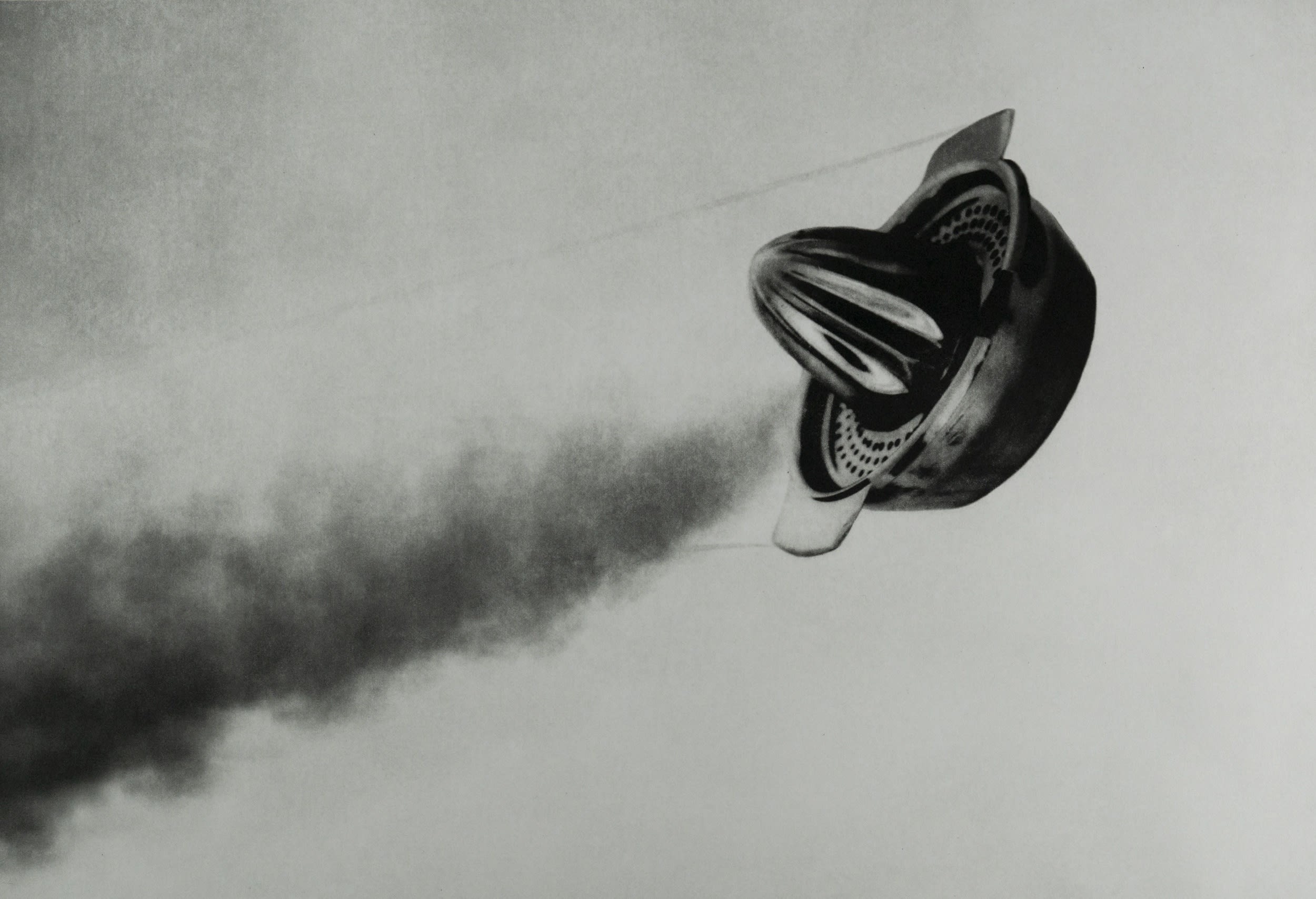 ---
Leonie Bradley ARE
Leonie's work explores themes of memory and loss: currently, she is concerned with the loss of identity and privacy in the post-digital age. During her year-long Peter Reddick Bursary for Innovation in Relief Printmaking at Spike, she spent the time experimenting with pushing the traditional medium of wood engraving, which culminated in her solo exhibition, Analogue Interference. Much of the work is removed from context: at once embracing the intricacy of wood engraving and creating the potential for much larger images, using a tonal range to make systems-based visual narratives. She digitally disrupts her mark-making and her experiments in process have led to screenprints, photopolymer gravure and large-scale relief prints that explore the crossover from analogue to digital and back to analogue. These prints have a minimalist aesthetic disconnected from their original identity. Collaboration is a significant part of Leonie's practice and she has collaborated with scientists, musicians and artists. She enjoys the challenges that collaboration presents and also testing the parameters of a brief to create unexpected outcomes.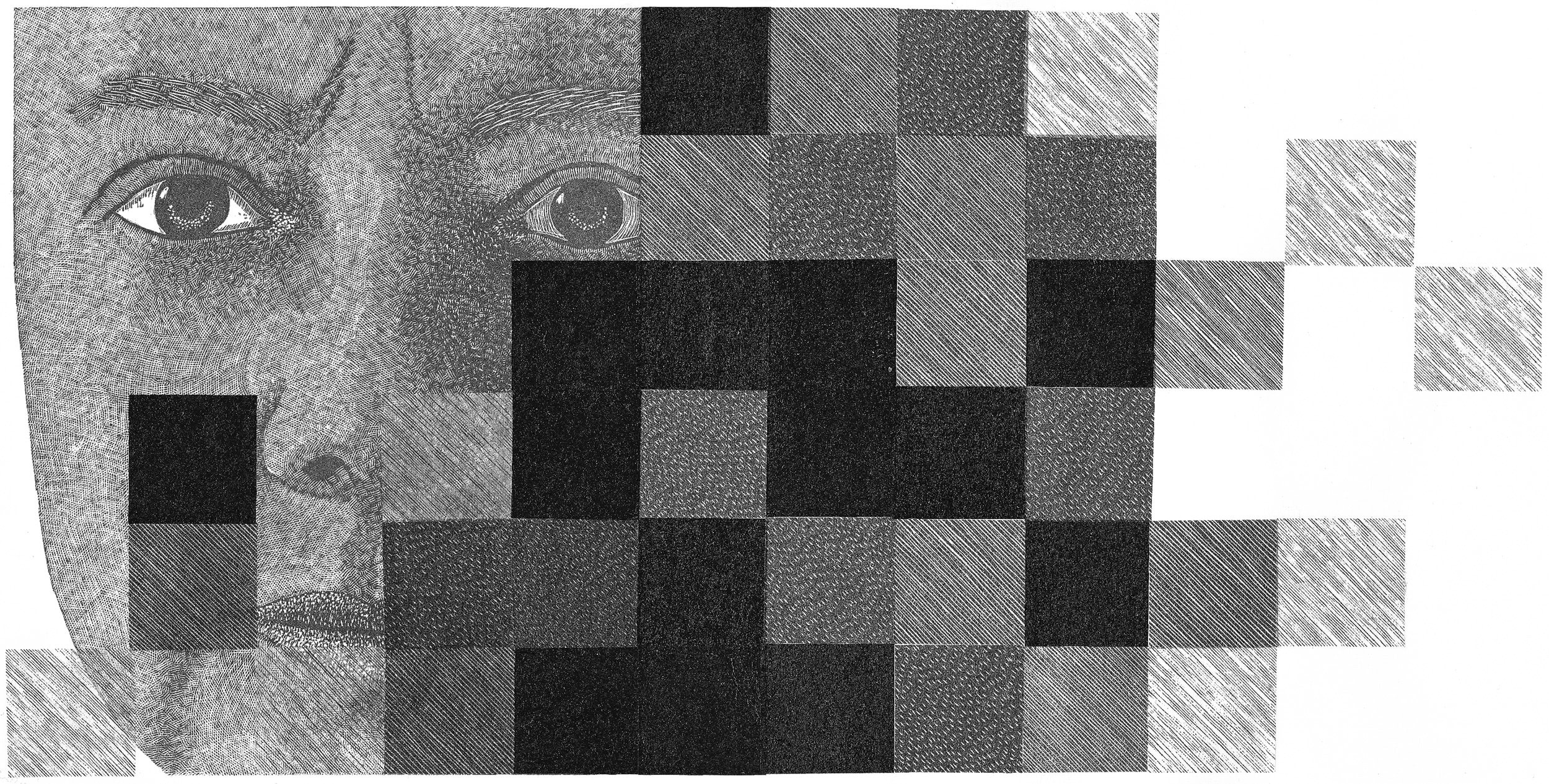 ---
Martyn Brewster ARE
Born in Oxford, Martyn studied Printmaking at Brighton University. Between 1980-2004 he was a part time lecturer in Fine Art at Winchester School of Art and Arts University Bournemouth. Martyn has lived in Dorset since 1990 and is a member of Group 7. In 2002 he set up a print workshop in Bournemouth Studio. He has exhibited widely in the UK and abroad and is represented by the Portland Gallery in London and Waterhouse and Dodd in New York.

"I make paintings, drawings and prints that are concerned with Abstract or Landscape themes, or in some cases a combination of both. I use colour in Abstract work for its expressive potential. Colour has the ability to evoke emotions, create sensations and suggest feelings. The beauty and power of colour is central to the images I make in much of my work and is an intrinsic part of the subject matter."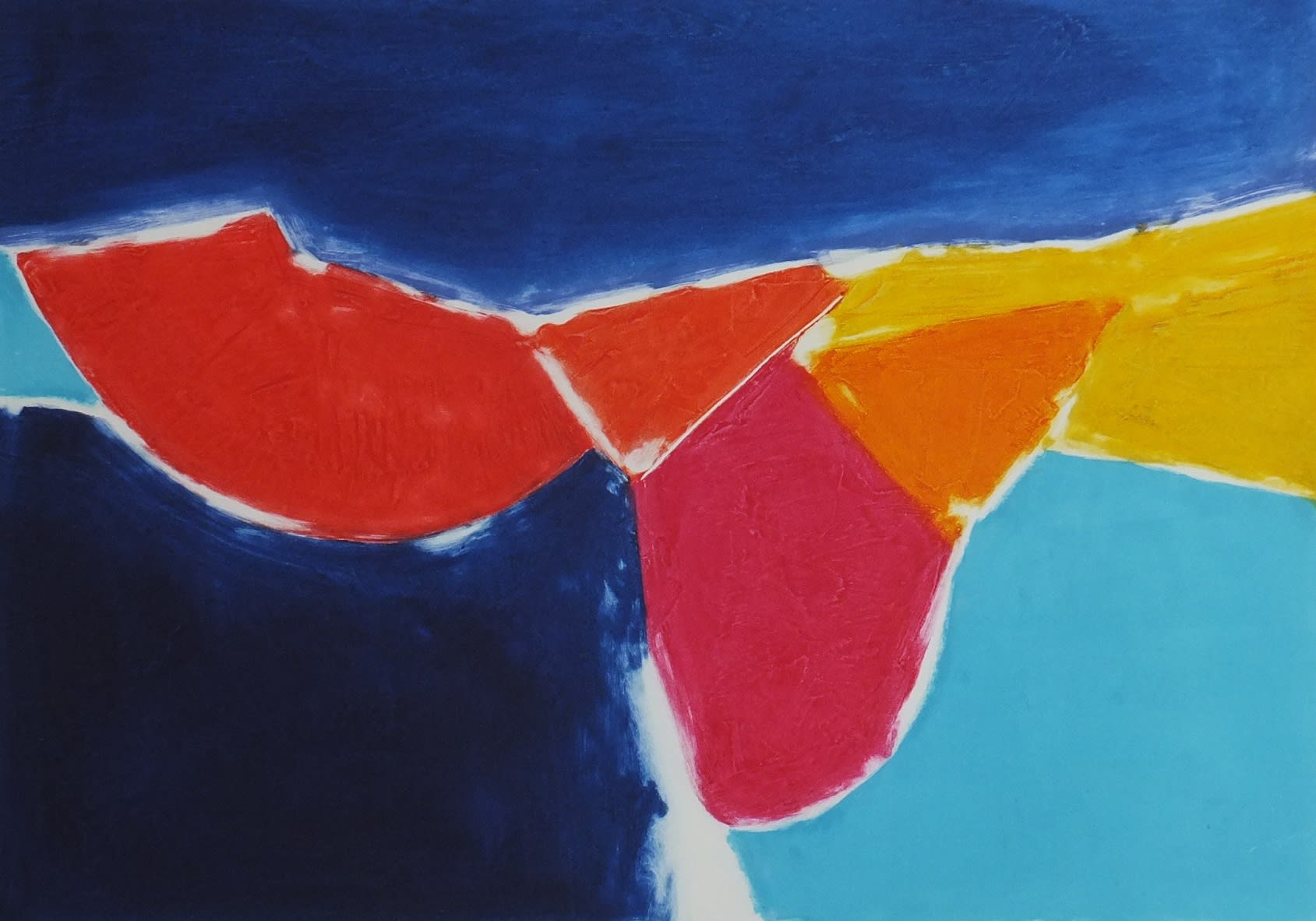 ---
Mayumi Enoki ARE
Mayumi Enoki is a Japanese artist and printmaker originally from Hiroshima but now living in Okayama. Since studying printmaking in the 1980s, she has been working mainly in this area, especially using etching techniques. Her work focuses on the "unpredictability" of phenomena latent in daily life through exploring the possibilities of different materials. Through the process of printmaking, she feels that transformations in materials evoke the impermanence and randomness of life. From the early 1990s to the mid-2000s, she was also involved in teaching visual arts, printmaking and graphic design at universities and colleges in Japan.


"My work explores hidden phenomena in our day-to-day activities, in which a certain atmosphere is filled with invisible smells and hidden meanings. I think a print reflects not only an image of the plate but also what happens on the plate during corrosion and the process of printing. This transformation of materials only happens once and cannot be reversed or reproduced. I have become very interested in this unpredictability which resonates with my view that our lives are full of signs of impermanence and chance elements. I would say that such concepts are characteristic of Japanese culture and ideas of beauty. Through my work, I realize that infinite relationships bound together create existence itself."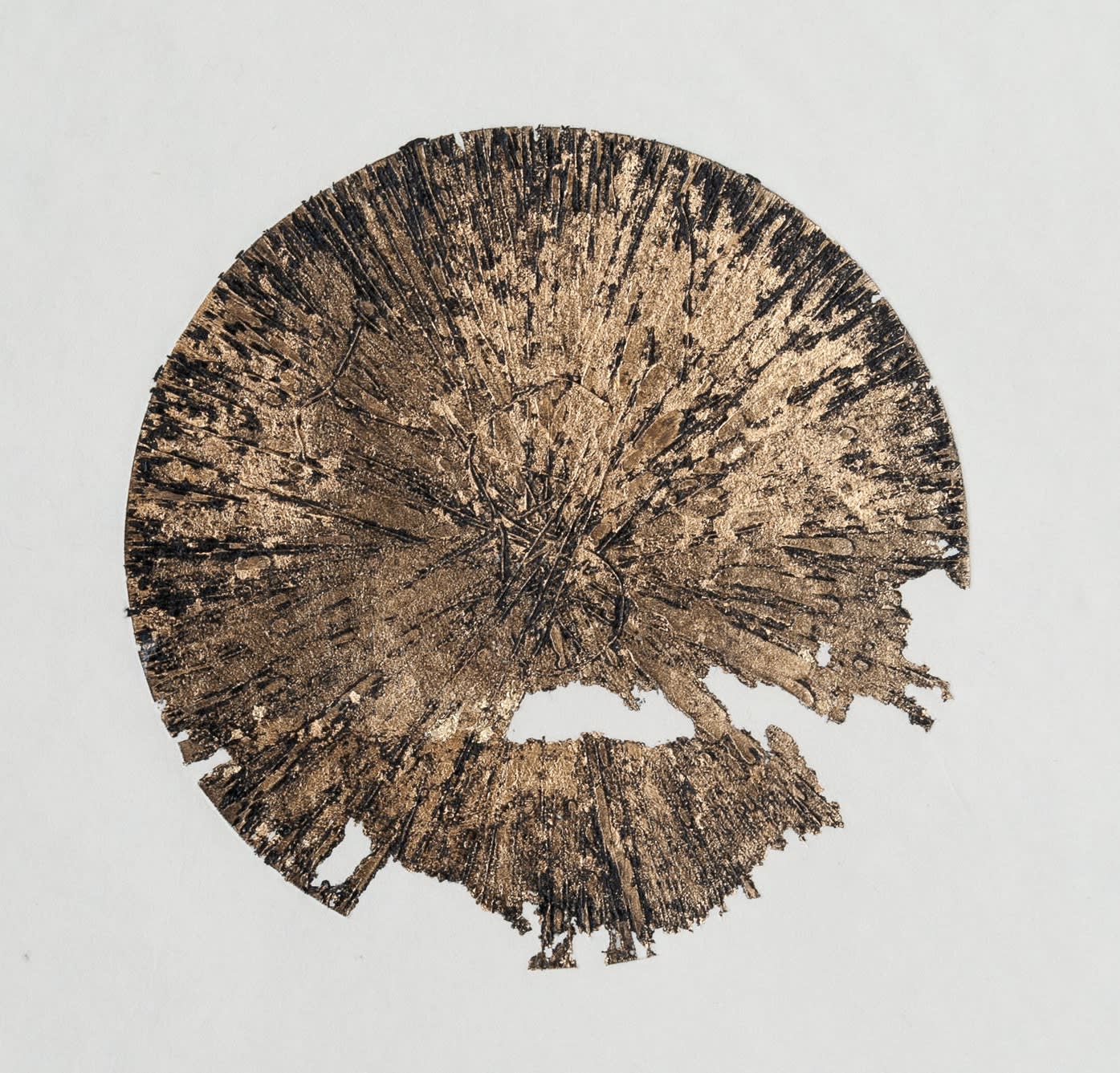 ---
Adrian Hemming ARE
Adrian is a landscape artist, a painter and printmaker of nature. His belief is that the medium of painting & printmaking, like poetry and music provides the onlooker with a direct communication.


His work as an artist is profoundly influenced by travel. This restless nature of traveling, the constant expectation of the next sensations all inform and help the artist make the work. This is well elucidated by Simon Schama: 'Conscious remembering is historically less significant than the visceral memories registered sensuously by the human body when we seek to explain landscape and its capacity to move us individually,' Schama (1996) -Landscape & Memory, Vintage Books.
Adrian runs Southgate studios, Hackney which has 10 Artist studios which are rented out on a non-profit basis and has been running for thirty years.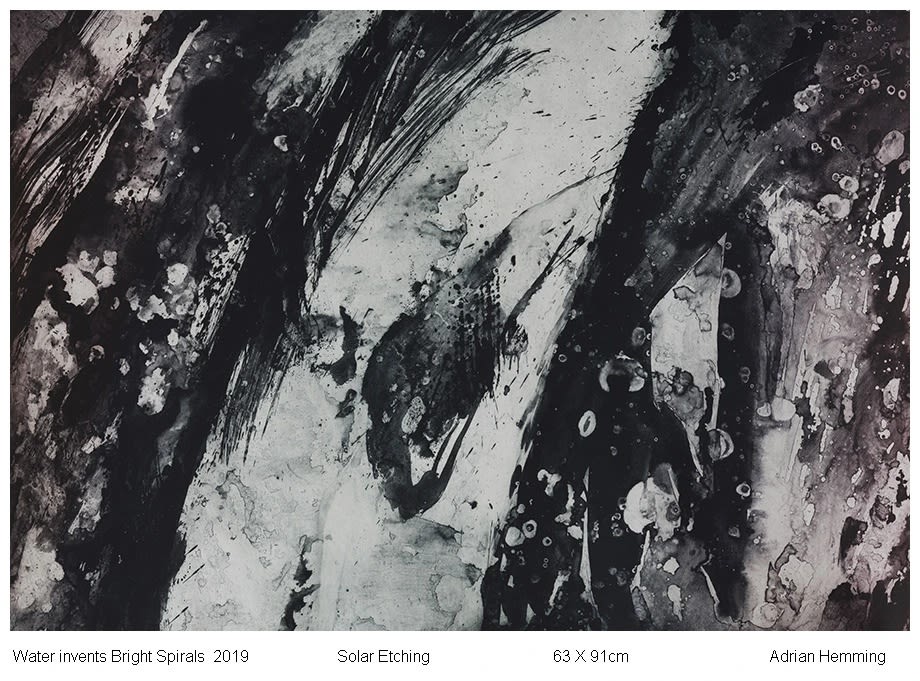 ---
Jean-Francois Jullien ARE
An artist previously working in sculpture, for the last decade Jean-Francois has been working in engraving techniques. His artistic style combines surrealism and fantasy with graphic narration. There is often a humorous side to his work also.

In 2017, he published a monography with 100 pages, 56 illustrations. In 2018 he participated in an International portfolio with 50 large engravings organized by Patanegra Editions Oviedo/Spain. He has participated at 65 international print exhibitions since the beginning of 2015.


---
Aga Kubish ARE
Aga is a printmaker and illustrator based in Weston-super-Mare. Dedicating herself to botanical, nautical and architectural illustrations for the past few years, Aga has created a unique and extremely highly detailed recognisable style. She discovered printmaking in March 2021. Aga specialises in the style of old engravings, dotwork (pointillism - graphics composed of dots). She uses a hatching technique, using black or brown ink, a lot of tiny lines and dots. Large scale lino prints give her the opportunity to present her love for details and textures. She looks for shades of grey and playing with light in her linocuts. She is endlessly fascinated by the old engraving style of Albrecht Durer but also Hokusai Katsushika and Alphonse Mucha.
In 2018 she moved to the United Kingdom, North Somerset, where she continues to specialise in plants and architecture, specifically England landscapes, sea monsters and old buildings. She is a founder of Sea Nest Art Studio based in Weston-super-Mare and swiss cheese plants lover.


As a mother of 3, mixing art and motherhood is the greatest challenge in her life.


---
Bob Lawrie ARE
Bob Lawrie's artistic career has ranged from graphic designer, illustrator and experimental videomaker to painting and printmaking. These disciplines have led quite naturally from one to the other and he has found to be mutually informative.
Having previously worked using silkscreen printing, Bob's more recent prints use a digital process but in a 'silkscreen style' of layering. Each print is a compilation of images (an easel, deckchair, garlic press, umbrella, a shoe, etc), each image individually prepared and then layered or combined in the giclee printing process. The result is like a layering of memories, based on 'found' items re-investing them with a sense of aesthetic purpose.


---
Fiona McIntyre ARE
Fiona McIntyre's work is inspired by wild landscapes, trees and memory. She is fascinated by the meaning that can be attached to unfamiliar places that one is not originally from, and the the layers of meaning enfolded within these locations whether through myth, stories or geology.


After spending childhood summers on the West Coast of Scotland wild landscapes became an important artistic influence and inspired her to travel far afield as an adult. She spent 7 years living and working as an artist in South Sweden becoming fluent in the language and regularly travelled to Iceland.


Increasingly she collaborates on art/eco projects and has been instrumental in raising funds, producing a film and designing catalogues as well as making artworks.Currently she works with natural pigments and inks which she forages and mull into paint. This counterbalances an intuitive approach to printmaking which she learned from her Swedish Professor the Imaginist Bertil Lundberg whom Stanley William Haytor had mentored. When printmaking she works with copper because its surface is fine and capable of receiving a variety of marks and she likes to etch deeply and combine this with engraving, aquatint and drypoint.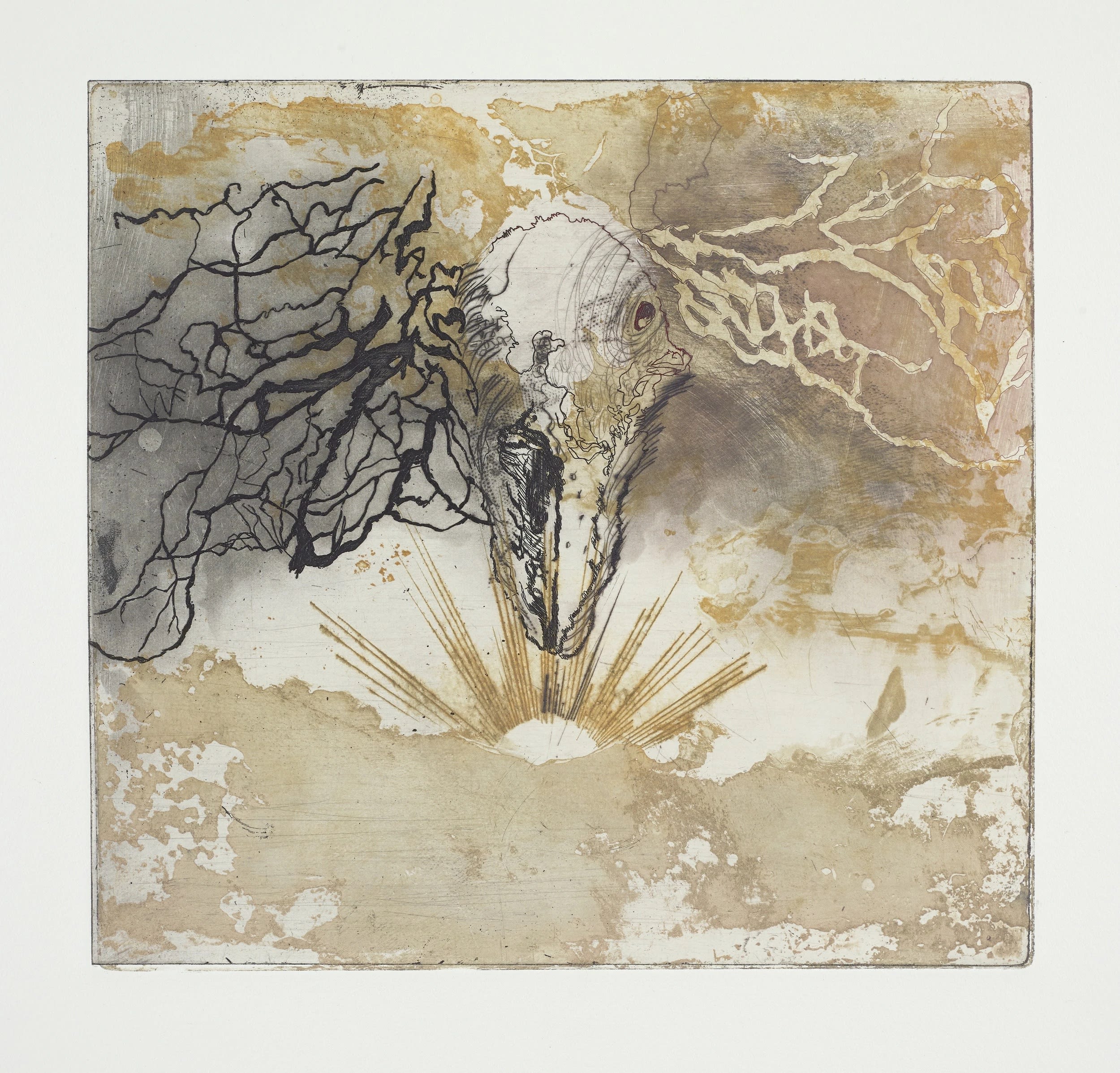 ---
Rod Nelson ARE
Most of Rod Nelson's working life has been related to wood and trees. He was a carpenter and joiner for many years, and in his forties, largely as a result of visits to work on forestry in Thailand, he made a transition to working on initiatives to promote responsible forestry.
He worked until his sixties as an auditor for chain of custody schemes (FSC and PEFC) to track products from well-managed forests from forest to market.

His printmaking began in his early twenties, as a result of having a small printing press in the basement of his home. Rod's relationship with printmaking was utterly transformed by a visit to the Hayward Gallery in London in the summer of 1994, and seeing there the work of Shiko Munakata. This compelled him to try to make woodblock prints, and despite initially knowing precious little about how to do it, his woodworking skills and knowledge of tools enabled him to do so. Ever since then, he has been learning as he goes, helped by encounters with the work of other artists and meeting other printmakers.


In 2012, he was invited to visit Shanghai for the International Woodblock Print Exhibition and in 2014 he was invited to join the group Pine Feroda. In 2016, together with Merlyn Chesterman RE, he co-authored the book 'Making Woodblock Prints' published by Crowood Press.


---
Lars Palm ARE
A printmaker based in Sweden, Lars Palm's studio is situated in an artist collective, called "Italienska Palatset". Alongside his printmaking practice, Lars Palm currently works part time as a teacher at a primary/secondary school with an aesthetical profile and his work there is mainly concentrated around issues concerning Art and knowledge.


He has had several solo exhibitions in Sweden, and has work in Stockholm Council Art Collection, National Swedish Art Council and represented at 20 public and regional collections across Sweden.

He says of the process of making his work
"The slow and unrushed process of engraving is a way of working diametrically opposed to the speed and haste of our modern time. To engrave on a copperplate and thus create a picture, marks itself as a contrast to the rapid pace it takes to snap, produce, and print digital images. But by indulging oneself in this somewhat anachronistic and unfashionable craftsmanship, one also gets a glimpse of that which pertains to our time, and so further empowers us to reflect and discuss the quality of images as such. It is through this reasoning that the old art of engraving becomes relevant once again, albeit on different conditions, and captures the idea of slowness as an act of resistance. To engrave is for me to wholly devote myself to create that peculiar line which eventually builds the entire copperplate. Or, to put it in another way, it is rather the cut in the copper that creates the conditions for the line to emerge and persist. It is an act of bestowing the line form, character, and meaning. Together, the lines seem to emerge polyphonically as voices: some are yelling, others whisper, some are skewed while others stand erect, and some appear utterly unobtrusive"


---
Janet Sang ARE
Janet Sang is an artist-printmaker based in Brighton. Since 2016 she has made prints at Volcanic Editions, a studio run by Ian Brown ARE. Her work embodies layers of ideas, and is driven by an engagement with social injustice and inequality. She constructs allegorical settings, often anchored in specific events or places. She uses autographic and digitally-mediated imagery, combining them through radical juxtaposition, cryptic clues and metaphor.
Janet says of her work: "I think of my approach as collagist, and enjoy how screenprinting in particular allows me to assemble and re-assemble images from different sources. I can layer marks and colours, and play with perception. My prints typically have more than twenty layers of ink, and I work on heavy paper to support them, making small editions and printing to the edge of the paper so that the finished pieces really feel like physical objects. Some prints begin with hand-drawn positives, whereas for others I use Photoshop to map out compositions. The process is very revealing and every print is an adventure. I adjust my plans throughout to explore what emerges in the form of hidden information and the character of particular visual signatures. I want to draw people in and engage their attention at as many levels as possible, challenging them to tease out possible meanings for themselves."


---
Lucy May Schofield ARE
Lucy May Schofield works in collaboration with expansive landscapes and dark skies, marking seasonal shifts with paper, ink and wood to connect and convene with nature. Observing the way in which time behaves in remote places has resonated in ritualistic acts of making. Meditating on the earth's rotation, the phases of the moon and our relationship to light and time have inspired performative acts exploring place. She seeks a dialogue with the temporal and transience nature of our impermanence through paper and print making. I am interested in belonging and dislocation, remoteness and ritual, separation and intimacy, repetition and remembrance, stillness and light, silence and rhythm, pilgrimage and place.

After studying Print Media (Book arts) at the London College of Printing she spent several years living in Japan, and despite now being based iback in the UK, she continues to study wood-block printing through training programmes in Japan using traditional and contemporary mokuhanga techniques with master craftspeople.

In 2022, she was awarded a Queen Elizabeth Scholarship Trust award, which has allowed her to develop a more sustainable practice by incorporating natural pigments and dyes into her work.

She is a visiting tutor at Leicester Print Workshop, Center for Print Research & Spike Island Print Workshop, and Northern Print.


---
Katya Timoshenko ARE
The exploration of techniques in the printmaking process have enabled Katya to explore and communicate concepts that contribute to a multifaceted psychological space of introspection. Introspection has been a key investigation for her work and this introspection allows her to reveal herself to herself, as well as to others. A multi-layered facade of a world of emotions that touch on love, hate, frustration, expectation and inexplicable emotions even to herself. There is an historical sense to this art form which sits well with Katya's practice. Multiple plate etchings that have different depths of bite, aquatint and ink viscosity that build on complicated stacks of layered inks and embossing all married by pressure. This becomes the technique of making that combines the concept of the introspected self and the physical being. This idea is fundamental to her practice and is a constant in the way that she produces work and the way she reflect on the viewer, viewing the consequence of herself addressing my alter ego.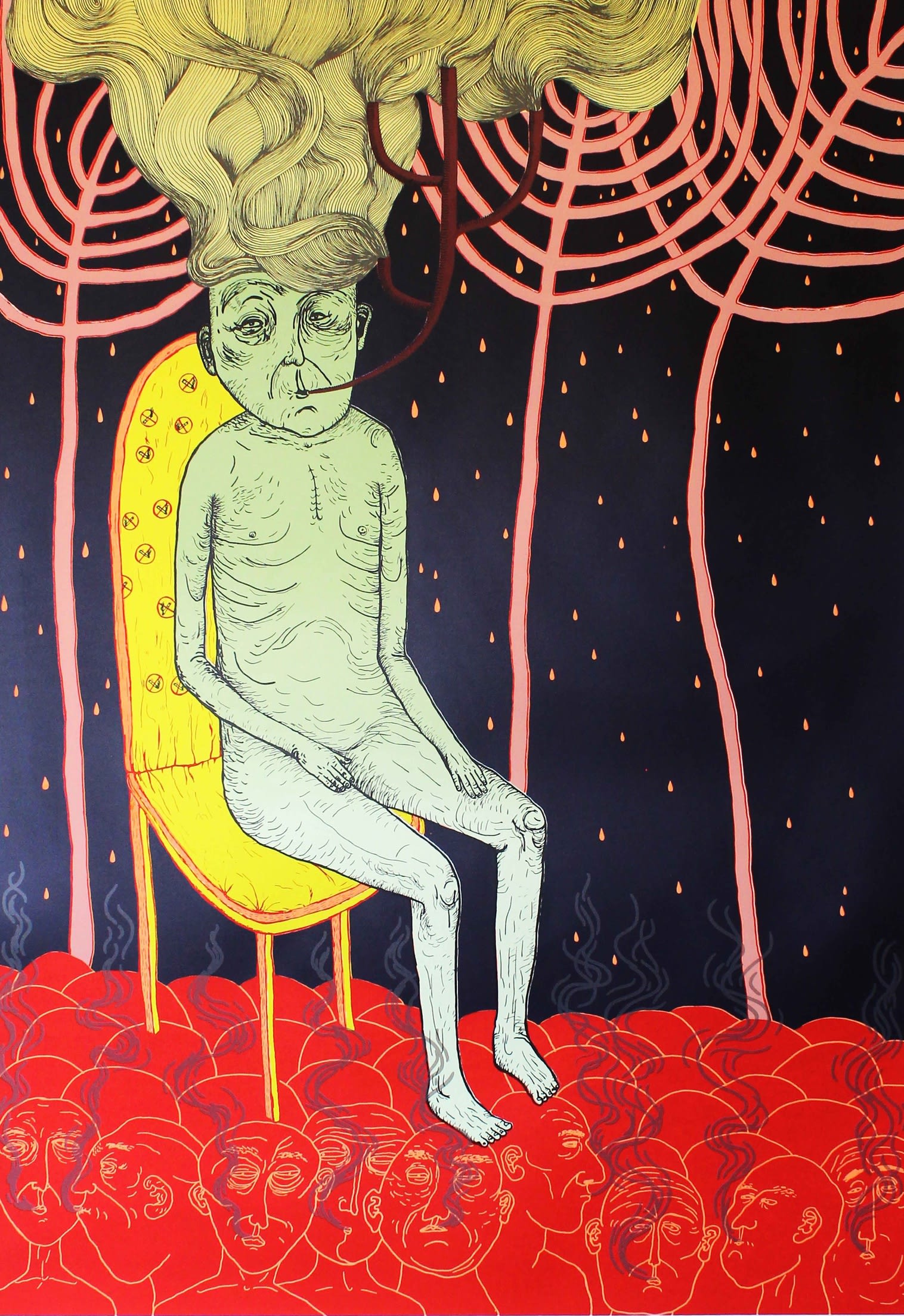 ---
Ruozhe Xue ARE
Ruozhe is interested in deconstructing the world we live in, de-familiarizing it and making it absurd. By changing the inner logic of the visible world that surrounds us, and its relationship to the human bodies, he tries to intensify the psychological tension within the constructions of a print. Positioning figures into empty but enclosed spaces, the land of nowhere, in order to construct the internal narrative on the flat surface. What he tries in his work is to emanate silence, calmness, and infinity, an oddness that is known, yet unable to be described. When looking at Xue's works, Something suddenly becomes unreal, the setting is in reality, it is as if it is real, but also the disavowal of that, the refusal, the reality is set up, and then there is a turn. The prints set up a principle of reality, then refuse it, switched into another realm. The prints are not quite ghostly, but something else appears. It is not as reality expects it… all is not so. Reality stops functioning here.


July 21, 2022