Neil Pittaway RWS RE is a British printmaker, painter and draftsman, born in Wakefield, Yorkshire. Neil's works are developed from extensive research and sketches produced both from observation as well as his own imagination. He uses many different techniques and processes to create richly layered tapestries on the pictures' surfaces. Everywhere Neil travels he works directly from the subject using sketchbooks to record a journey; in recent years this has included trekking extensively in the Nepal Himalayas. These records are then used to create finished pieces that capture the essence of time and place.
In the lead up to his 50th Birthday, Neil recalls the many aspects that have motivated him to make art, from his early interests, the variety of subjects and techniques he uses, to what inspires him now.
---
How and when did your interest in art begin?
"From an early age I remember wanting to be an artist, picking up a pen and drawing the world around me as well as ideas from my imagination. Subjects from these very early days included castles, people, flowers, and architecture including the Humber Bridge, which I remember drawing when I was about five. These subjects have continued to inspire me into adulthood.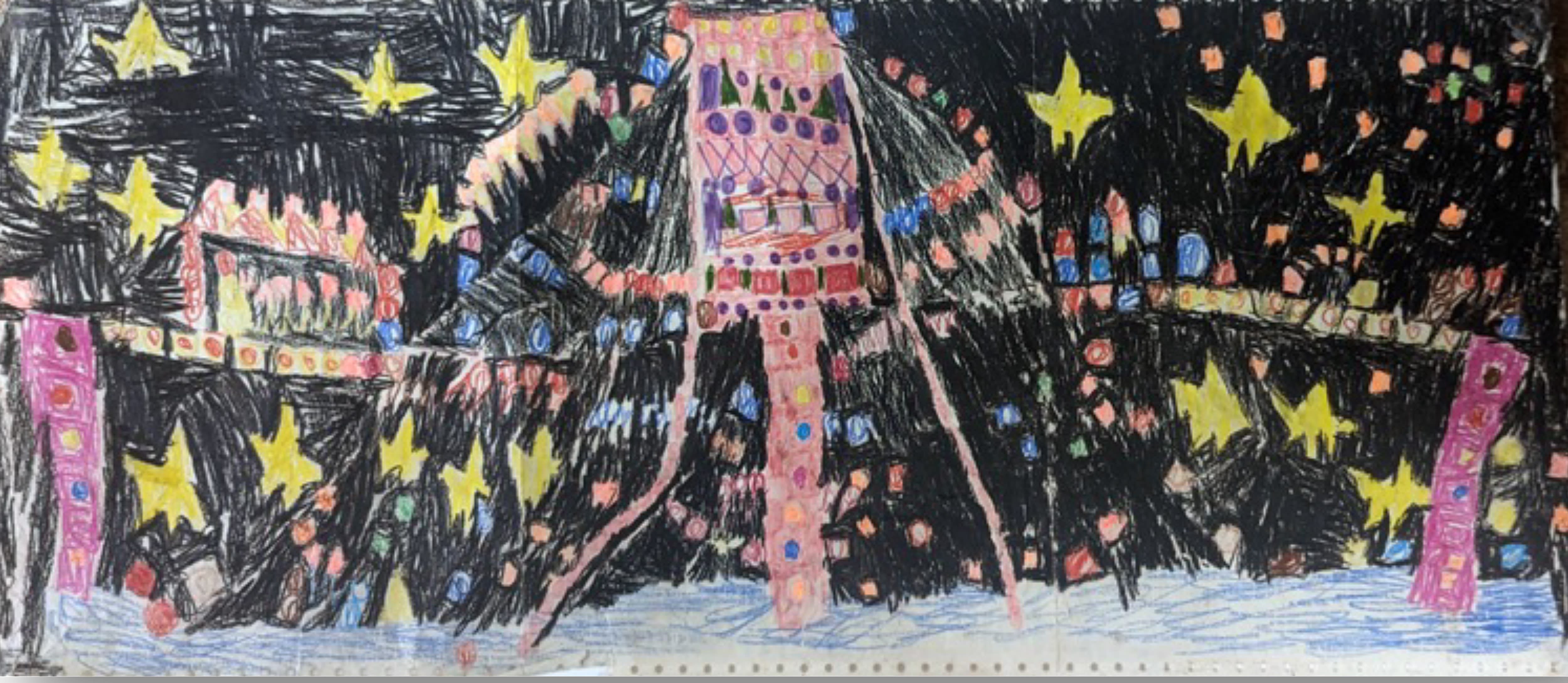 'Humber Bridge at Night' wax crayon drawing made by Neil Pittaway at the age of 5
"I also started exhibiting my work at a very early age encouraged by my parents who saw in me an ability to create and visualise the world around me through a very personalised vision. I won a Blue Peter badge for a dinosaur drawing competition in 1979 which was the first of many competitions and exhibitions over the years.
"My interest in creating Art continued and developed through travel first in Europe and then the wider world where I developed a very strong interest in visual culture and history which continues to this day. I also enjoy visiting exhibitions – one of the earliest was the Marc Chagall retrospective exhibition at the Royal Academy of Arts in London in 1985. It was seeing his combinations of observed reality with his strong personal imaginative vision that inspired me to continue to enhance and develop my imaginative processes alongside observed reality."
Tell us about your working process. Can you explain a little about the techniques you use?
"Different techniques and processes have helped to shape me as an artist, including painting in watercolour, acrylic, oil and mixed media. Drawing with pen and ink on paper has helped me to develop my ideas and processes; drawings are often final pieces of work. In printmaking particularly, I use drawing to develop my complex very detailed etchings where I try to get the most out of the different qualities of bitten etched lines by varying the drawing and biting of these on the copper plate with acid.
"I have always drawn subjects from my imagination in an intensive way. I often combine different subject matter to create complex work, combining a range of images to make them work as an overall concept. The imagined ideas are not drawn from my dreams, as I do not remember anything I dream. I only can presume that while I am sleeping my mind orders these, ready for creating the works when I am awake. I have a very complex working process which differs depending on the art mediums I use. The essential component of my working method is drawing. It is the key that binds all the ideas and processes together."
Neil Pittaway RWS RE, 'City of Light', watercolour
How do you approach each new piece?
"I start each new piece of work with thinking about and formulating the ideas and concepts from which I then undertake research based on and around this. At the same time I also draw ideas and concepts based on the subject theme using only my imagination – I find that this then helps the research process further giving the ideas more individuality and quirkiness. I then develop the ideas into more finished works."
And how does this differ between mediums?
"When I draw with dip pen and ink it is a much more gradual and slower process to handle compared to using watercolours. I find watercolour painting is much more intuitive. I use a lot of clean water to create lots of layers of luminous paint and transparency. This can be seen in my watercolours of 'City of Light', 'From Ancient Times' and 'India, India' where I combined the patterns and colours alongside the architectural heritage and colours of India and my other many travels.
"Printmaking has also played a big part in my artistic journey. With etching, for example, I particularly like its unique qualities and processes that lend itself to imaginative ideas and beautiful line qualities. This can be seen in the images of 'Britannia Square', The Glory of Victory' and 'The Cutty Sark.'"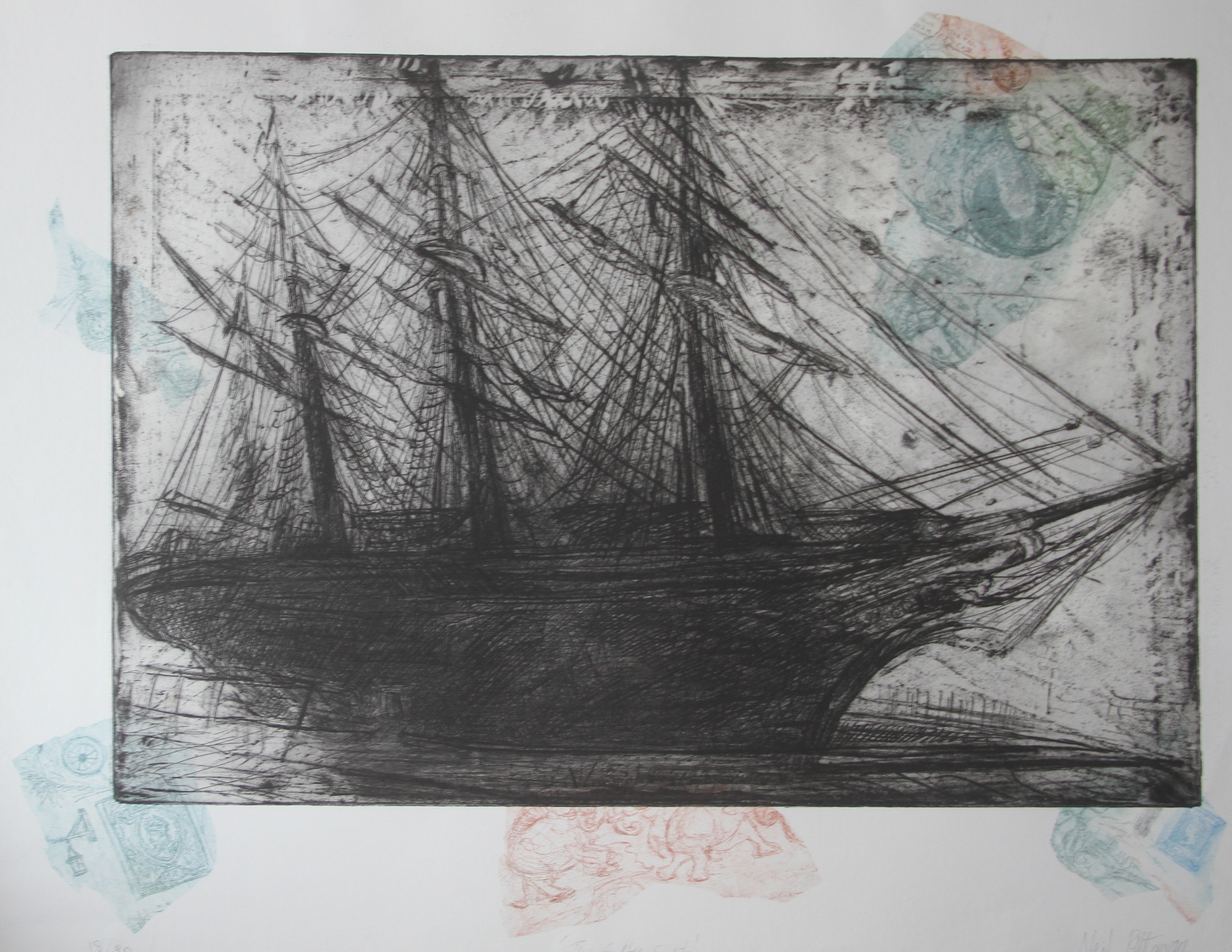 Neil Pittaway RWS RE, 'The Cutty Sark', coloured etching
From Machu Picchu to the Himalayas, you have travelled to some exceptional places! How do these trips influence your work and your subject matter? Do you use sketchbooks to document your travels?
"Travel plays a major role in my working process; I always create paintings and sketches in situ and then use these to create further works, my imagination and interest in visual history, heritage, architecture, and culture more broadly play vital roles in all aspects of my work. In my paintings I am particularly inspired by the bright colours of Asia, Africa, South America, and The Middle East. In my drawing I tend to lean toward imaginative processes based on visual history and culture.
"I currently have over thirty sketchbooks that document my many travels to these and other places, and as of this year I have travelled to over 30 countries. Each trip has played a unique role in not only developing my work but also shaping me as a person. I have tried to push myself further to undertake things outside my comfort zone, one of which is trekking to very remote parts of the world, particularly in the Himalayas, where I have stayed in teahouse accommodation and wild camping trekking to almost 5,000 meters.
"It is the remoteness of the location and seeing the natural world up close and personal, through a very different much slower pace of life, appreciating and seeing local communities and how they survive living in these parts of the world that also continues to help feed my creative processes and inspire me to create images of the wider world and its many diverse and different cultures. I try to capture these elements in my work."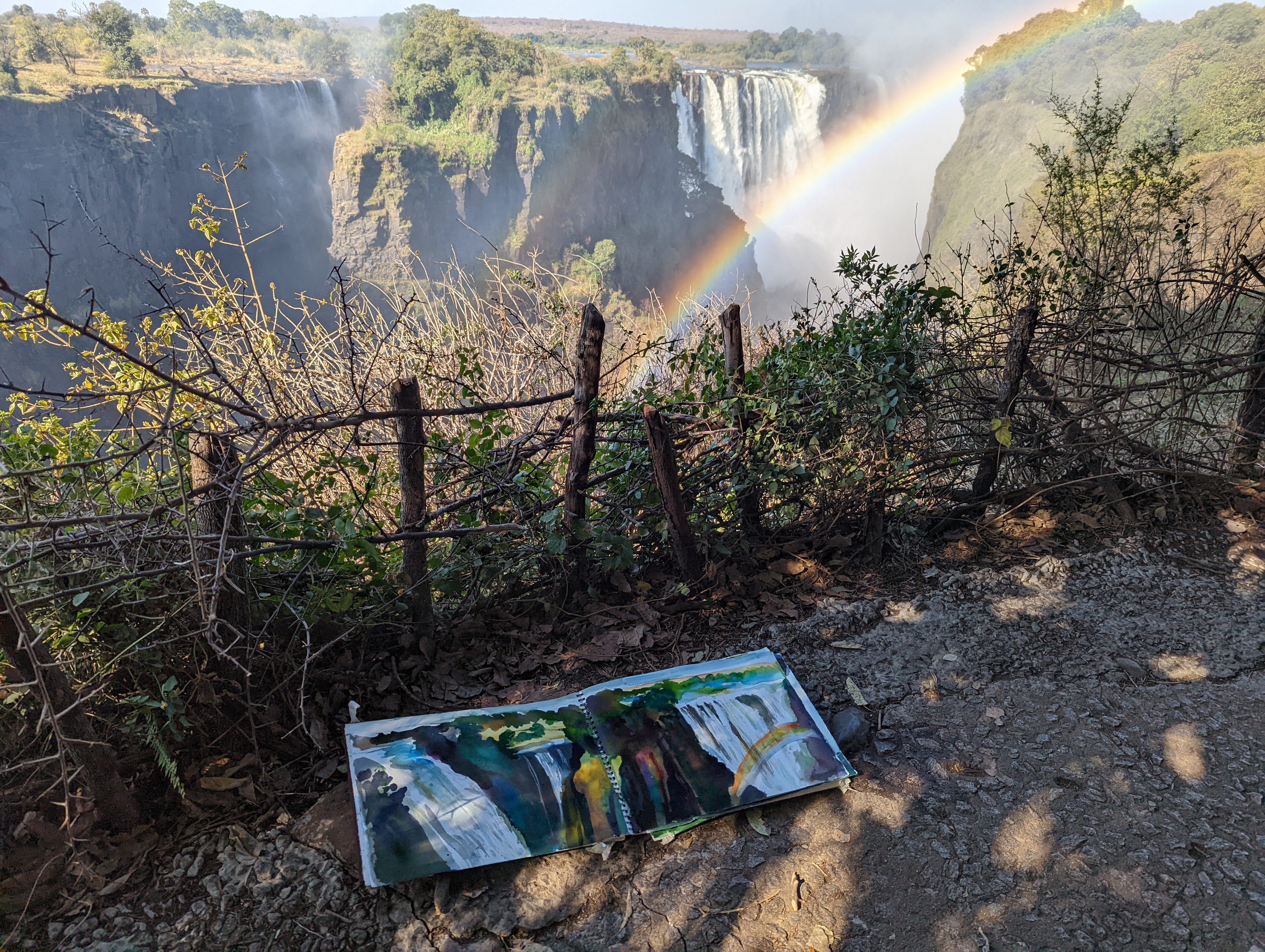 Neil Pittaway RWS RE's painting in situ at the Victoria Falls, Zimbabwe, Africa, August 2022
You are a member of both the Royal Watercolour Society (RWS) and Royal Society of Painter-Printmakers (RE). What appealed to you about joining these societies? What have been some of your favourite things about being involved with the RWS and RE?
"Being a member of both the Royal Watercolour Society and the Royal Society of Painter-Printmakers has been and continues to be one of the greatest privileges I have received. I am delighted to be given the opportunity to follow in the footsteps of illustrious members, past and present members of both bodies, helping shape and promote both the societies aims and values. I share in my own work the same common purposes and goals of these two societies through my passion for drawing, printmaking, and painting in water-based media, alongside my passion as an educator in both media.
"Some of my highlights include: the opportunity to participate in special events and exhibitions alongside other members including exhibiting at the Royal Albert Hall (where my image was used on the cover of their first ever created calendar); the RWS cultural visit to India and the opportunity to exhibit original prints across the UK, as well as Kenya, India, Taiwan, USA, Italy and Malta; and participating at anniversary events such as at the House of Lords and the late Queens 90th Birthday celebration on The Mall in London for 'The Patrons Lunch'.
"I served for some time on both councils of the RE and the RWS where I was also a trustee of the RWS, helping serve and promote the aims and policies of the RE and RWS whilst also getting to know more members and their work."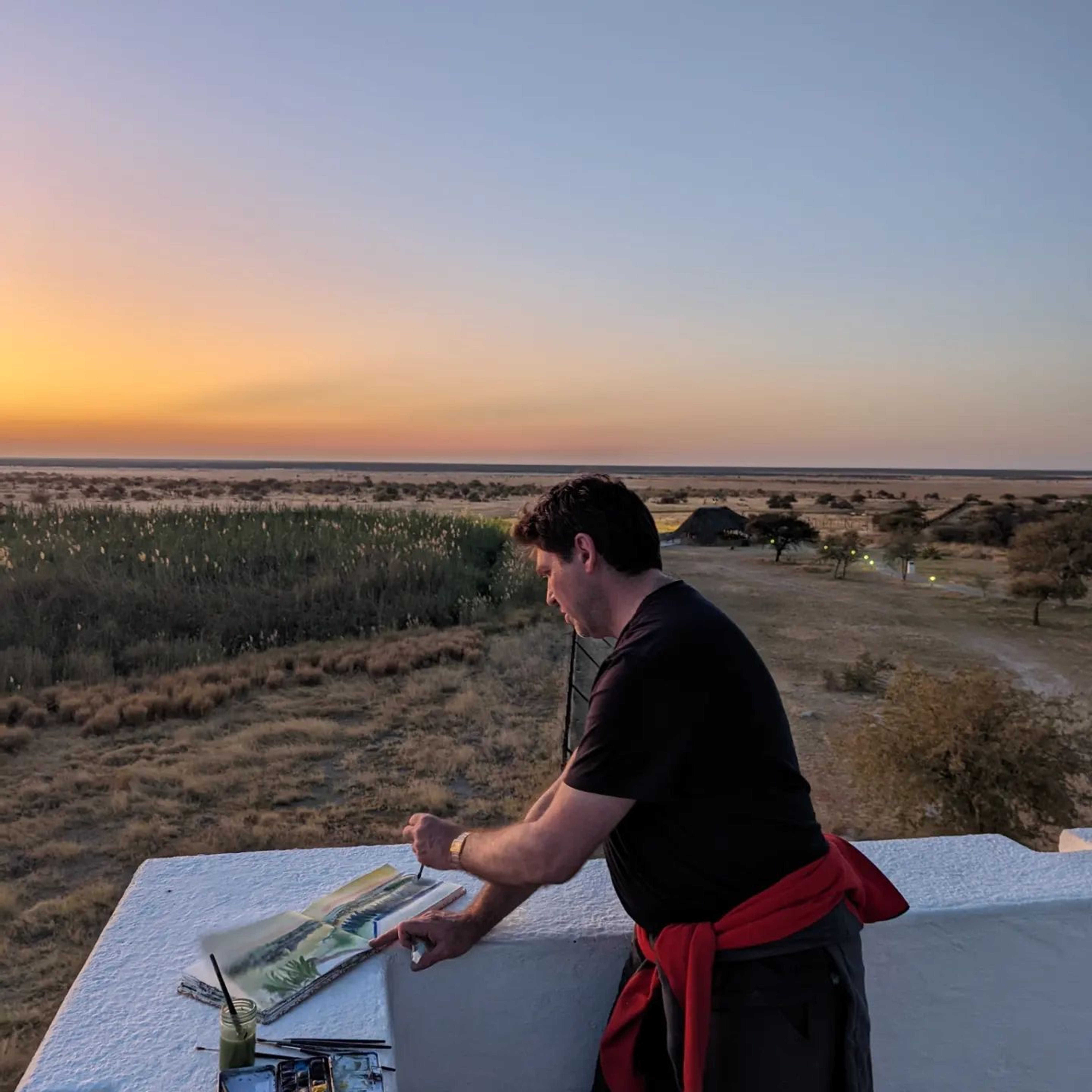 Neil Pittaway RWS RE painting at Etosha National Park in Namibia, Africa August 2022
Talk us through some of the highs and lows of being an artist…
"There are many high points of being an artist, having the opportunity to create ideas and images of things that one loves and have the opportunity to share these with fellow artists and the wider public. The high points have been recognized as an artist through winning many awards, prizes and obtaining a high level of education. As well as making a living from my artwork I also enjoy being an art tutor where I have and continue to help others in developing and learning creative art skills and techniques.
"The low points of being an artist are that it can be very isolating, and as well as have having to produce the work you also have to market and sell it. Rejection, as well as acceptance, comes with the territory of being an artist and my advice would be to try and build a thick skin and to keep on persevering."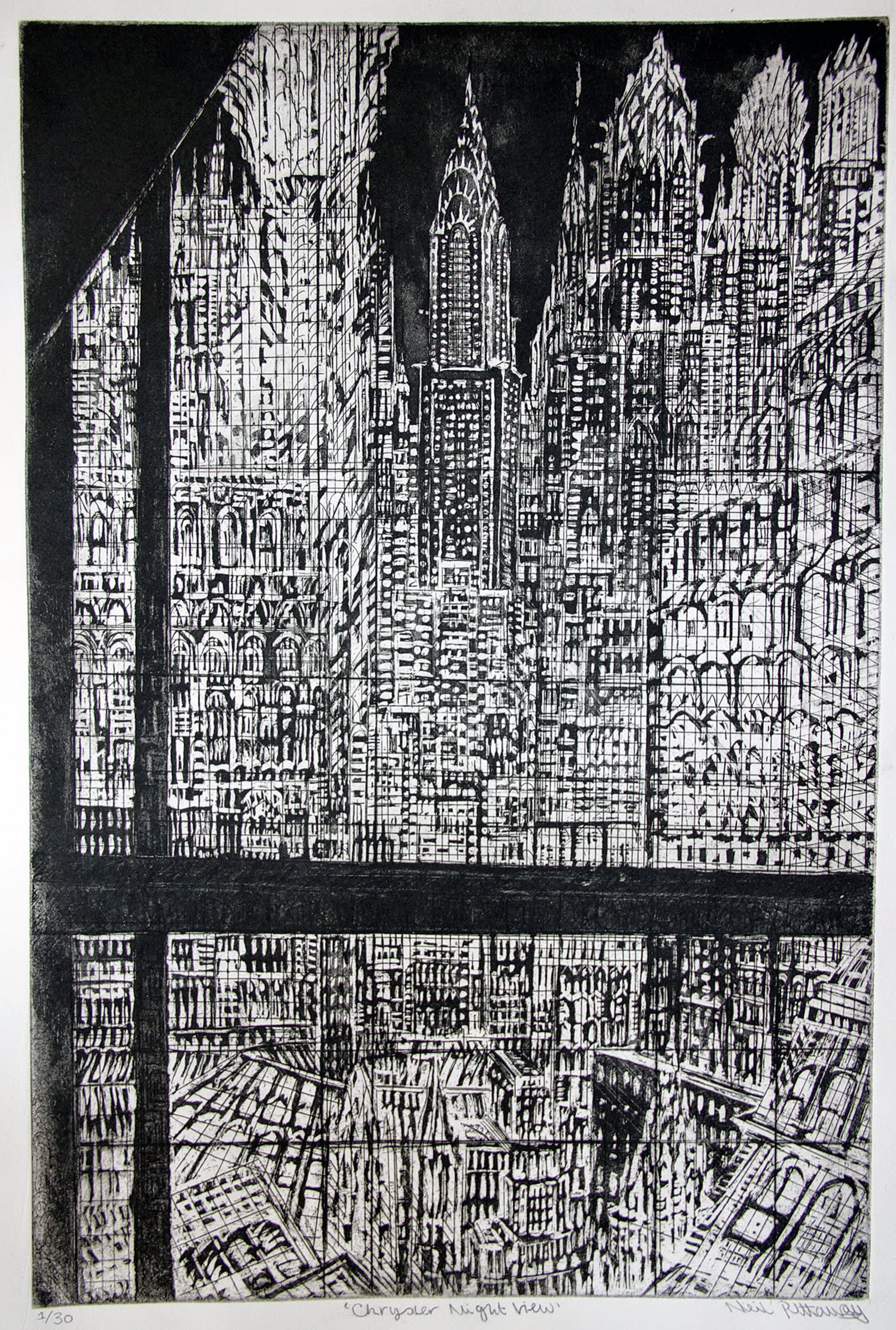 Neil Pittaway RWS RE, 'Chrysler Night View', etching with aquatint
Do you have any exciting plans or projects coming up that you're particularly looking forward to? What are your aspirations for the future with your work?
"As part of my 50th birthday year I have designed and created my own virtual solo exhibition that showcases the complete range of my work. You can view the

online exhibition on Microsoft Office 365 here

, or on Google photos here.
"I will also self-publish a comprehensive book on the complete of my work please see the link and QR code to this below.
"As well as my virtual online solo exhibition I have planned some special trips abroad this year. In April (2023) I travelled to paint in Jordan trekking the country's ancient spice trails in Wadi Rum, Petra as well as visiting the Dead Sea, Mount Nebu, Madaba and the ruined Roman city of Jerash. More recently in July I painted on the Island of Santorini and later in August I will be travelling on one of my biggest trekking painting adventures yet! I will be trekking the Markha valley in Ladakh, India, trekking to a maximum altitude of 5200 meters with an average altitude of 3900 meters whilst wild camping.
"I will use these trips to continue to explore and develop my own work further alongside my other more imaginative work based on visual cultures and histories."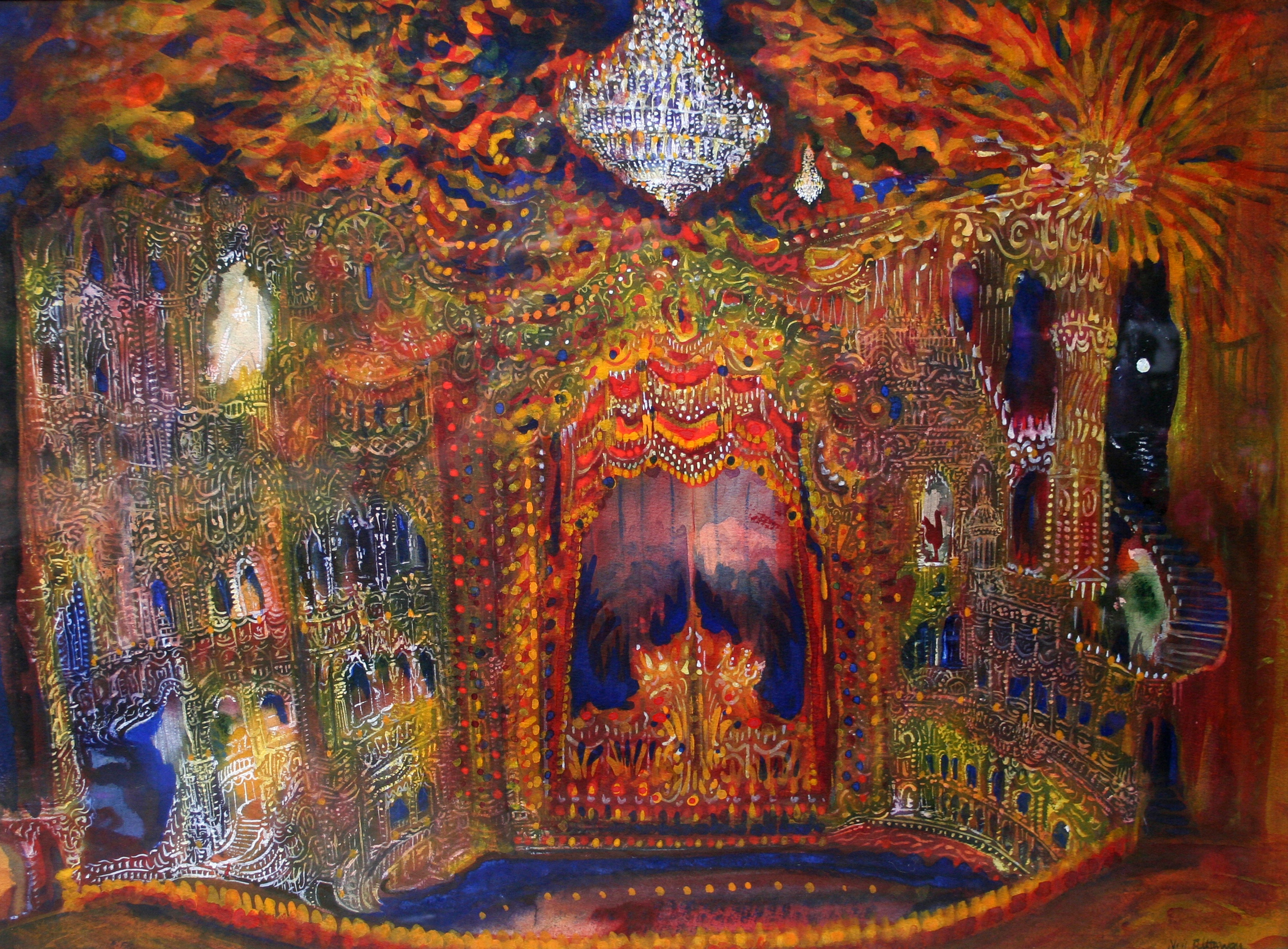 Neil Pittaway RWS RE, 'Overture', watercolour & body colour
Finally, do you have any words of wisdom for aspiring creatives who perhaps think a career in art seems out of reach?
"As most artists will tell you, this is not an easy career path to take. I think in some ways it has become even more difficult in the digital age, particularly with the advent of specialist education training. However, that is not to say that the digital age has not also brought great advantages.
"My advice to anyone starting out in art would be to believe in what you do and take every opportunity you can, whether exhibiting your work or writing about it. Entering open exhibitions is a good way to get your work noticed; this is how I first started. You will find useful articles and opportunities published on the Bankside Gallery website as well as on the Royal Watercolour Society and the Royal Society of Painter-Printmakers official websites.
"I hope you have enjoyed reading about my work ideas etc. and that you enjoy viewing my online exhibition, and maybe this will inspire you to be creative."
Thank you, Neil!
---
Neil is launching a new website of his work. To view, please visit: www.neilpittawayartist.com
View Neil's Online Solo Exhibition on Microsoft Office 365:
Neil Pittaway at 50 online art exhibtion
View the Exhibition on Google photos:

Neil Pittaway at 50 online art exhibition photos
For further information contact njpittaway@hotmail.com
If you would like to find out more about Neil, you can follow him on Instagram or visit his artist's page on our website to browse more of his artworks.
August 1, 2023