Many artworks are acquired because they strike a personal chord with the viewer or represent a story between the artist and artwork owner. At Bankside Gallery, staff and visitors are constantly inspired and captivated by the works produced by our artists, but what artworks do the artists themselves find inspirational, and what makes it into their own art collections?

Artists notoriously swap and exchange artworks between themselves and over time build up wonderful collections of work. We asked a few of the Members of the RWS and RE if they owned any of each other's works, and which of those take pride of place in their surroundings.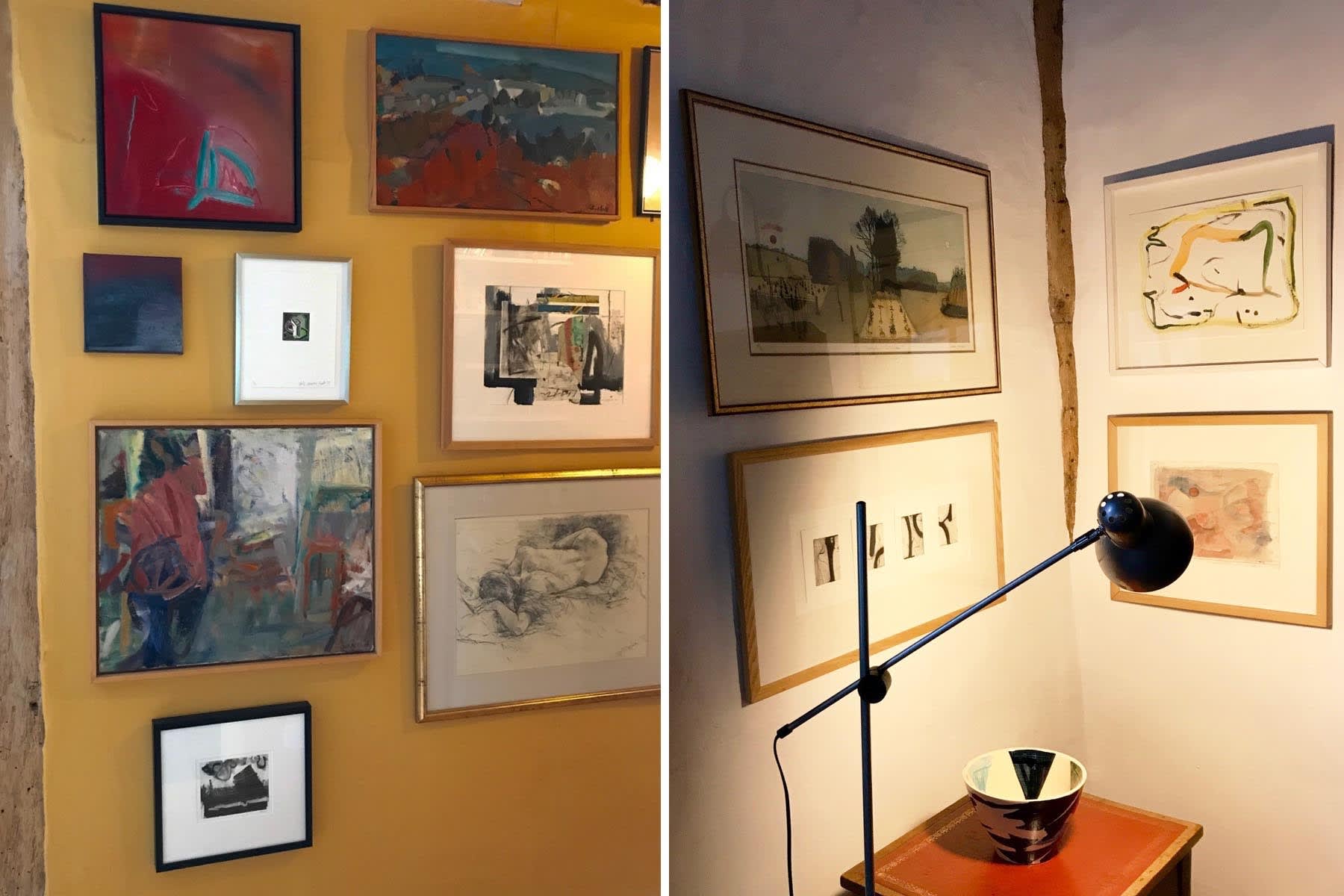 Left: Dale Devereux Barker's work on a wall in Jane Lewis's home. Pictured centre.
Right: James Faure Walker's work on a wall in Jane Lewis's home. Picture top right.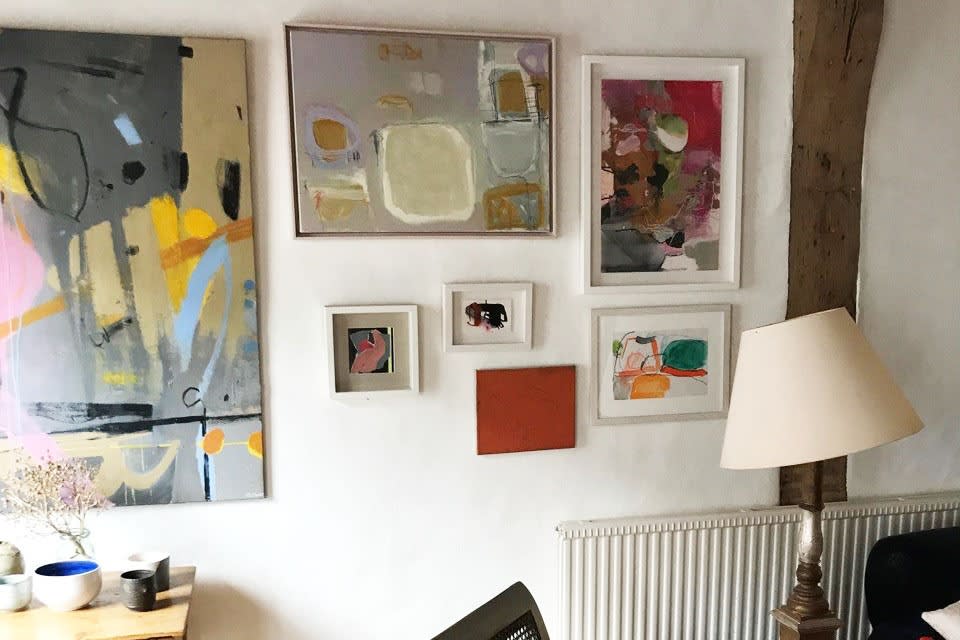 Julie D. Cooper's work on a wall in Jane Lewis's home. Pictured top right.
---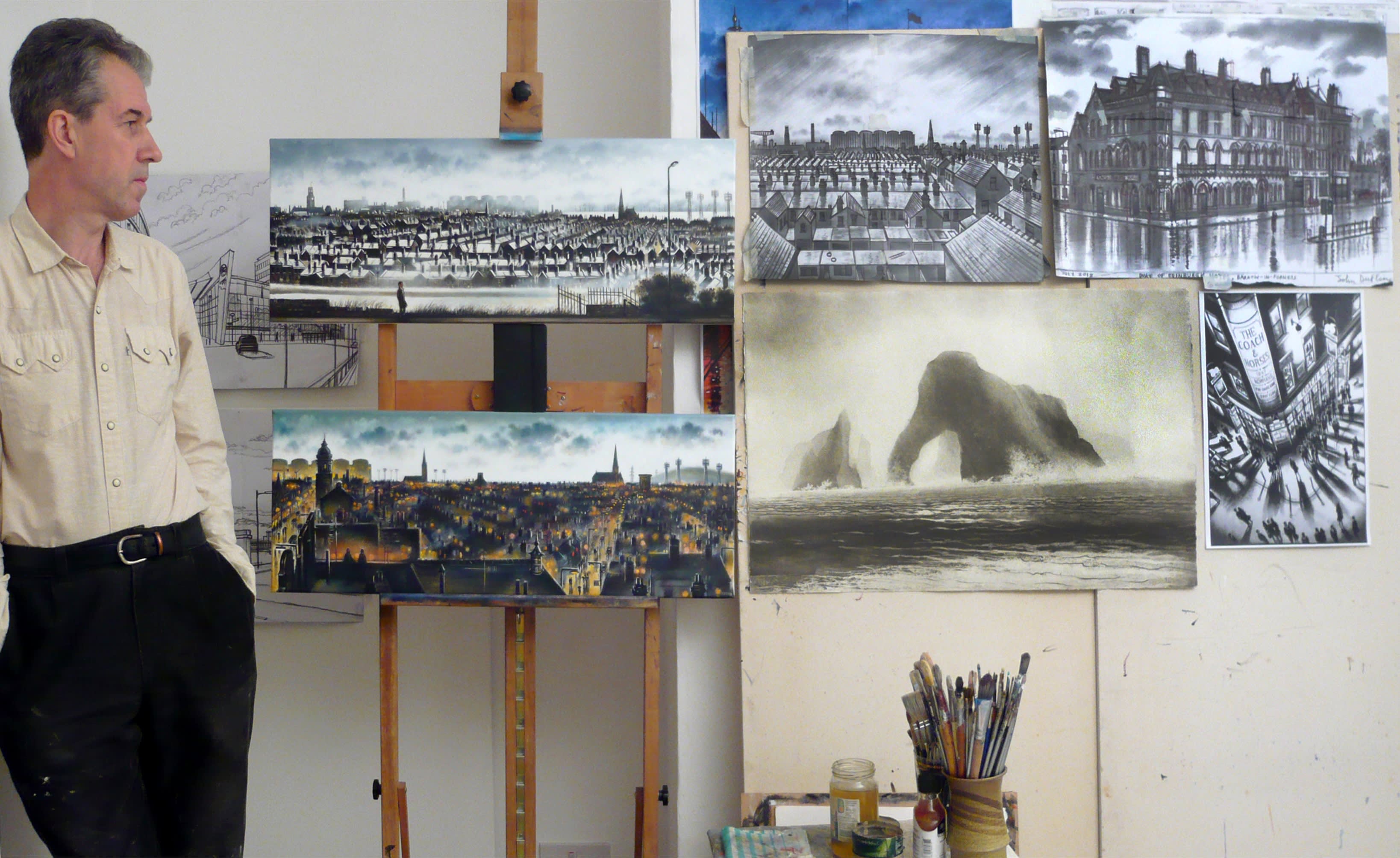 John Duffin pictured in his studio with his own artwork and a print by Norman Ackroyd, centre.
Norman got in touch with me a few months ago and after a brief chat said, "I need some printing doing, can you give me a day?" The last time I did a day's printing for Norman would have been 25 years earlier, he had been my tutor at Postgraduate Printmaking at Central St Martins in London, I had printed for him, Tom Phillips and Anthony Gormley at various times during the late 80's and early 90's. Since then I saw Norman most years, at each other's PVs, at group exhibitions but I hadn't printed for him for a quarter of a century and I was busy with my own deadlines but what's a day between a master and his old apprentice? I told him I could do the following Thursday, I also added that I might even learn something, he laughed and said, "I might too!"
We started early, Norman had six plates laid out, he needed 8 good prints off each of them by the end of the day. He proofed two for me and I got printing, after a few misses as I over wiped the plates I got into the groove and got printing well. It was great being back in the studio, it was unchanged and the system worked as well as ever, he oversaw the mornings work and we had the camaraderie that you only get when working with someone, swapping stories, memories and laughter. We hadn't discussed payment all day, I said to him "Forget money, can I have a large print instead?" A heartbeat while he considered the suggestion, then his hand shot out to shake mine, "You're On!"
I called into his open studio at Christmas and reminded him of our arrangement, I then selected a large print, I wanted water, sky and the sense of the sublime, this print of Co Kerry has all of that for me. I have a good selection of small prints by Norman but this large piece is the game changer, it's epic. I have it up in the studio at the moment and it has brought a mood to the place and has already made me rethink my approach to skies on a several pictures. It was a long hard day's work and I did indeed learn things, the print is a token of a 30 plus year friendship and a memory of printing for a master.
---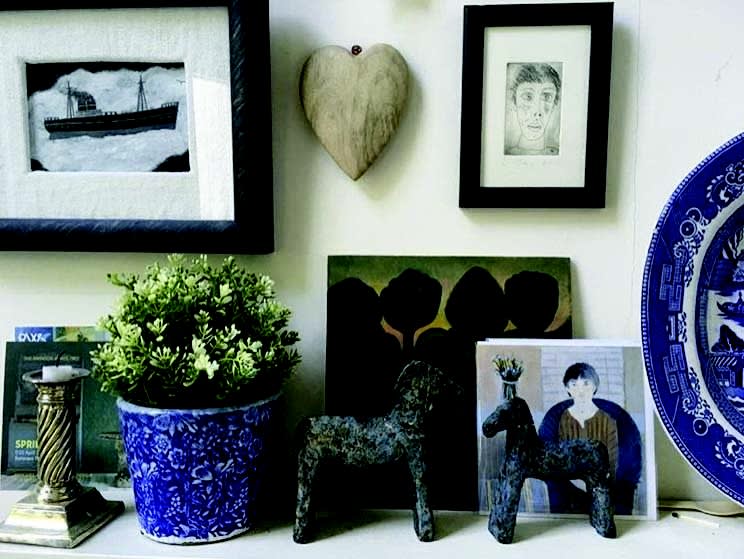 Artwork by Stephen Mumberson, top right, pictured in the home of Jill Leman.
This small etching of 'Jean' by Steve Mumberson appealed immediately to both myself and my husband. Artists ourselves, we do buy other artists' work and there was something about Jean and her slightly worried eyes that grabbed us - perhaps we both identify with her concerns! We love it.
---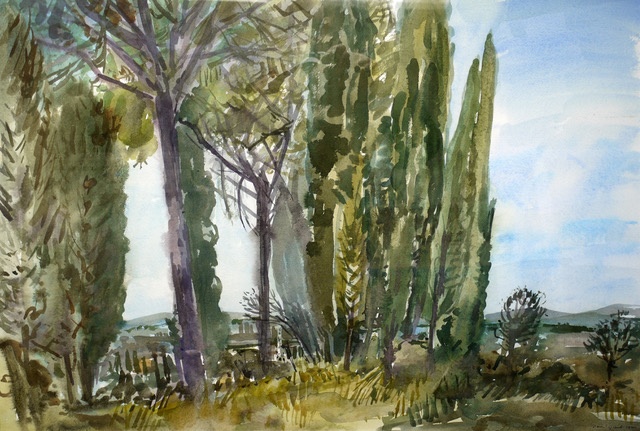 A painting by the late David Gluck RWS, owned by artist Francis Bowyer.
This is a wonderfully intuitive picture painted by David Gluck RWS, who was a great supporter of the RWS and left a large bequest to the Society. It is direct and thoughtful like the man himself. Greatly missed by all who knew him.
---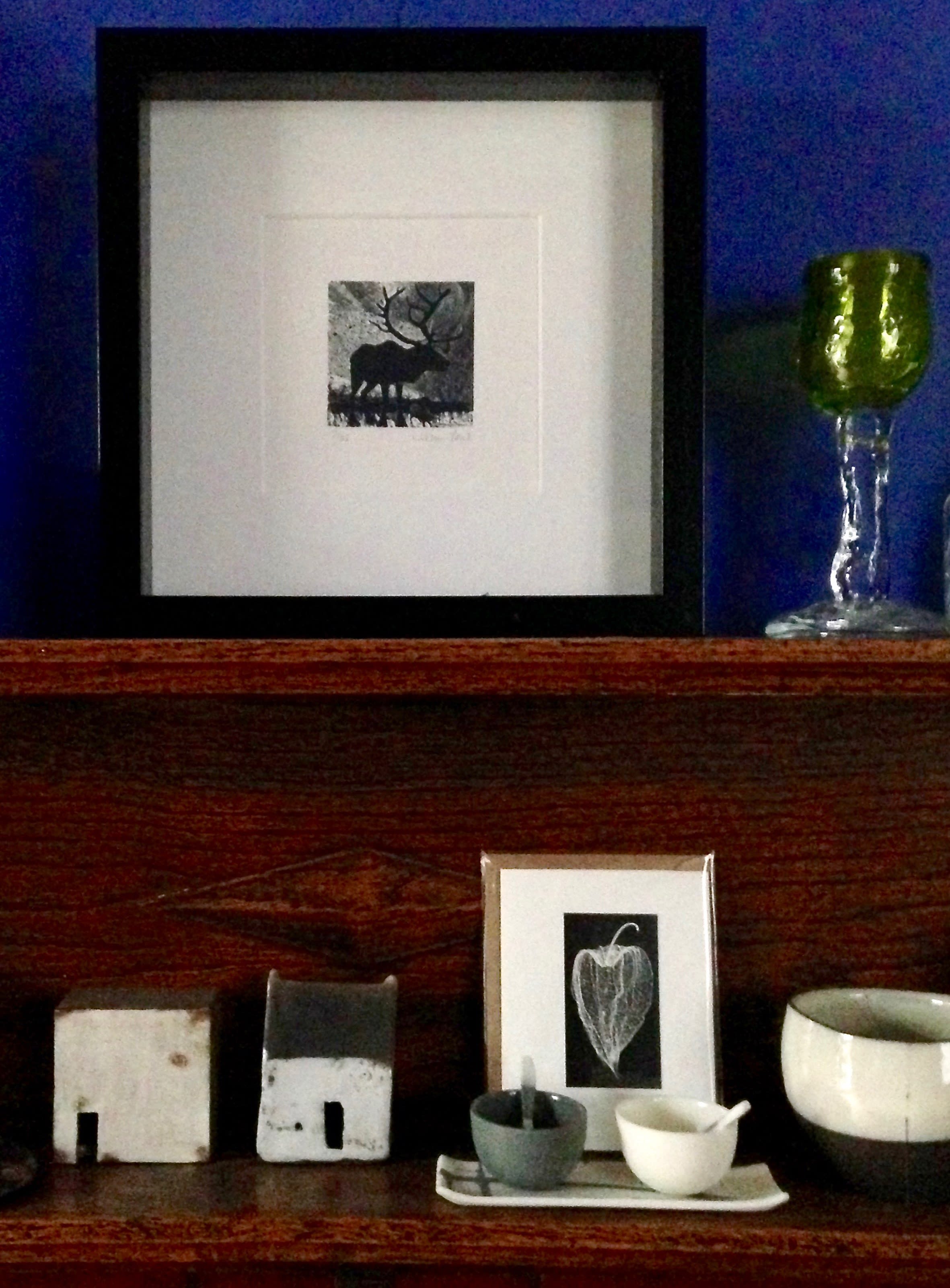 Artwork by Ann Tout, top centre, pictured in the home of Marianne Ferm.
My art collection includes an Ann Tout engraving of a reindeer in silhouette against a magnificent arctic night sky. Although it is a tiny print, only 6cm square, it evokes the vastness of a winter landscape with incredible energy and beauty. It immediately captured my imagination and I was compelled to buy it at once! It is also the first print I bought from one of the Bankside Gallery shows.
---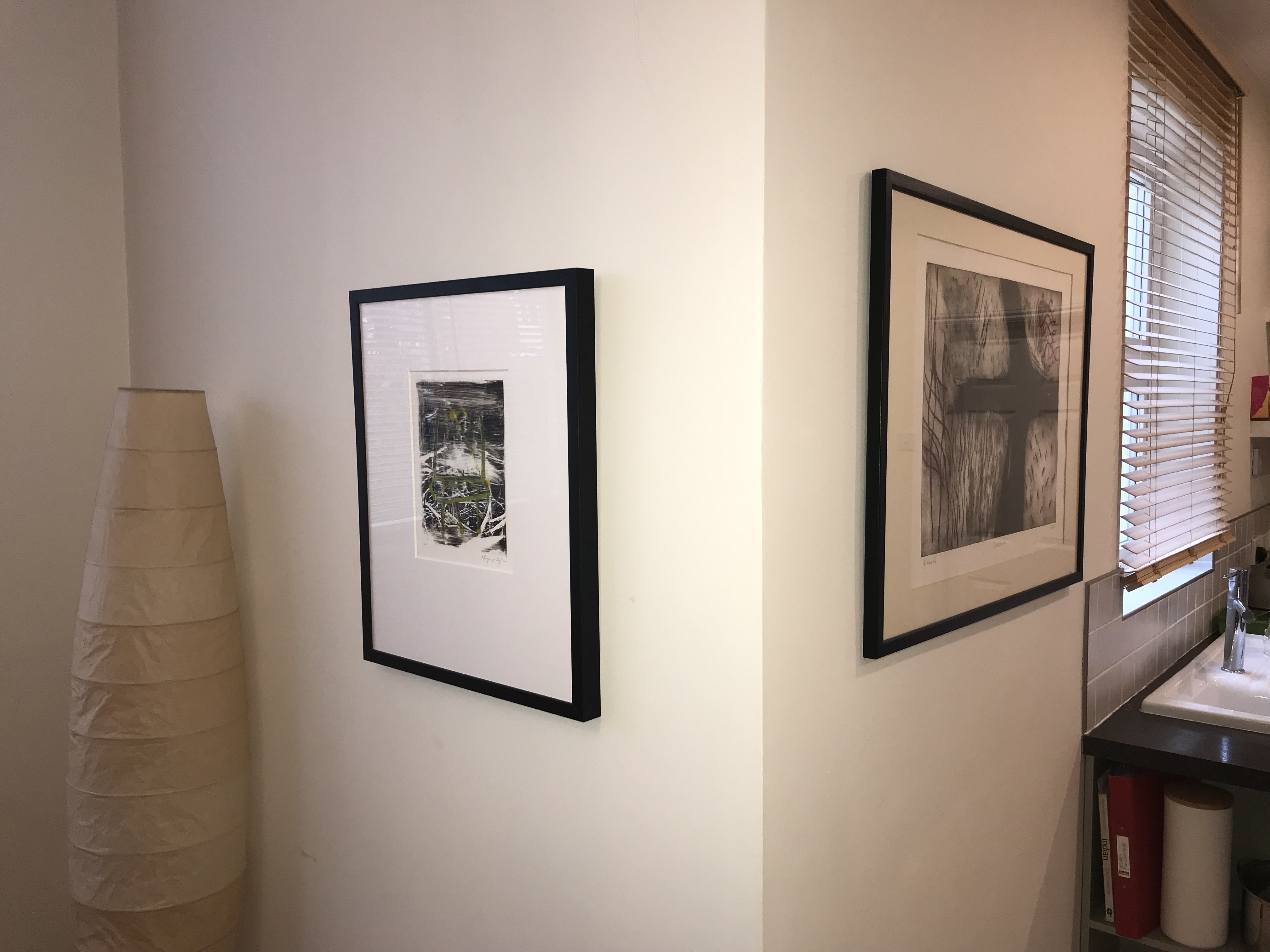 Artwork by Morgan Doyle, left, pictured in the home of Michelle Griffiths.
Morgan Doyle's monoprint, 'No.59' was purchased from his solo exhibition, 'Sounds Of the World', held at Bankside Gallery in June 2018. When I walked into the gallery, I was overwhelmed by the energy of the dramatic and powerful monoprints of various sizes filling the space. I was fascinated by the mysterious motifs of his imagery, which suggest forms and tantalise the viewer's imagination, whilst remaining ambiguous and elusive in any attempt to pin them down to a particular object or known reference. Nevertheless, the print I have lived with for about half a year, conveys a power, built on an almost sculptural presence of form within the composition and carefully considered relationships between areas of the composition.
---
Jackie Newell

owns artwork by Vijay Kumar
The India Portfolio by Vijay Kumar, pictured in the home of Jackie Newell.
This portfolio is greatly treasured by myself, and I feel honoured to be the custodian of this body of 18 prints, as the subject matter is of the feud between Hindus and Muslims in the early 1990s and is very close to his heart. Vijay was the first person I met at the Manhattan Graphics Center in 1989. He was and still is a source of inspiration to me . Always generous with his time and knowledge. Although a retired member of the RE. He still actively promotes our society both in New York and India whenever he can.
Bankside Gallery is the home of the Royal Watercolour Society and the Royal Society of Painter-Printmakers. Artworks made by artists from both societies are available at the gallery and on our website all year round. Browse through our artists here.
March 1, 2019