The RWS held their first ever instagram-panel-discussion last week! After having to cancel the 'Abstract art in 2020' event, they turned to social media to ensure that you all had a chance to hear a little bit from John Crossley, Jim Hunter and Lisa Traxler - three artists of the RWS who use abstraction as a key part of their practice, but produce very different results.
John, Jim and Lisa discussed their personal journeys towards abstraction and the similarities and differences in their creative methods. This was a unique chance to understand the exploration and research which goes in to the making of an abstract art work. In case you missed it, we have brought the discussion panel to the BG Feed!
First up, some introductions…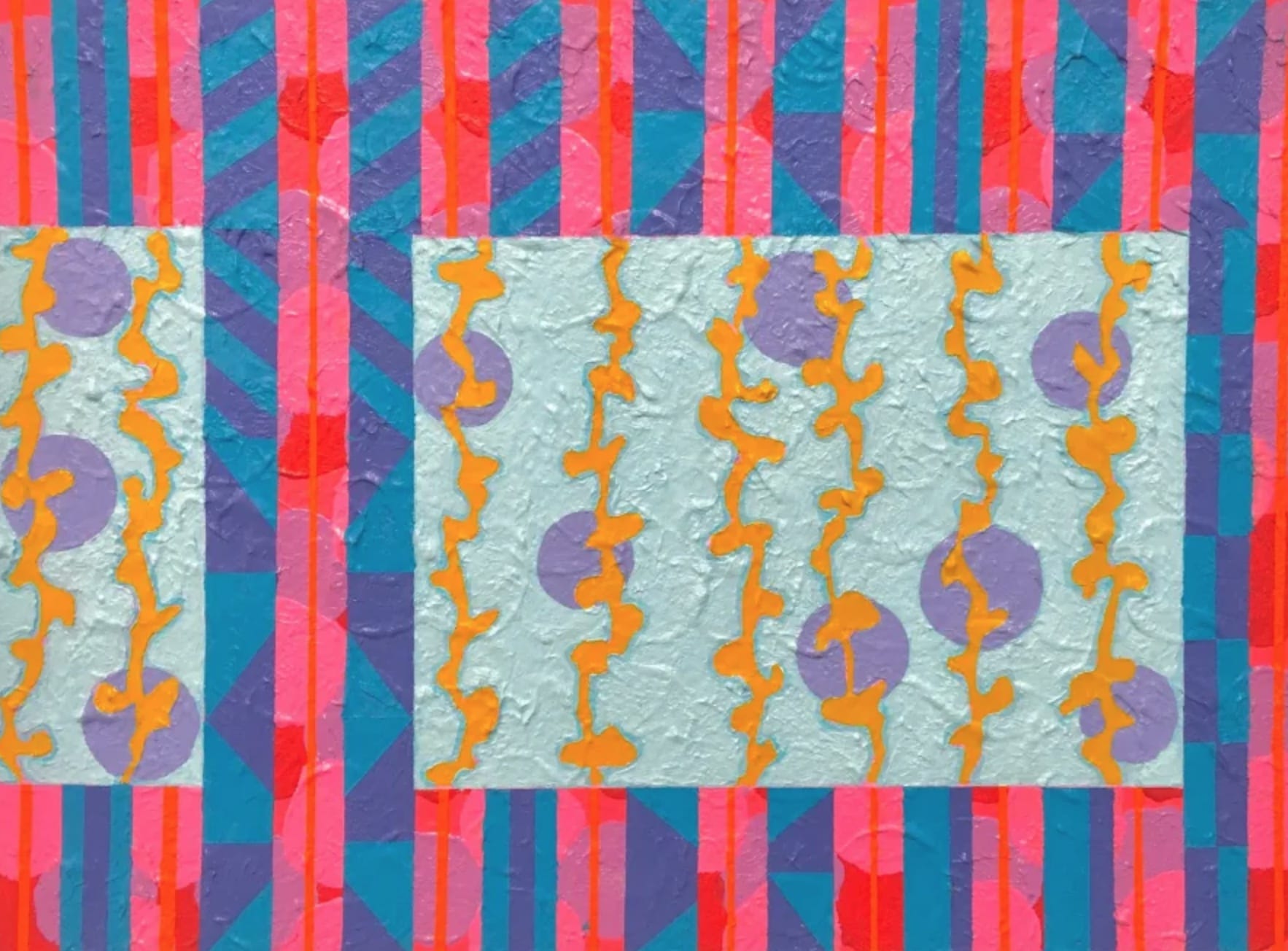 John Crossley RWS, Wish You Were Here, Tuesday, Postcards from a Journey, acrylic
John Crossley RWS
"My mode of practice has evolved from my time as a sculpture student in the early 1970s at St. Martins School of Art. Renowned then for it's abstraction within sculpture with tutors Anthony Caro, Phillip King and Bill Tucker teaching… Even then colour played an important role in my making.
"After working with Caro after my postgraduate course for a couple of years, I needed to create my own pathway, which led me to work in various materials. The 3 dimensional element started to reduce to wall mounted wooden coloured constructions, over the years these became flatter to the point that the 3 dimensionality is embedded into the 2 dimensional surface."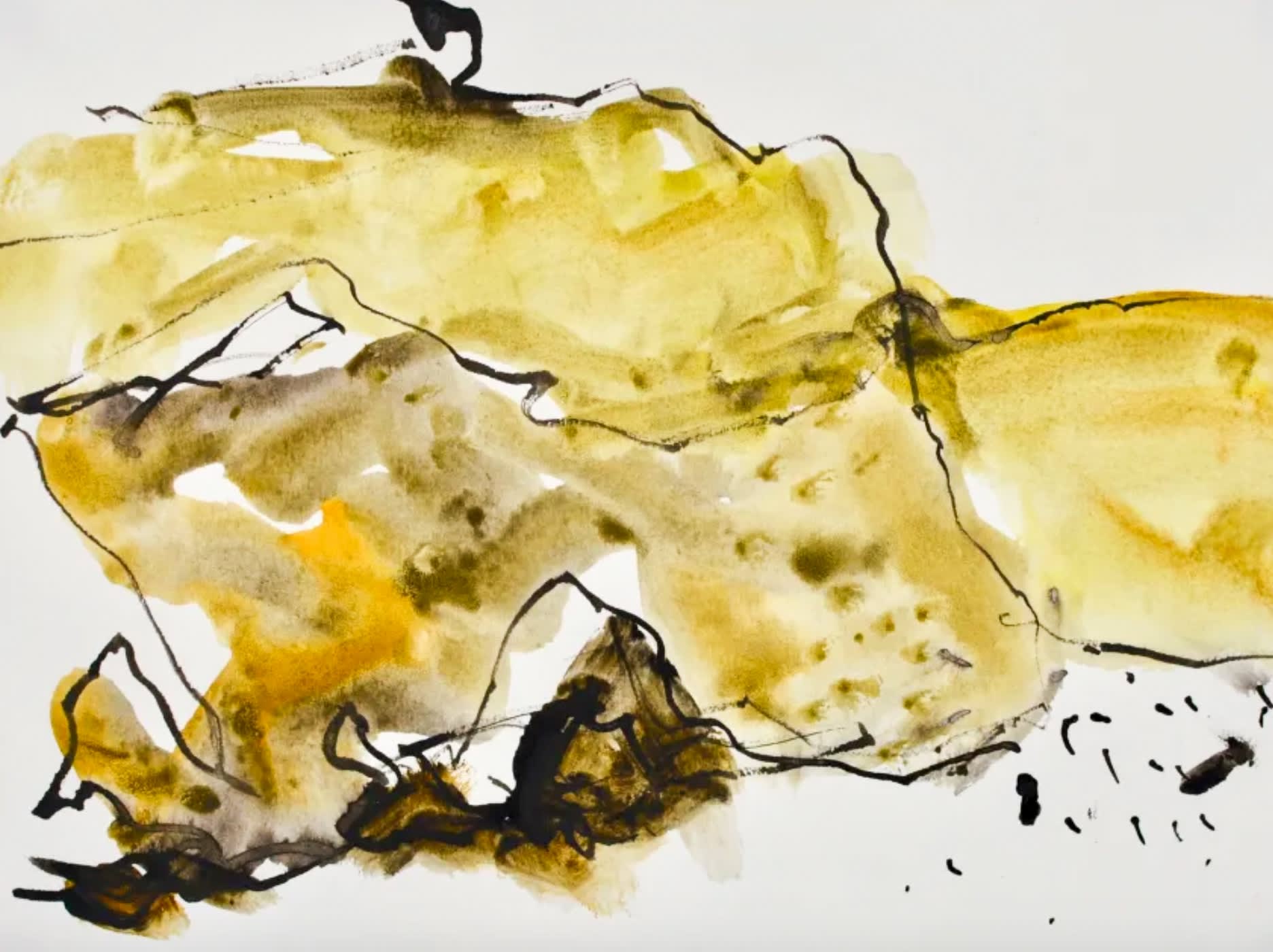 Jim Hunter VPRWS, On Grande Greve, watercolour & ink
Jim Hunter VPRWS
"My studio and home are in the Isle of Purbeck, Dorset, and this particular landscape of cliffs and stone quarries is often the subject of my paintings. Since my early student days at the Royal Collect of Art I have used watercolour for working in and from the landscape.
"Throughout my career in art education, retiring recently as Emeritus Professor of Painting, I maintained my practice as a painter and exhibited regularly. I was delighted to receive the David Gluck Memorial Award at the RWS 2017 Contemporary Watercolour exhibition and I am pleased to have been elected a full Member of the Royal Watercolour Society."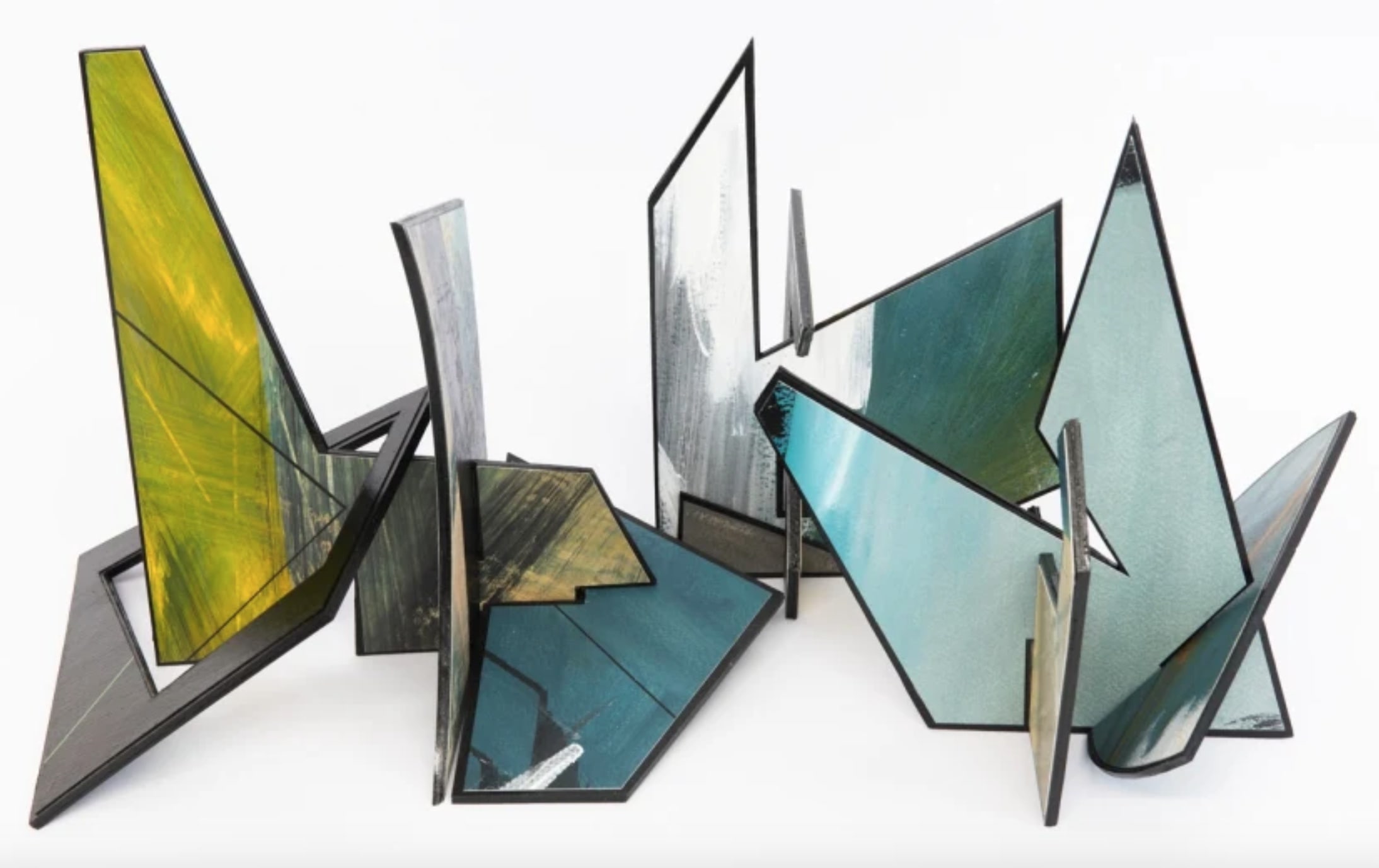 Lisa Traxler RWS, Cave (assemblage), acrylic
Lisa Traxler RWS
"My 'previous life' in costume and textiles and my work now, as a visual contemporary artist, are intrinsically linked. I can't help but be influenced by light, shape, form and colour around me. This natural outpouring is my driving force and my abstract work contains shapes and movement from diverse sources.
"I believe my past experience from working 'around' the figure, from when I worked in the fashion industry, has a great influence on how I place collage pieces, form shape within a painting and view my sculptural work in my current practice.
"I am now based on the Isle of Wight with my studio in an old WW2 Nissen Hut. I have been able to pursue my love of art and follow the dream I had as a young person to earn my living from being a visual artist. I believe my career in the fashion industry laid down a sound basis for time management, interaction with people and a very strong work ethic that I have been able to carry with me.
"My interdisciplinary practice embraces the partnership of two and three dimensional form engaging with scale and shape. My fashion design background acknowledged through the use of 'pattern pieces' in my collage paintings - encrypted shape and form working in co-dependancy to create the outcome. These spacial pieces investigate historical influence with an ongoing fascination into dazzle camouflage of the first world war and defence architecture of world war two."
---
Where do your initial starting points come from?
[Jim]: "I start by working directly from the landscape, using a sketchbook and walking and drawing. I enjoy working outdoors using watercolour and ink. I often say that I do not know what I am doing when I make these responses to the landscape. They are about and from the landscape but are not transcriptions of views of the landscape. They are records of my experience of being in the landscape. When I start a new painting in the studio I look at these sketchbooks and I have them around me to draw from as a source of my imagery."
[Lisa]: "The body of work that I have been evolving started several years ago when my partner and I bough a WW2 derelict radar bunker on the South of the Isle of Wight. Throughout the process of making this our home the challenges and inspirations from the project led me to research the history of the bunker. Visits to the Imperial War Museum and research into defence architecture have been a rich seam to mine. I become excited to unearth a back story to my work. Each part of it requires an intrinsic meaning and through this the work unfolds."
[John]: "The initial sources are from a visual language of internal and external landscapes, narratives that develop out of the process of seeing, looking, absorbing and transforming through colour, form, paint and process."
Is there a particular mode of practice that kick starts the work?
[Jim]: "In the studio I start work with my paper flat on a table or the floor and draw with a pencil, looking at my sketchbooks not the paper, to map out the scenario for the action of painting. I then start broadly brushing-in areas and using lines to find the rhythms of the composition. As the imagery grows more speculative I often incorporate collage and elements of pasted paper as a way of keeping the work 'open' and inventive."
[Lisa]: "I let the research guide me giving depth to the thought process. During the bunker build my research was aligned with the physicality of the build itself, thus informing the shapes that evolved from my studio where I retreated to make sense of what was happening around me.
"Alongside the maquette making I keep sketchbooks. These are 'project books' - scribbled notes, words spoken, shapes in the shadows of the building, colours glimpsed: research and real life cross influence each other as to the nature of the work combining two and three dimensional form."
[John]: "The work starts through a visual note making, which tends to be on scraps of paper as a way to capture an immediacy. After this initial thinking and visual rendering of the ideas, I try to establish a two way conversation with the work to allow it to evolve and for us to travel on a mutual journey."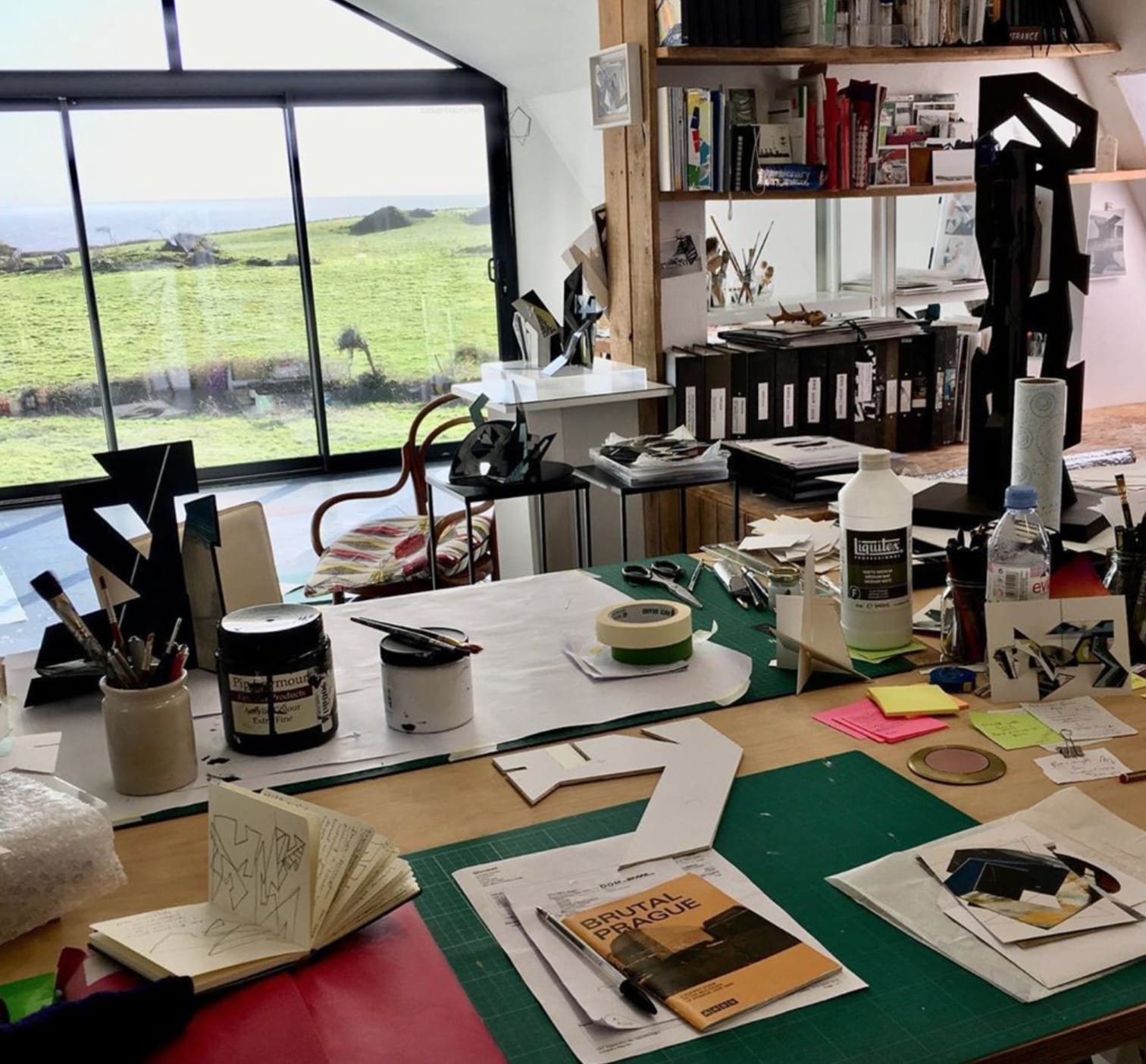 Lisa Traxler's studio
And what about colour, what part does it play in your practice?
[Lisa]: "My palette unfolds itself as I paint. I don't generally work out the colour range but let intuitive action take place. Almost as if an instinctive reaction is happening; the influences of the research from books and museums but also my every day surroundings and the landscape of my living. The colours then have an emotional quality to them, drawn from somewhere deep to interpret my thoughts."
[Jim]: "I use colour for its expressive potential rather than any descriptive purpose and for creating spatial relationships within the painting."
[John]: "Colour is an essential ingredient, always mixed it's the glue that holds everything together and can also be used to activate a discourse within the piece. It's not descriptive, it's playful and can also be troublesome."
You all use form in different ways, does that evolve through drawing? If so, is it from reality?
[John]: "Form develops from absorbing what's around me. Form and colour depend on each other, they compliment but also can create a disharmony, so posing questions as well as possible answers. Because of my sculptural background, the edge, placement, spaces between and texture are important elements within the organisation of the surface. The physicality of the work both in its internal visual language and the fact I work on 640 gsm that has a physical weight is important to its making."
[Jim]: "As I said earlier, I begin with my drawings/paintings made outside in the landscape and then draw from these to initiate a painting.
"When I am painting I don't think of how I use form but rather how I might use shapes and colours to create spatial readings and ambiguities. The white of the paper is important in creating form and space within the painting.
"In describing my work I borrow Peter Lanyon's description of his own work: "These are not abstract nor are they landscape, they use abstraction as a method and landscape as a source." (Peter Lanyon, notes made in c1958)."
[Lisa]: "My wall based collage paintings and 3 dimensional assemblage paintings are revealed through an intricate system of arranging and cutting shaped forms. These cut forms are my drawings, the abstract 'working out' of a piece. Sketches from my project books may inform or a need to carry the shape off the wall to an assemblage piece which then may re-inform the wall painting again. These unique 'pattern pieces' are constructed into small assemblages and relief configurations. Although these abstract shapes appear unspecified they are based upon the defence architectural references and camouflage research. Working back and forth from two to three dimensional forms creating greater possibilities and spacial narrative. Each piece is dependant on its neighbour to form the completed painting, both 2 and 3 dimensionally."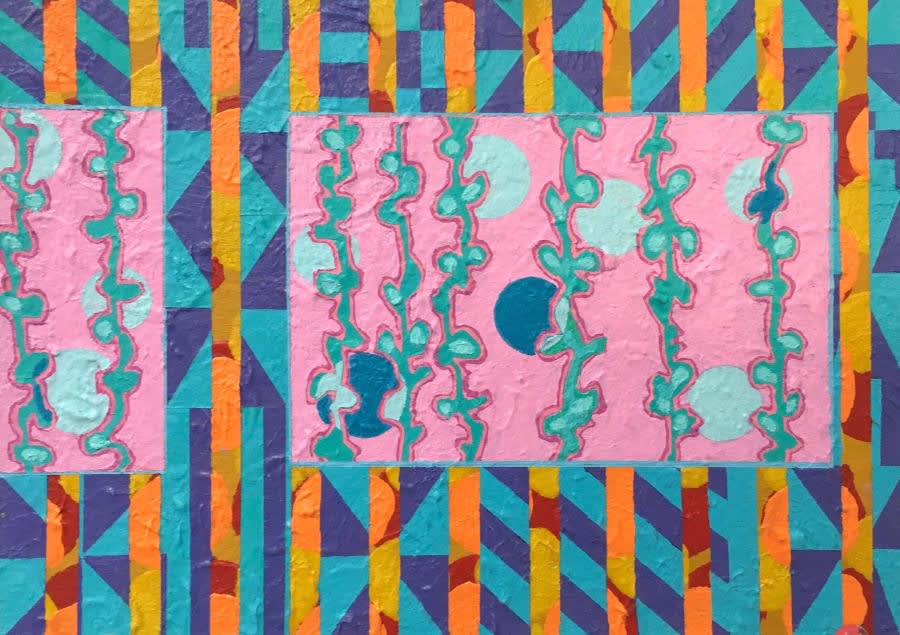 John Crossley RWS, Wish You Were Here, Thursday, Postcards from a Journey, acrylic
Rothko played with broad swathes of light and colour, you [Lisa] mix patterns, textures, shapes and colours. Both artists keeping the viewers interested in the piece long after its initial viewing. At what point does the abstraction and lack of content stop being an abstraction and start being bad art?
[Lisa]: "I am pleased to hear my paintings hold the viewer and have a greater depth than just a fleeting moment. If someone spends time with a painting they may give themselves the chance to understand it. When a viewer 'gets it' that is really exciting for me. A sense of a conversation between painting, eye and brain.
"I believe the 'abstraction' is the content rather than a lack of content - it is giving the viewer the space to work it out rather than dictating what they are seeing. The content is the colour and form that draws the viewer in and makes something 'happen' emotionally when they really look at the work."
How are you all coping with the current situation?
[John]: "Over the last 40 years I have had my studio as part of or attached to my home environment. This was partly for practical reasons especially after long days of teaching, I didn't want to travel distances to be in the studio. This allowed me to live with the work able to look at what I had managed to do in the evening before the following morning. Living outside the metropolis in a Suffolk village which we moved to 3 years ago my present studio is a building that completes a courtyard. So isolation has never been a problem, it's been beneficial to create a distance between myself and influential artists, leaving them at the studio door, allowing my thoughts to travel without them."
[Jim]: "I am restricting myself to the house, garden and studio. I am fortunate that my studio is just a walk across the garden and is always, anyway, quite isolated. I have lots of source material from my sketchbooks to keep referring to and working from. And I am using the extra studio time to return to a large canvas that I have been struggling with. The local small Purbeck brewery is doing doorstep beer deliveries so I am taking advantage of that!"
[Lisa]: "We are living through a unique piece of history. I feel very grateful that I have my studio to go to each day to consider, contemplate and try and make sense of what is happening. I have been spending time looking through my archived work as I couldn't concentrate on anything during the first week. A lot of past memories coming up. Emotional. Now I have tentatively started to lose myself in my work and let this situation flow through into my work. I don't know what that will be at the moment but letting it happen seems to be the key."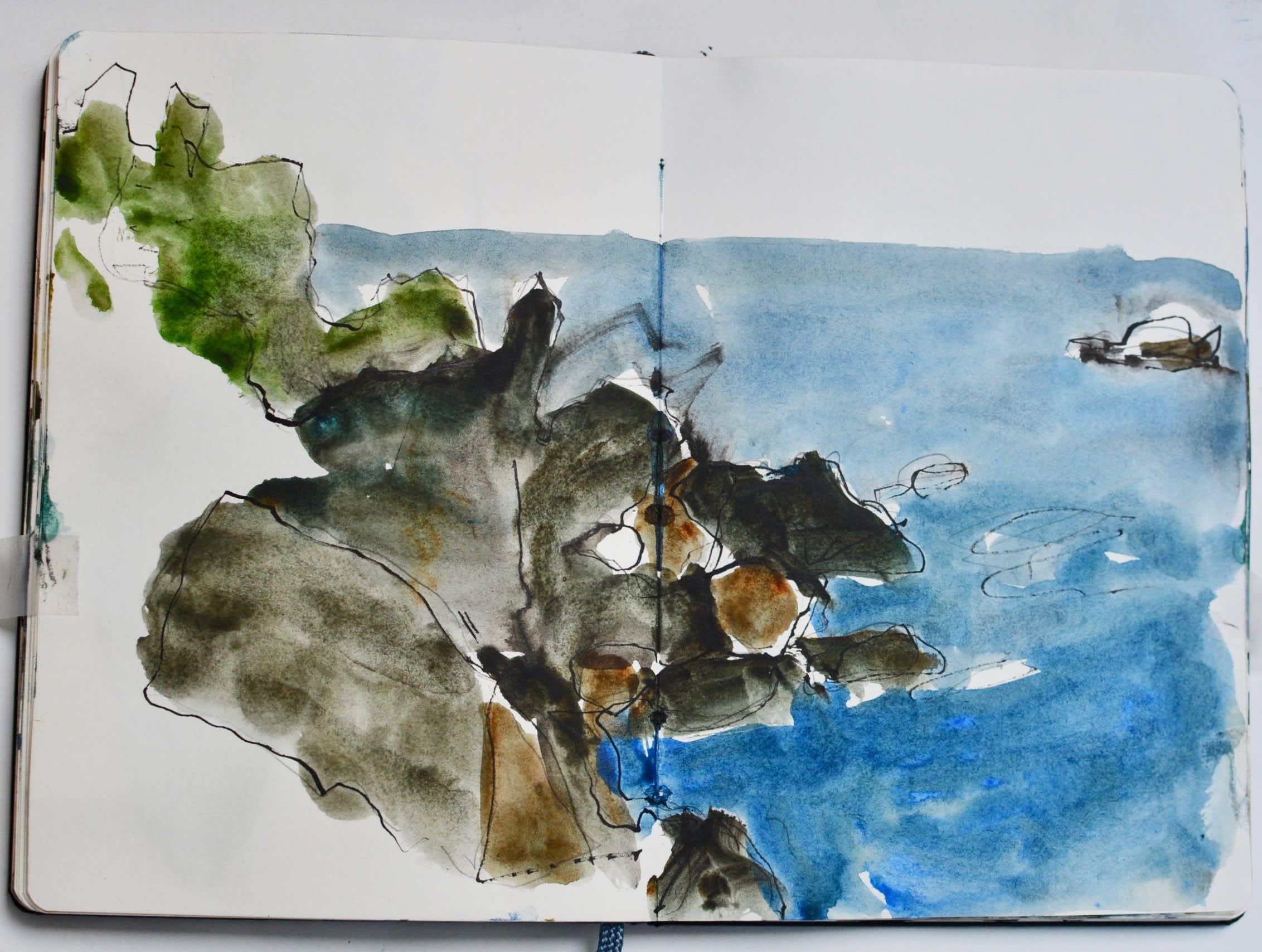 Jim Hunter's sketchbook work
April 9, 2020