The Royal Society of Painter-Printmakers held their annual elections back in February 2020. We are so excited to welcome these four new Associate Members - and can't wait to see more of their work up on the walls of Bankside Gallery.
---
Ade Adesina ARE
Ade Adesina⁠ is currently a full-time printmaker who lives in Aberdeen and is Artist in Residence at Glasgow Print Studio.
Ade's wonderful large scale monochromatic prints combine his African roots with British culture and are as visually stunning as they are technically breathtaking. You may recognise his work from previous exhibitions at Bankside Gallery - Ade was a Guest RE Member for one year, having been awarded the RE Prize at the 2018 National Original Print Exhibition.

"My work is a visual commentary around the ideas of ecology and our ever-changing world. I am fascinated by how the human footprint is affecting our planet. Our world is full of wonderful landscapes and I wish to highlight the continual damage caused by things such as deforestation, the politics of energy consumption, and endangered wild species."⁠
- Ade Adesina
The Questions
---
Gordon Ellis-Brown ARE
Gordon Ellis-Brown's practice oscillates between social and environmental concerns ranging from ancient history to pop-culture, sustainability to space science; interests he credits to growing up in a seaside hotel in the 1970s, as well as childhood memories of American Westerns, the Apollo space missions and the unworldliness of television tropes broadcasting alien visitations.
"In my latest series 'Final Frontier', a series of mixed media works combining paint, pigments, metallics and photography, I explore my fascination with humanity's place in the universe, contrasting found images of modern day space exploration with ancient marks conceived from the visual languages of indigenous people.⁠
⁠
"Connections are drawn between classical deities and contemporary idealism, astronauts, the space race and Nineteenth-Century colonialism. With subtle humour I strive to lay bare the fragility and precariousness forever evident in human endeavour."⁠
- Gordon Ellis Brown
Untitled III (Space) Final Frontier
---
Terence Gravett ARE
For many years, Terence's subject matter had been influenced by an interest in classical Roman and Greek archaeology. These figurative works continued after he left Brighton to take up a full time Print Residency at Belfast Print Workshop.
Over time, his work has became more abstract, developing a strong use of colour and loosely based on plant forms and organic growth. The titles of his works reference well known British gardens - not a literal description, but only a means of identification of one from another.

"My images are made by cutting thin MDF board with a very fine fret saw blade into jig-saw pieces that fit perfectly in registration to one another, and can be carefully burnished onto paper in a variety of overprinted colours."⁠
- Terence Gravett
Trelissick
---
Peter Lloyd ARE
Well known for his screen printed Mexican wrestler images, his current body of work explores black culture and the diverse world of Afrofuturism thorough the pop culture lens of the super hero. Peter primarily trained as a traditional Fine Art Printmaker, and his practice has extended to include and experiment with emerging digital technologies and materials.⁠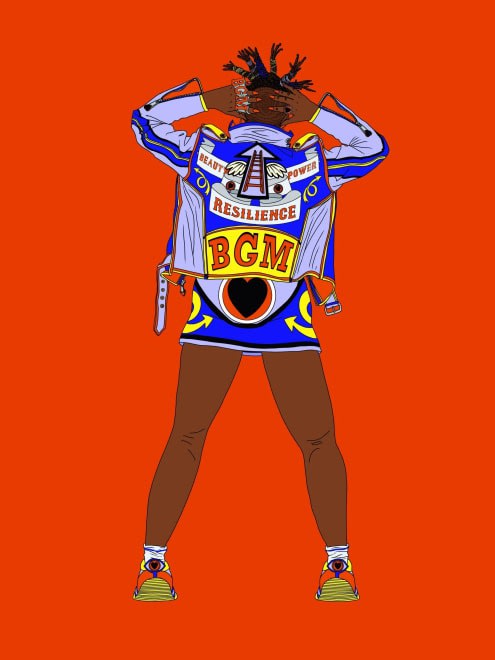 Attack The Crowd Black Girl Magic 2
April 17, 2020