There is an unhinged energy to Agathe Sorel's work. It was described vividly in London City Nights as, "an invigorating brand of confusion, layers of meaning being stripped away until we're forced to grapple with naked geometry, colour and form."[1]
I always enjoyed seeing Agathe at the gallery, although it was only ever for her efficient, somewhat brusque artwork handovers. Her brusqueness was part of what I liked, because it was all a piece with other traits of hers which seemed comfortingly familiar, as they reminded me of my Hungarian grandparental generation, all of whom have now died. They came over during the war, whereas Agathe arrived as a result of the revolution of '56, but the flavour was the same on them all. Physically – her hands and voice – there were similarities. Her slightly slapdash approach to make-up reminded me of my much beloved great aunt. In Agathe's case, great arcs of turquoise eyeshadow would often bound across her lids like forms in one of her paintings. Duncan Scott observed of her that, "from Hungary and a European respect for intellectual speculation Agathe brings a healthy refusal to separate art from science and philosophical enquiry."[2] This inevitably reminds me of my grandfather, whose life as a doctor, a painter and a writer of popular medical history seemed in no way contradictory.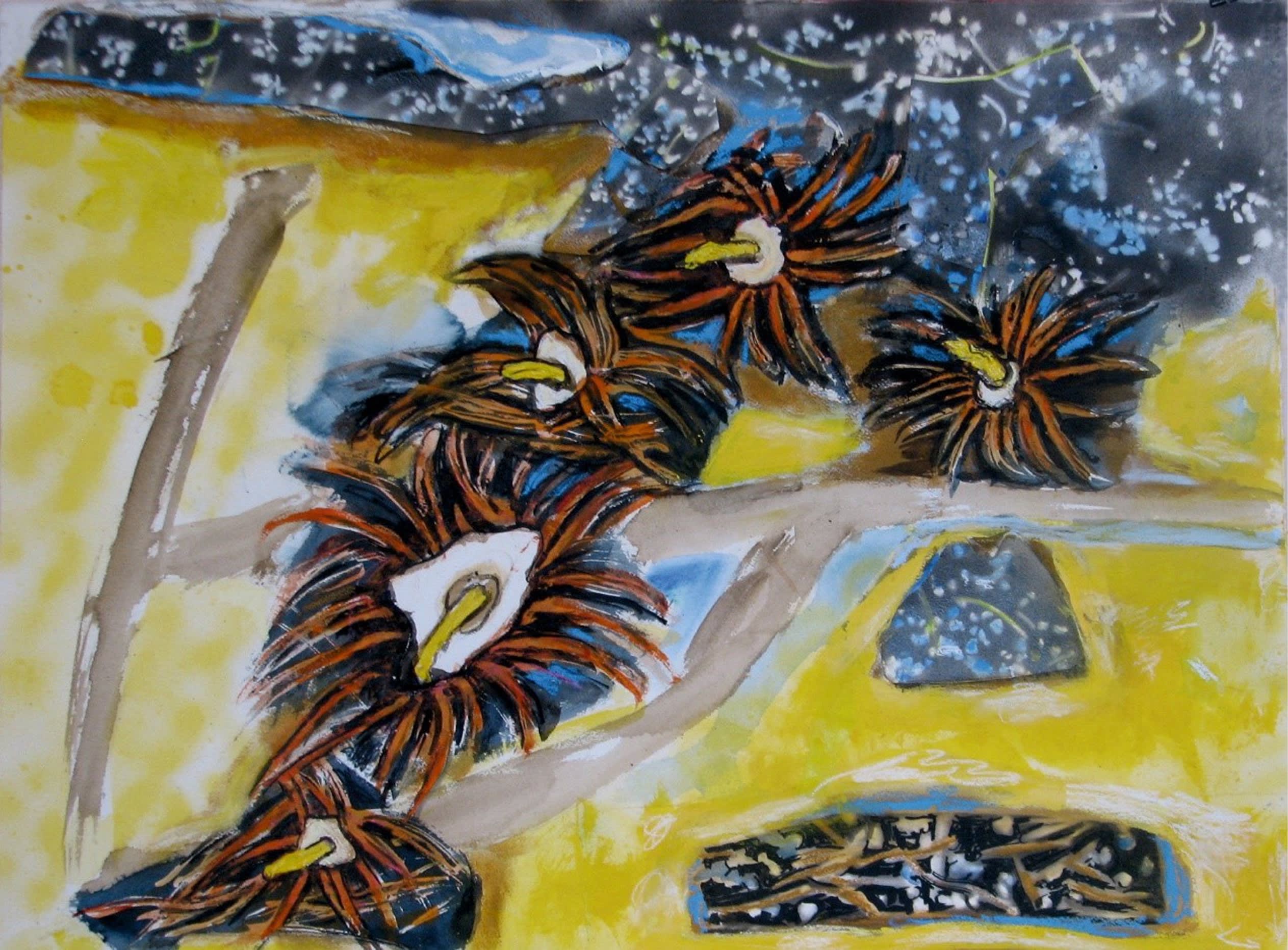 Agathe Sorel, Sexy Flowers in a Geometric Background, 2012, watercolour collage, 65x85cm
The fact that Sorel was a member of both the Royal Watercolour Society and the Royal Society of Painter-Printmakers is only a small indication of the interdisciplinary nature of her practice, and of the level of respect she earnt within multiple media. She worked in watercolours, many different print media, sculpture in a variety of materials, livres d'artiste, photography and digital art, transcending what she called the "artificial barriers between these territories"[3]. Duncan Scott says of her Perspex sculptures and space engravings, "I know of no other sculptor working in this medium who is able so to combine organic, geometric and associational elements."[4] Perhaps it is this combination of elements, media and dimensions which makes her work so unsettling. Engraving, traditionally a two-dimensional medium, springs through the air in three-dimensional intersecting lines. Even her two-dimensional framed watercolours, through the use of collaging, also have a sculptural quality. Euclidian geometry, allusion, representation and pure abstraction combine and cancel each other out. Jagged, gestural marks meet photogravure. Paper meets Perspex meets metal. Mythological references meet bikinis drying on a line.
Rosemary Simmons writes about Sorel's process which over time saw the transformation of printing plates into sculptural forms:
"The metal 'plates' were objects of beauty in themselves and exhibited as such. She moved on to working with acrylic sheet where neither the print nor the sculpture could be identified as the prime instigator. Soon she was engraving on acrylic sheet on both sides and filling the lines with coloured inks. The acrylic was bent and twisted and bore little resemblance to a printing plate." [5]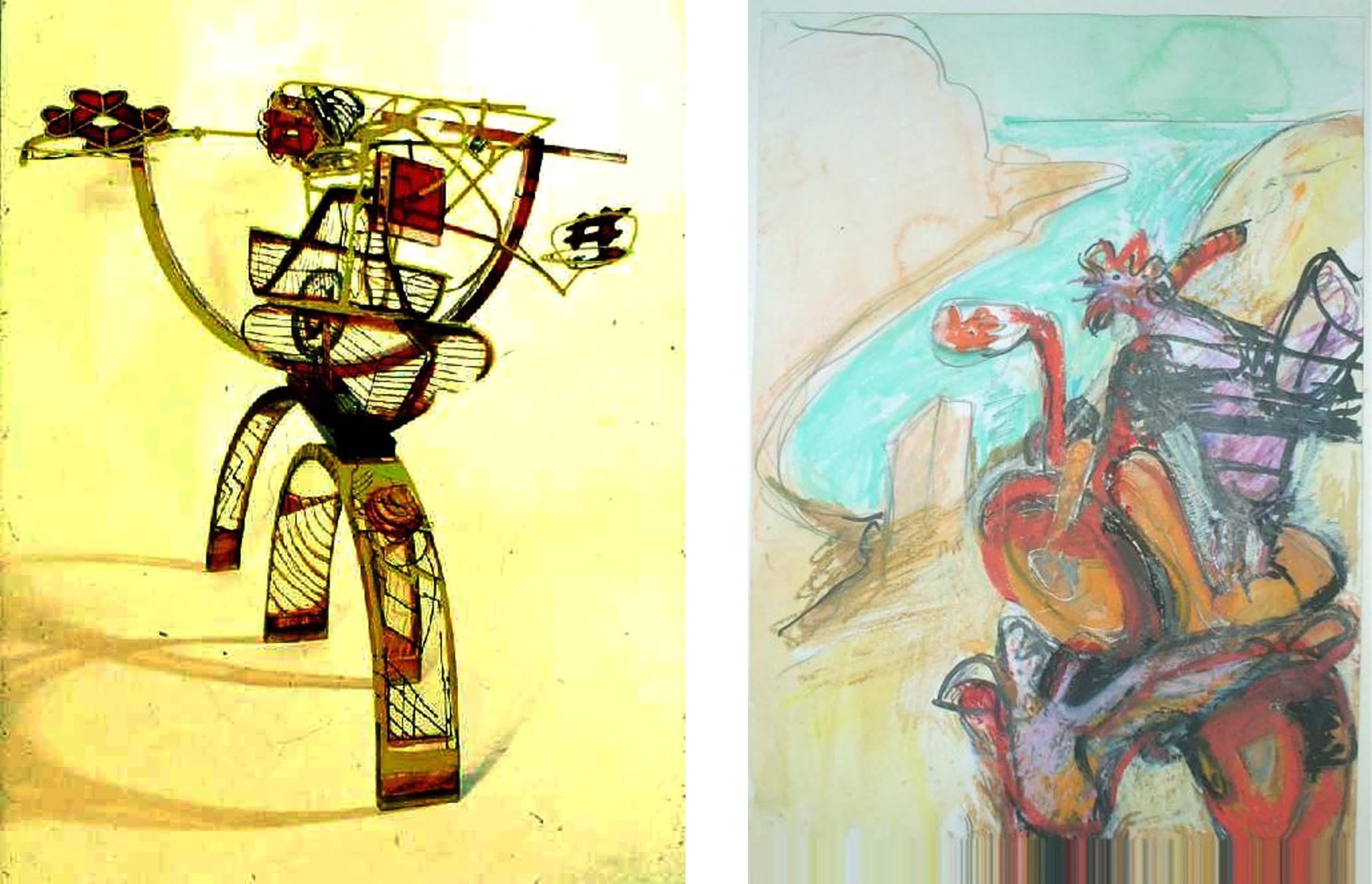 [Left]: Agathe Sorel, Macho the Cock, 1985, Perspex, metal, mirrors, engraving, 118 x 123 x 114cm. [Right]: Agathe Sorel, Cockerel on a Motorbike, 1985, watercolour.
A major example of this hybrid of engraving and sculpture is her piece Macho the Cock. The study for it, Cockerel on a Motorbike, reveals the comical origins of the piece. It was one of those images that life sometimes presents which is impossible for the artist to ignore. In Lanzarote, the place she spent much time and which inspired a large proportion of her work, she was faced by a cockerel preening itself in the mirrors of the motorbike on which it was sitting. Masculine vanity and sexual display seem to create a moment of cross-species synchronicity. Her study is funny, but the confusing perspective and forms of the Perspex and metal sculpture take the scene out of the realm of pure comedy and into a more sinister dreamlike atmosphere. Although Sorel's express influence is Constructivism, the ghost of Futurism haunts this sculpture. The cock could almost be Marinetti, screaming about the wonders of technology and war. To send this form of masculinity up, particularly as a female refugee from a centre of mid-20th century conflict, is not a gentle jibe, but a powerful political statement.
There is violence in her mark-making. Philip Hughes wrote, "It is the printmaker in her that appears to dominate. I do not mean that the prints are better than the sculptures, but rather that the compulsive engraver that she is cannot but do violence to the surface of her sculptures."[6] He suggests thinking of the engravings on the sculptures as tattoos. On Macho this is highly appropriate: the tattooed biker, the branded bike. But their anarchic scrawl is opposite to the careful significance of most biker tattoos. She denies the macho figure the right to define himself, instead defining him on her terms as scarred, dangerous, and silly.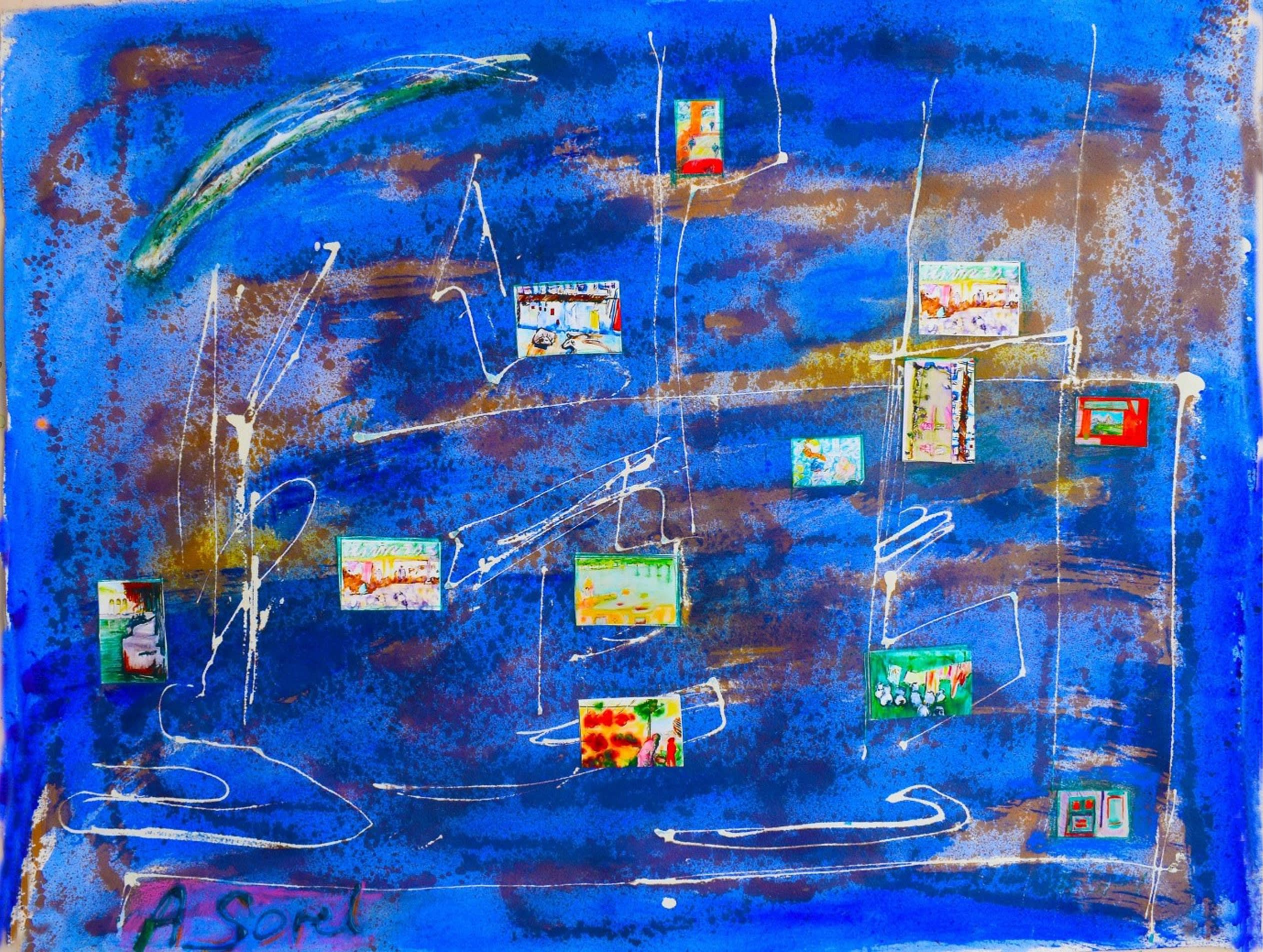 Agathe Sorel, Travel to India 2, terminus ante quem 2019, watercolour collage, 52 x 65cm
Her interdisciplinary practice was also international. Born in Budapest in 1935 she studied stage design, murals, frescoes and mosaic techniques at the Academy of Applied Art, moving in 1955 to the Institute of Fine Arts to paint. After fleeing Hungary during the revolution of '56, she ended up in London where she studied at the Camberwell College of Art. She later studied at Atelier 17 in Paris, and was the recipient of Gulbenkian and Churchill fellowships, allowing her to travel and work in France, the USA and Mexico. She was a founding member of the Printmakers' Council and served as Chairman from 1981-1983. She has taught and exhibited internationally and her works are in national and private collections around the world including the Tate Gallery, the Victoria and Albert Museum and the USA National Gallery in Washington, among many other prestigious collections.
Her influence on the world of printmaking is powerful. Otto Rothfuss said, "With her engravings, English printmaking has reached climax. The wealth of her talent is stupendous… Let us enjoy the play of reality and illusion which Agathe Sorel presents us with, and enter into a dialogue with these mysterious objects – and the artist herself, who can best interpret them."[7] The great sadness now is that, of course, we can no longer enter into a direct dialogue with the artist. But her inspiration lives on.
I will conclude with the words of RE President, David Ferry, who knew her well:
"Agathe Sorel was my first teacher of etching, at art school. I was 19 years of age, and all those decades later I was still in earnest discussion with her, regarding her forthcoming autobiography. She was a great force of energy, and her belief in printmaking as a pure inventive process, and one not locked solely into craft, was inspirational; for her, the photocopy machine and the digital revolution sat perfectly alongside the etching press.
Her considerable legacy in the field of extended printmaking, both in the UK and internationally, will continue to gain momentum and inspire new generations of printmakers for many more years to come." [8]
Edith Dormandy 12/09/20
For further reading on Agathe Sorel, please visit www.agathesorel.co.uk/bibliography
---
September 16, 2020