Between 23-28 November 2021, Bankside Gallery and Eton College are bringing together a selection of works from Eton's artists in residence in the exciting Art Makes Art exhibition.
Three of Eton College's artists in residence taking part in this forthcoming exhibition are members of the Royal Society of Painter-Printmakers (RE) - Ade Adesina ARE, Anne Desmet RA RE and Katherine Jones RE. Given that we regularly exhibit RE members' work at Bankside Gallery, we were rather excited about this crossover! In the lead up to the exhibition we have run a short series of interviews with Ade, Anne and Katherine to find out a little more about their life and work, and hear all about their time spent as artists in residence at Eton College.
The last in our series, but most certainly not least, is Ade Adesina whose monumental prints highlight the damage caused to our landscapes through deforestation, the politics of energy consumption, and endangered wildlife. Ade combines objects, places and scenes from his African heritage, British culture and those encountered whilst travelling into immersive landscapes that are visually stunning and technically masterful.
Interview: Matilda Barratt in conversation with Ade Adesina ARE.
---
Could you start by telling us a bit about yourself and your practice?
My name is Ade Adesina and I am a printmaker based in Aberdeen, Scotland. I was born in a city called Ibadan, Nigeria, and moved to the UK in the early 2000s. I studied Fine Art at Bexley College in 2007 before I moved to Scotland to further my education at Grays School of Art, Robert Gordon University, Aberdeen. I graduated in 2012 with BA Honours in Printmaking.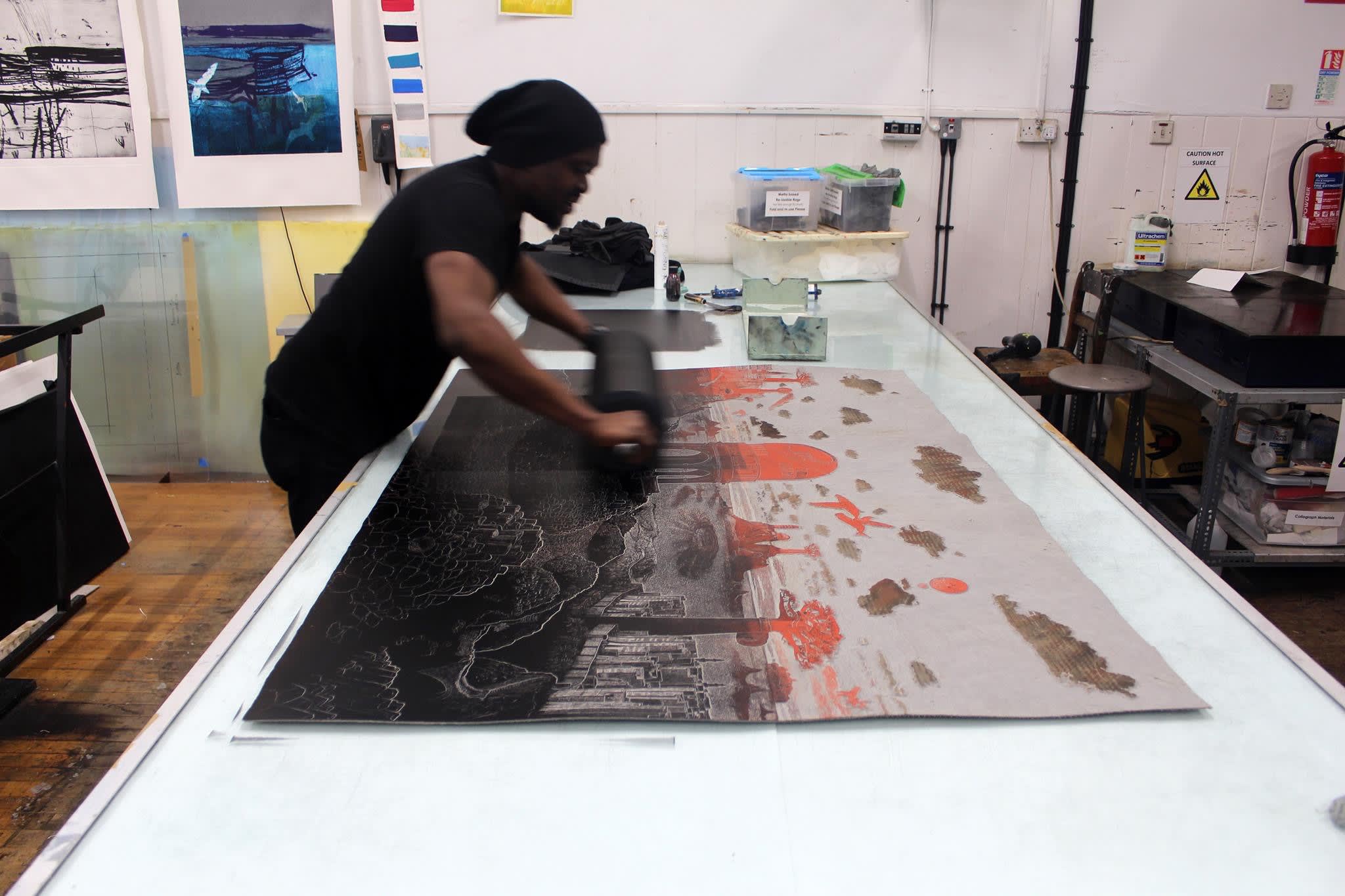 Did you always know you wanted to be an artist? What are your earliest memories of creativity?
Yes, I have always dreamed about being an artist from a very young age. I remember painting and drawing as young as 8 years old and think this was due to being inspired by a couple of people in my childhood neighbourhood and schools. At that time, it was a very popular trend to make your own comic books. I was particularly inspired by three good comic book artists in my area, and was able to see their finished work and their work process. This was the first creative experience that had an impact on me.
Tell us a bit about your creative process…
I start most of my projects with a topic or questions that require answers, with only a sense of direction and no idea where it's going to end up. Whenever I'm starting a project, I always feel like I am about to start writing a movie script or a short story. I impact directly onto whatever material I'm working on: no sketchbooks, sketches, or a plan; mixing, collating images and ideas to tell a story or make a statement. With a minimal pencil or pen drawing, I use my cutting tools just like I would use a pen or charcoal on paper. I enjoy trying tools not necessarily made for lino cutting, woodcutting, or etching to make varying marks and tones - just to see how they come out in the first print proofing.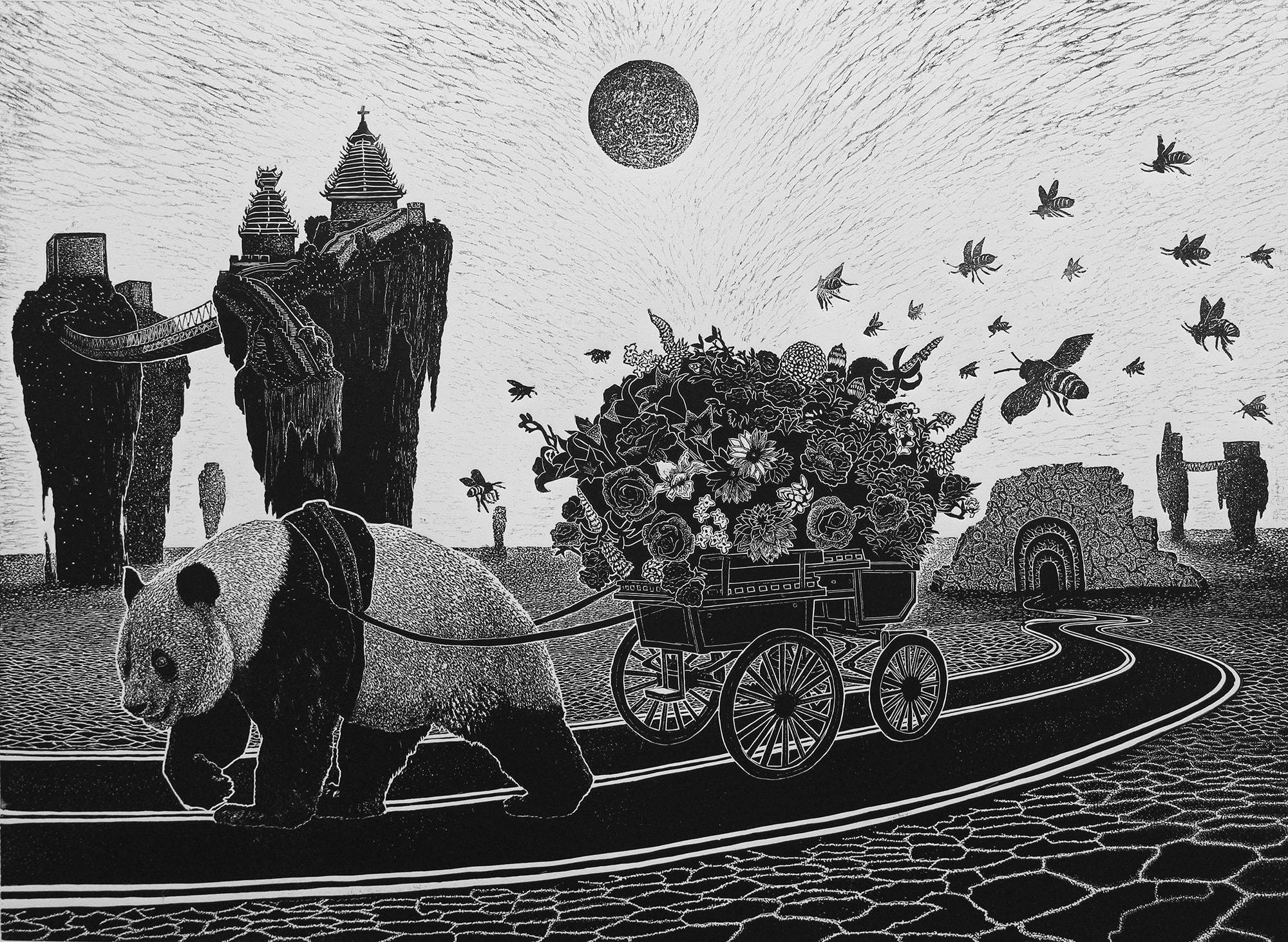 Where do you find inspiration?
My inspiration comes from current affairs. I explore a subject's past, present, and possible future. I enjoy researching and visualizing the differences between countries both historically and culturally.
What is it about printmaking that fascinates you? What first attracted you to the medium?
I remember in my first year in art school walking into the printmaking workshop and being totally blown away by all the facilities and printing presses. From the screen-printing area to the etching area, the possibilities just seemed endless. I never thought you could ever make art this way, my knowledge of printmaking was minimum from college. I straight away fell in love with the workshop and the mediums.
What is it that provokes you to explore and focus on issues such as pollution and climate change in your art?
I take a lot of inspiration from the environment, so I always try to make a statement on environmental issues. And I think by now we all know is time to act.
Do you think that art has the power to enact change?
Yes, I think it does. Art is powerful!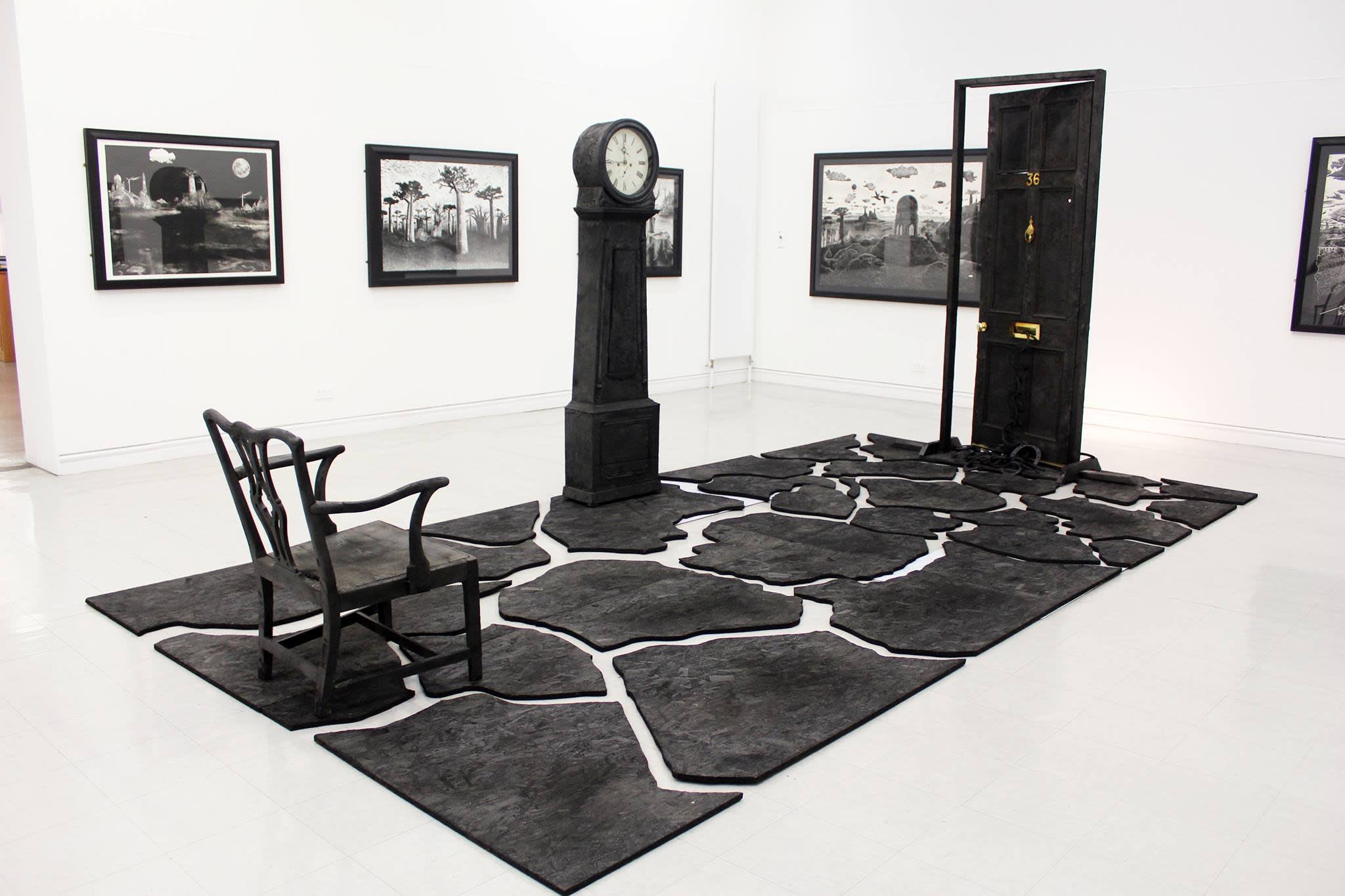 You will be exhibiting in Eton College's forthcoming exhibition Art Inspires Art at Bankside Gallery. Could you tell us about your experience being an artist in residence at Eton College?
My time at Eton College as an artist in residence was a great experience. I was warmly welcomed by all the staff and students. I had an open plan studio which meant students saw me as I worked every day, and I was able to see them working as well. I developed and created a body of work during my time there. The Drawing Master Ian Burke was an amazing host. I got to learn a lot about printmaking from him while I was there, and we also made a couple of collaborative prints together. I was inspired by a lot of people I met during this time, and I hope I was able to inspire some of the students during my time there too.
And we'd love to hear more about the work that you will be showing in the exhibition…
The work I chose for this exhibition includes woodcut, etching, and linocut, some of which I started or made at Eton College residency. This body of work also includes one of my old etchings "Contradictions" which is still one of my favourite prints I've made, due to the process. The exhibition will also include several collaborative prints with Ian Burke.
Over the past 18 months or so, it has been interesting to see so many people turn to creativity as a means of getting through. Did you find that your relationship to drawing and printing changed at all over this period?
I think it's safe to say, it's not going to be hard to find many artists that have not been impacted in the last 18 months. My work relies on gaining access to printmaking workshops and at the start of the pandemic everything did shut down completely, including artist's studios, which put a stop to the momentum I've built over the years. Upon returning to the studio all abandoned projects felt irrelevant, so it was time to go back to the drawing board and start all over again. Which took a while.
Finally, what would be your advice to aspiring creatives who feel that a career in the art world seems out of reach?
My best advice to aspiring creatives would be, always try to find a way to keep making the work. Be true to yourself even when it's difficult.
---
Read the other interviews in our Art Makes Art series, with Anne Desmet RA RE and Katherine Jones RE. To find out more about the Art Makes Art exhibition, click here.
If you would like to find out more about Ade, you can follow him on Instagram or visit his website here. You can also browse more of her artworks through the button below!
More like this on the Blog...
Read: The Poetry of the Everyday: Interview with Anita Klein PPRE Hon. RWS
Read: Interview with Akash Bhatt RWS
Read: Interview with Sumi Perera RE
Read: Interview with Peter Lloyd RE
Read / Watch: Relief Printing: In the Studio with Trevor Price RE
November 17, 2021