We paid a visit to the studio of Royal Watercolour Society artist Bridget Moore along with our friends at Schmincke. The RWS Spring exhibition, In the Studio, looks at the artists' relationship with their work space and how it affects the pieces produced. Delve into Bridget's studio below...
Did you study art? What was your art college experience like?
I studied art for seven years at three art schools – Medway College of Design, Epsom School of Art & Design and the Royal Academy Schools.
I enjoyed my college experience and looking back I am grateful and feel very fortunate to go to art school when I did. I had a wonderful time at the RA, being guided by tutors and visiting artists. It gave me the opportunity and space allowing me to grow in confidence, experience and the time to develop my painting and absorb and benefit from the advice and tips given along the way.
Bridget Moore in her studio at the RA Schools in 1984
What does your studio mean to you and how have your working environments changed through your career?
Having my own studio space is very important, enabling me to have somewhere private where I can concentrate and leave ongoing work undisturbed so I can return to take the time to watch and consider my next move. It's somewhere to keep in one place all my paint materials and equipment that I need to make my paintings. After leaving college and having the luxury there of the use of large studio spaces it has been more practical to have a studio in a room where I live. This has suited my way of working as I like to be able to come and go and pop in there at any time of the day when I need to.
When did you get elected to the RWS and why did you decide to join?
I got elected to the RWS as an associate member in 2013 and made a full member in 2015. Initially I thought the RWS was purely for watercolour but on learning that it encompassed all water based media decided it would be a fantastic society to belong to. Working mainly in gouache it seemed a natural home.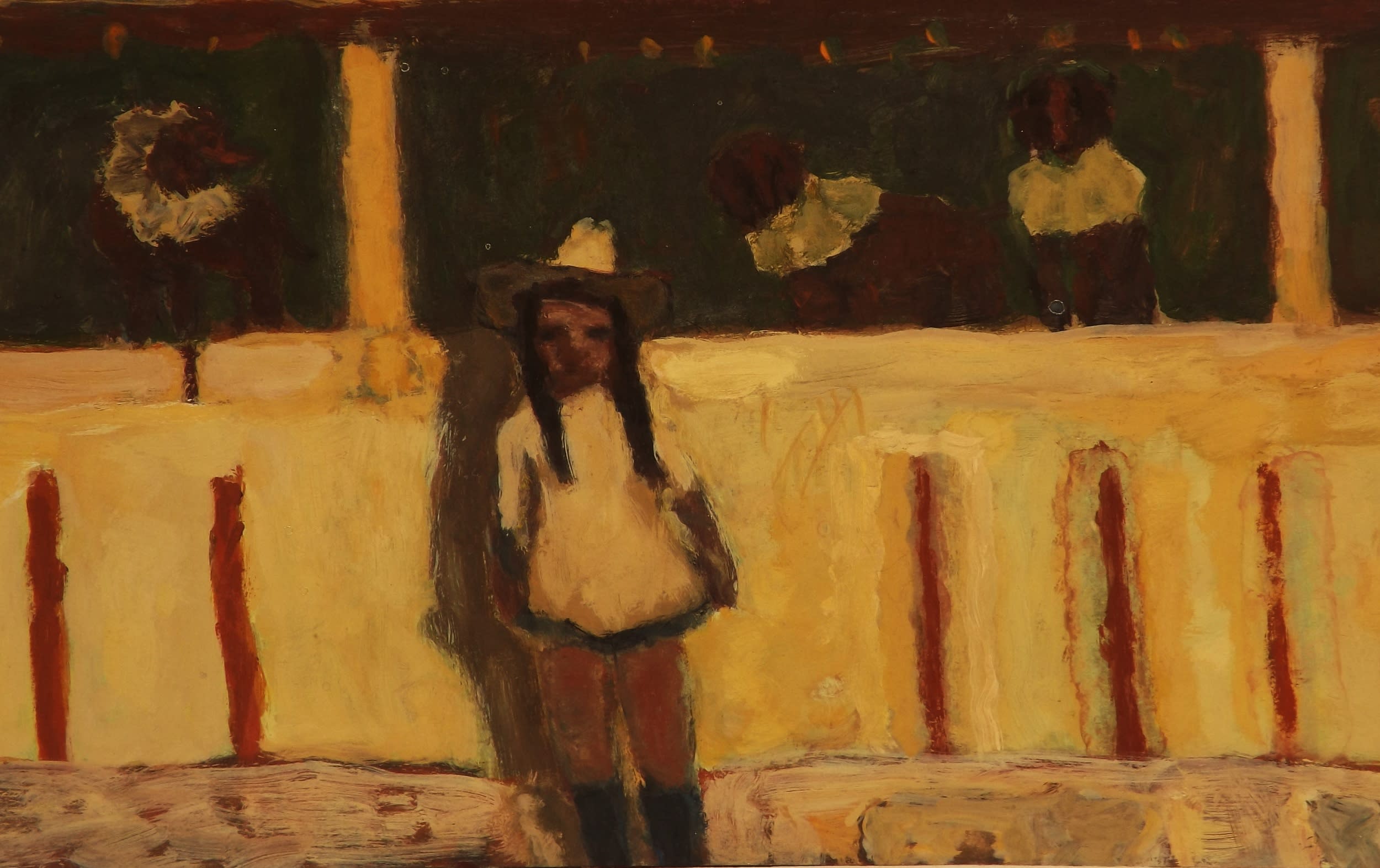 Bridget Moore, Dog-Trix, gouache, £840
How has your painting style evolved over the years?
My painting style has evolved over the years. I do try not to paint to a 'formula' as such but try to push myself with every painting I do and to capitalise on the results of experimenting with paint when making a work. When all those years ago at art school I first began with gouache it was often the case they would be done as quick little studies for larger paintings. Now my gouaches are much more considered works taking a lot longer to complete partly due to reliance of working from memory and not having subject matter in front of me to refer to directly as I did when I was younger.
Bridget Moore, Confectionary, gouache, 1980
More like this on the Blog...
Read / Watch: Abstract Art: In the Studio with Lisa Traxler
Read / Watch: Linocut Printing: In the Studio with Anita Klein
Read / Watch: Relief Printing: In the Studio with Trevor Price
Watch: In the Studio with Denis Ryan.
Watch: In the Studio with James Faure Walker.
March 19, 2019