Drawing from direct observation is the bedrock of Julia Midgley's artistic practice. It informs the images produced in her Cheshire studio, whether works on paper or etchings. Acting as a fly on the wall, she records her observations in sketchbooks. Over decades of practice, Julia's drawings tell of personal journeys. She has drawn a kidney transplant from mother to son; witnessed the excavation of mutilated sacrificial skeletons at Stonehenge; and drawn military surgeons simulating in-flight life-saving medicine on board a Merlin Helicopter.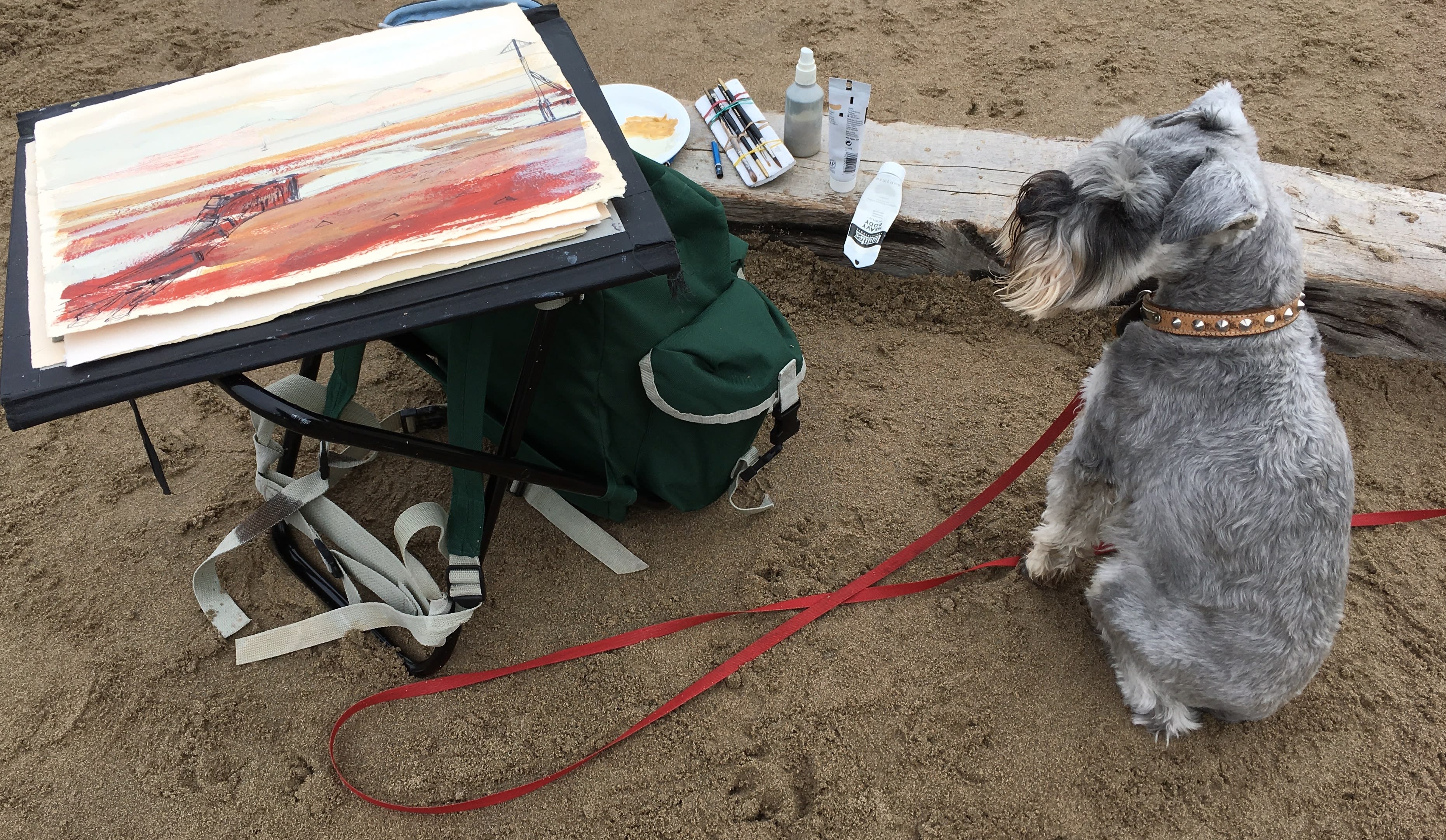 In New Work | New Year, Julia displays works made on the spot, at the Davis Cup tennis tournament in Marbella, Spain. The lively brush strokes really capture the movement and atmosphere of the event.
We asked Julia about her experience of live painting at the Davis Cup, and she was kind enough to share some of her tricks and tips...
"It is important to carry as little equipment as possible, largely due to very strict security issues. On this occasion you could only carry water bottles if the cap had been removed. Seating in spectator stands is pretty tightly packed so it's important not to spill water - it would soak people below as well as clothing and bags placed under seats.
"I used Pilot Parallel pens which have broad italic nibs and water soluble ink cartridges. In this case two pens using a sepia and red cartridge, plus a brush dipped in the water.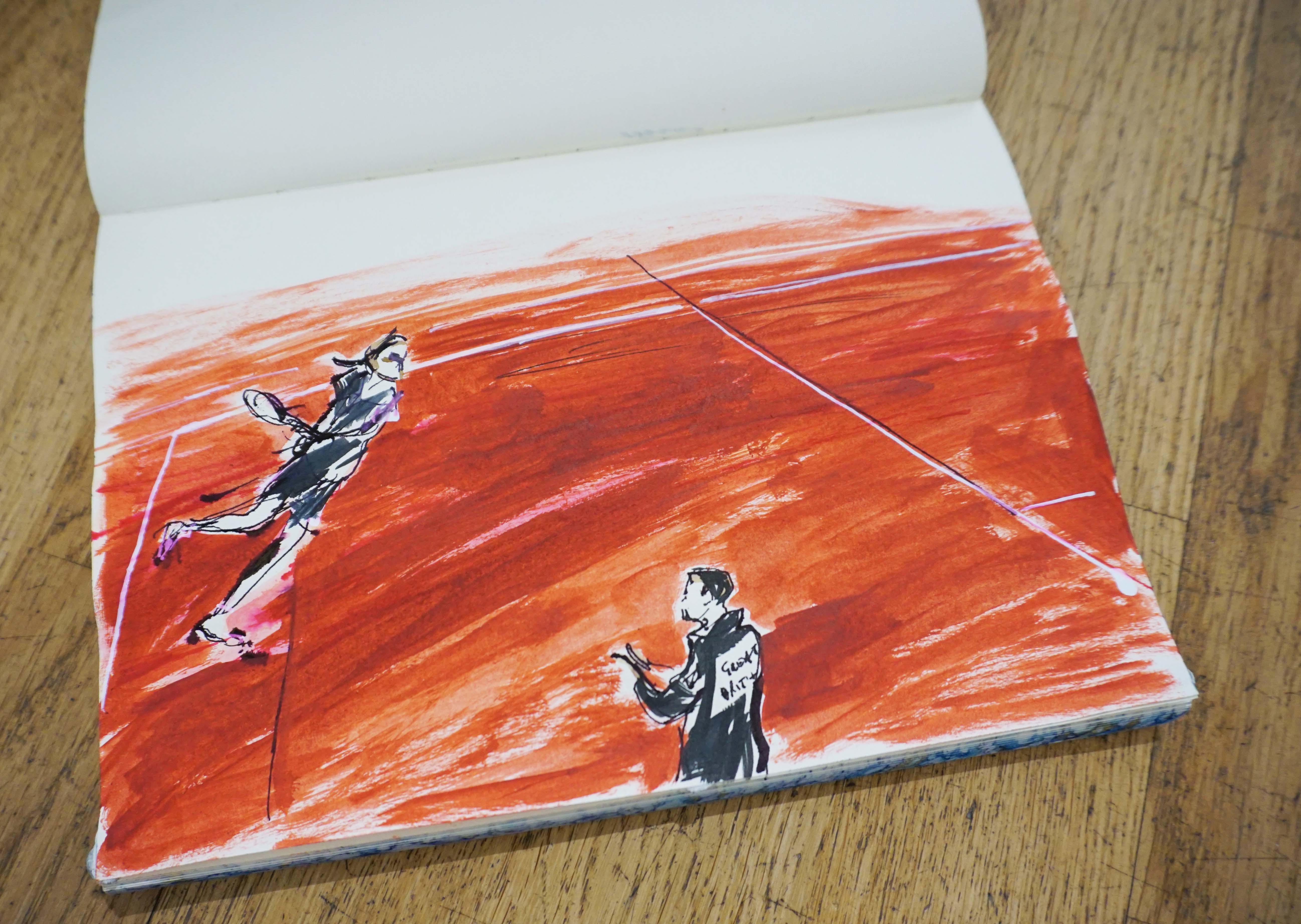 "Once play begins time is spent enjoying the action whilst simultaneously scrutinising movement and recognising characteristics of each player, their service action, stance when waiting to receive a serve and mannerisms. Then I begin to draw almost in automatic, without looking much at the paper simply responding to the action. Gradually figures emerge at which point I attempt to make them recognisable.
"Naturally when a match gets exciting drawing can stop! Luckily each day there was at least two or three hours play.
"Once back home I add block colour and if required some wash. The drawings are small because of the tight working space.
"Many years ago I made drawings at the All England Lawn Tennis Championships Wimbledon which was fantastic. At one point I was in a press box suspended from the roof of Court No.1, and actually sitting on the grass of Court 14 drawing the wonderful Jana Novotna (see below). This would just not be feasible today."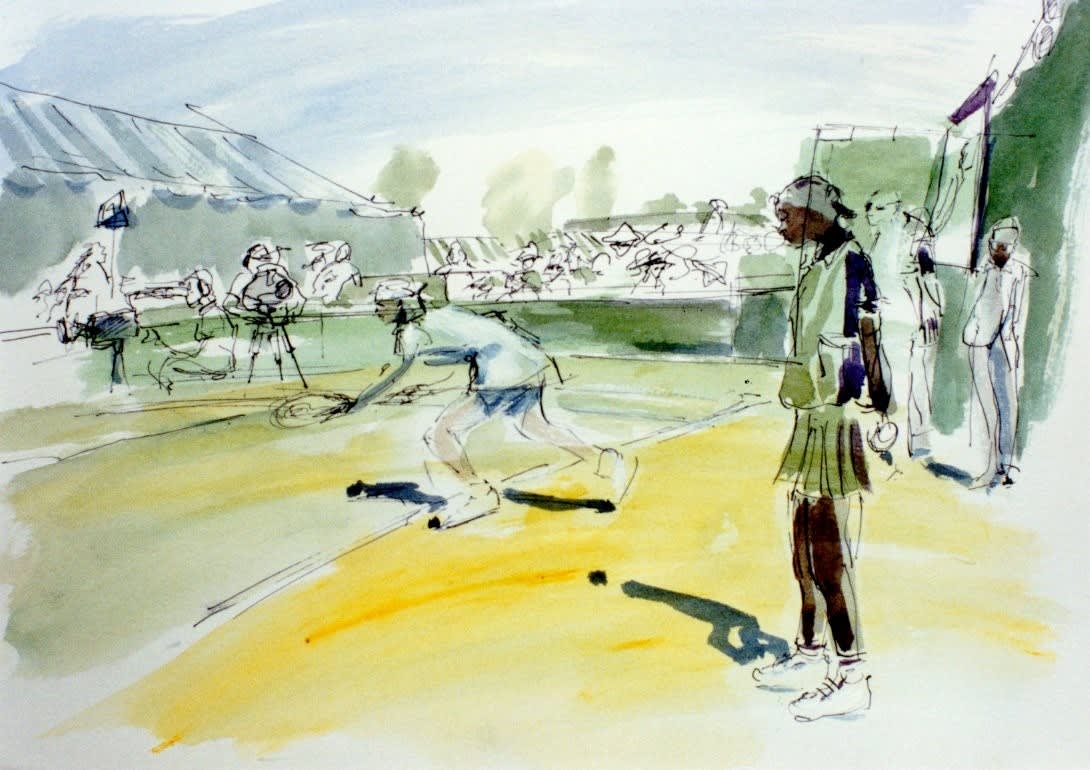 Thank you, Julia!
---
Want to see more of Julia's work? Head to her page here.
More like this on the Blog...
Read: Inside my sketchbook: Jim Hunter
Read: Interview with Julia Midgley
Read / Watch: Abstract Art: In the Studio with Lisa Traxler
Watch: In the Studio with Bridget Moore.
Watch: In the Studio with Denis Ryan.
Watch: In the Studio with James Faure Walker.
April 3, 2018