The fourth artist in our International Women's Day series is Sally McLaren. Sally was elected a member of the RE in 1961 while she was still at art school. Having been raised in the beautiful undulating countryside of Wiltshire, her work depicts the landscape in all its forms, capturing the infinite variety and ever-changing nature of the world around us.⁠
Interview: Matilda Barratt in conversation with Sally McLaren RE.
---
Could you start by telling us about your practice?
I became captivated by the medium of etching while studying a post graduate course in the painting and fine art department at, what was then, The Central School of Art and Design. You had to study either etching, lithography or silk screen if you were in the painting department, two days a week.
I had done a bit of lithography at the Ruskin where I had been for three years, so the head of the painting department, Maurice Kestelman, suggested I should try etching. I was lucky in that I had an inspirational etching tutor called Antony Harrison who himself was a marvellous etcher and was very experimental. He took us through all the possibilities of etching from line, to soft ground, to deep etch, to aquatint, to sugar lift, to using several plates, stencilling, using colour with different viscosities of ink on rollers on a single plate to combining several plates with different colours; every way of completing an image and then the magic moment of sending the plate through the press loaded up with ink and with dampened paper on top, finally reaching the magical conclusion of a printed image. I loved the whole process.
However, at a later date I was introduced to making a surface on a plate from which to print with carborundum paste, painted on with brush or palette knife and printing straight from the surface that I had made but also combining it with an etched plate sometimes. This is my most recent practise.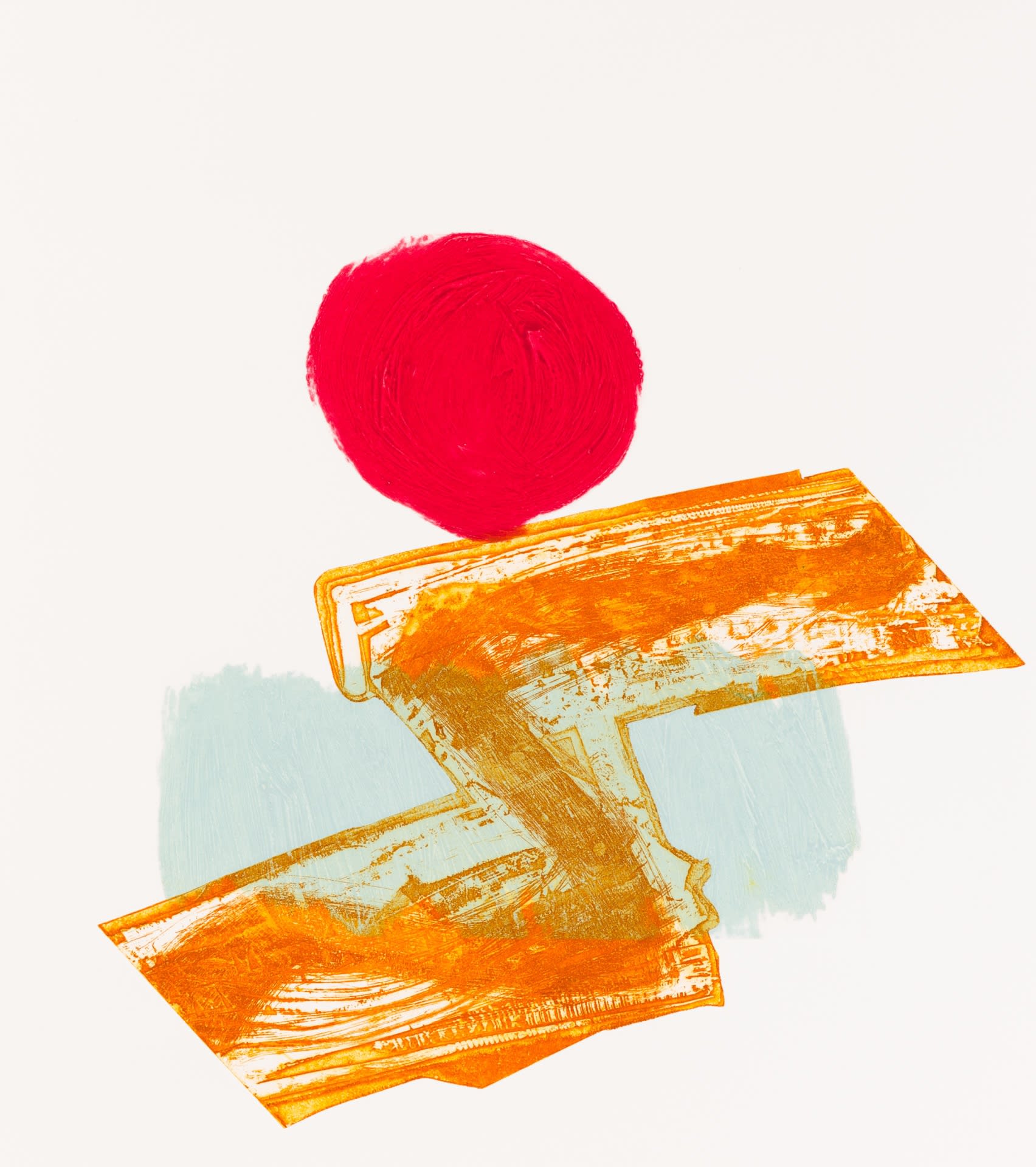 What is it that inspires you to depict the landscape in your work?
I was raised in the beautiful undulating countryside of Wiltshire, which is where I now live, on the edges of Salisbury plain. The landscape is specifically mostly worked land for crops. Wheat, maize, kale, linseed. I am intrigued by the marks that tractors make when cultivating, ploughing, harrowing, harvesting... The curves that follow the contours of the land the differences in textures through the year. Rocks, shorelines, stones the cliffs of the Jurassic coast, not far from my home, also intrigue me, and Stonehenge and Avebury are not far away. All are sources of excitement for me. I think what I have found more and more throughout the years is the infinite variety in a landscape or a rock face or a chalk cliff. It doesn't matter how often I see the same fields, the same piece of coastline or rocky shore or cliffs, the light is different, the feel of it is different.
The skies change, no sunset is the same, no dawn. Every day is a fresh experience. So it is the essence of all this that I hope, in some part to convey. The joy and the wonder. I have no specific image in sight. The whole of my creative input is an experiment.
How did your interest in art begin?
My interest in art began in my childhood. My mother was very creative and greatly encouraged me. We would look at pictures in art books, from the early Egyptians to the Lascaux caves on through the ages of Dutch, German, and Italian Masters. Progressing to Van Gogh and the Impressionists to the Fauves. Then I was lucky, I went to a rather progressive School where the arts were considered hugely important and we used to paint on large pieces of paper with huge brushes and plenty of colour. Later in my life came Picasso and Braque and the American abstract painters.
You were elected an associate of the Royal Society of Painter-Printmakers in 1961, and became a Fellow in 1970. What are your favourite things about being a member of the RE?
It was a great honour to be elected to the RE when I was still at art school. Being a member has meant that there has always been an assured place to exhibit my work. Also, when I was elected, the contact with other professional printmakers was an anchor. Sometimes when life becomes a bit less organised because of circumstances, maybe family life or illness, and there is a necessary pause, there is always an assured comeback, a welcoming place, and a place to show the work. I love the gallery, the people that run it are always welcoming and friendly and the opportunities that are offered, particularly in the last few years, are amazing.
It is a privilege to be a member of such a brilliant professional society.
Which artists would you say have had the greatest influence on your work?
If we are thinking overall as an artist I think Van Gogh, Braque, Bonnard, Mark Tobey, Rothko Diebenkorn and Picasso. If we are thinking printmaking, Michael Rothenstein for always experimenting, Merlyn Evans for his remarkable black and white prints and Stanley William Hayter for his use of colour printing and energy and line.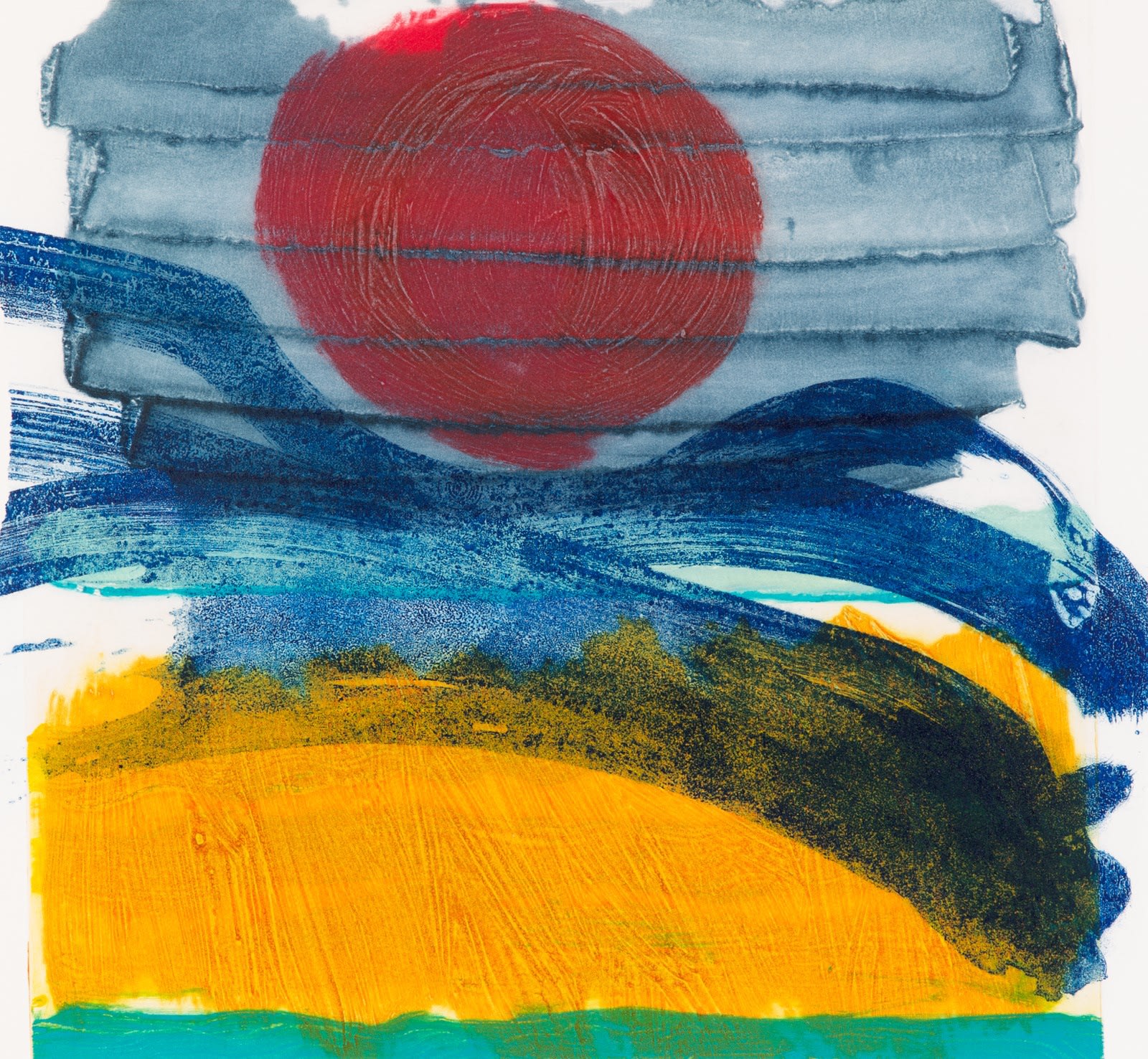 What would your advice be to a young aspiring artist?
If I was talking to a young aspiring artist, first and foremost, I would say: keep going. If you are on a roll and you are feeling good about what you are doing, don't stop. And even when you aren't feeling good about it, don't give up. It is alright to have a break because once you have reached a certain point in your practice, even if you are not in the studio, you are probably thinking and absorbing more than you are aware of, which will emerge in your practice at a later date. So don't waste energy worrying that you are not working in the studio.
Also, it doesn't matter if you think you are making rubbish, or that it's not good enough. You are working towards something, so keep going. And don't be discouraged by rejection.
---
More like this on the Blog...
Read: International Women's Day Series: Gertie Young
Read: International Women's Day Series: Jill Leman
Read: International Women's Day Series: Nana Shiomi
Read: International Women's Day Series: Julia Midgley
Read: International Women's Day Series: Rachel Gracey
March 16, 2020