The ever-popular gallery wall is the perfect way to brighten up a room and inject it with character and personality. Gallery walls are the ultimate focal point to any room, and an opportunity to celebrate your favourite possessions (as well as to update your collection). And of course, they allow the art-lovers among us to make the very most of whatever wall space we might have.⁠
Do you know what the best part is? Gallery walls don't have to cost a fortune! It is all about bringing together an eclectic assortment of things that you love - from artworks, photographs and funky posters, to mirrors, ceramics and textiles. The possibilities are endless.
All that being said, curating your own gallery wall can be a daunting task! So we've come up with a few tips and tricks to get you started…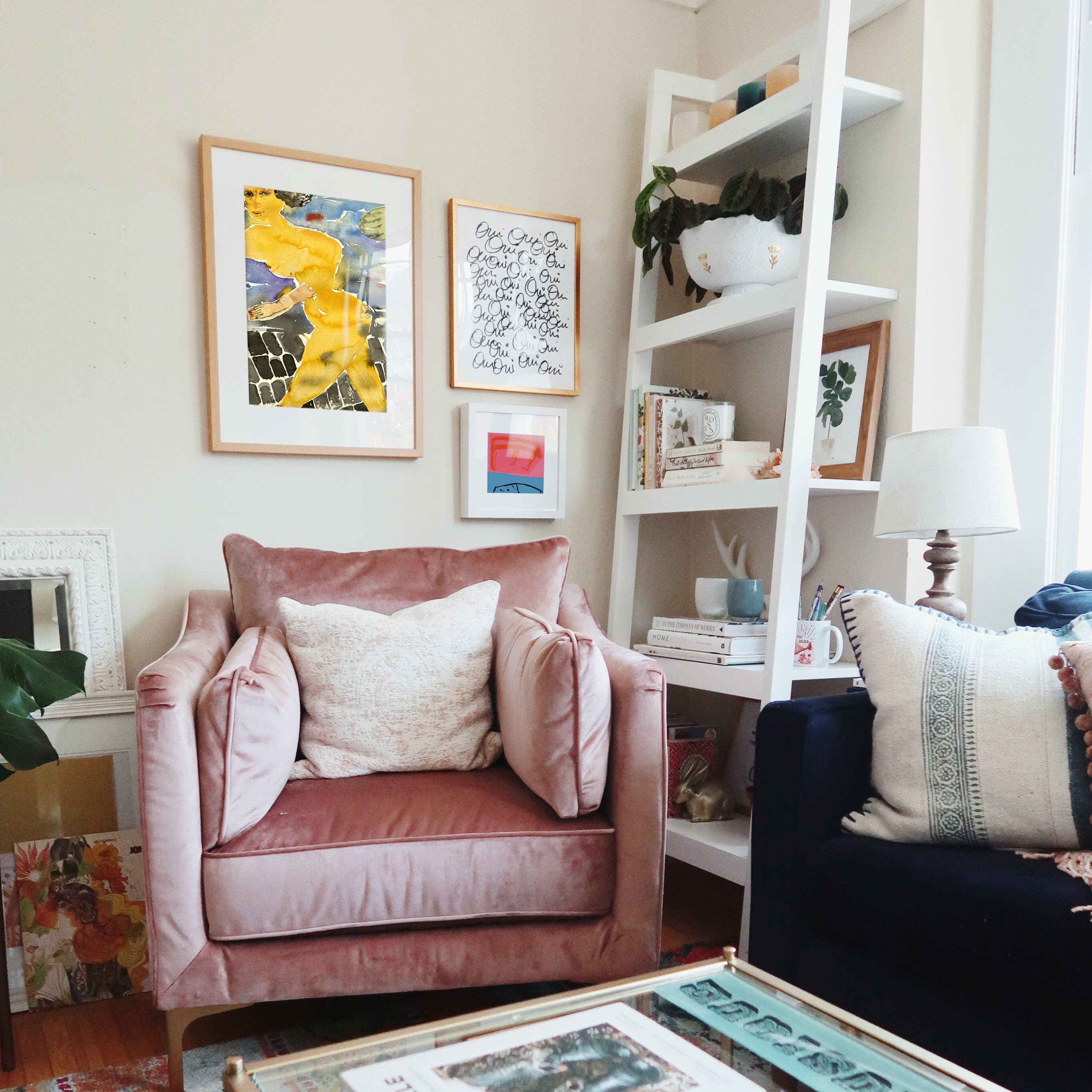 Top left artwork: Anne Lynch ARWS, Moving into the Future, watercolour, £395 Unframed, see here.
Bottom right artwork: Michelle Griffiths VPRE, Recalculating, screenprint, £100 Unframed, see here.
1. Find the right balance that works for you.
First and foremost, it's important to establish what kind of aesthetic you are most drawn to. There is a wealth of gallery wall inspiration to be found online, as well as in cafes and galleries (when we are eventually able to visit such places!)
If you tend to lean more towards a clean and uniform layout, then it's worth considering works that are similar in size and shape, with matching coloured frames throughout. Grids, rows and triptychs are the dream for anyone craving a little symmetry!
Contrastingly, if a more organic and eclectic mix appeals to you then you might want to have some fun playing around with style, texture and scale. Who says a woven basket couldn't be presented alongside a bold, abstract painting?
If you are overwhelmed by choice, try to follow a loose theme, concept or colour palette that draws the collection together to create a more cohesive feel. There really are no rules, but after a bit of research online you will likely have a good idea of the types of gallery wall layouts you are most attracted to.
2. Before you begin hammering away at the walls…
Make sure to measure up the space and plan out your gallery wall on the floor first! When curating exhibitions at Bankside Gallery, this is our very first step; it allows you the ability to have fun moving things around and experimenting with different layouts before committing to anything. If possible, try to use uniform spacing in between each piece (we typically recommend around 10cm, but this can differ greatly depending on the size of your gallery wall).
Once you have found a layout you are happy with, make sure to photograph it for reference before transferring from floor to wall!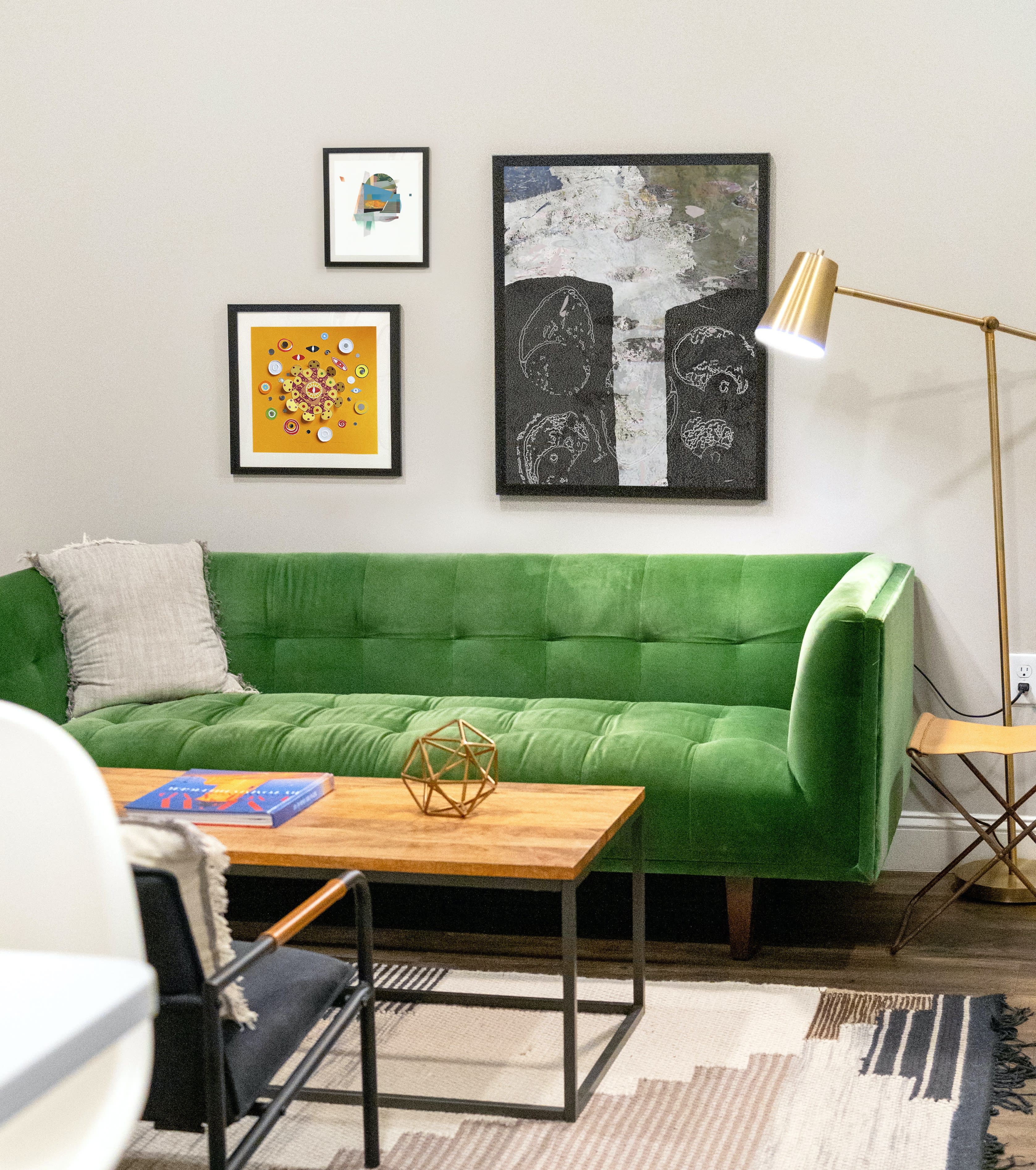 Top left artwork: Roy Willingham RE, Volterra Dub, linocut & pochoir, £160 Unframed £220 Framed, see here.
Bottom left artwork: Carmen Gracia RE, The Wide Universe, 3D etching & collage, £1000 Framed, see here.
Right artwork: Mark Graver ARE, Lotus, pigment print, £985 Framed, see here.
3. Don't have the space? Consider overlooked areas.
Don't be fooled into thinking that you need a vast space to house a gallery wall. Gallery walls are in fact ideal for small spaces - just a collection of three or four small-scale pieces can instantly bring a blank wall to life! Not to mention that gallery walls can be hung in otherwise overlooked spaces like stairwells and bathrooms, or around door frames, windows and items of furniture.
Hallways are another great solution if you're pressed for space. Despite rarely being our first port of call in the curation of art in our homes, hallways are typically the first thing that we are met with upon entering our homes - so it's worth injecting them with that 'wow' factor.
4. Take your time!
Finally, remember that your gallery wall can continue growing and changing over time - it doesn't need to be completed after the first hang. So don't put too much pressure on yourself to curate the perfect collection straight away. If you begin in the middle of the wall with a few select favourites, you will be able to continue collecting pieces and adding to the wall over time.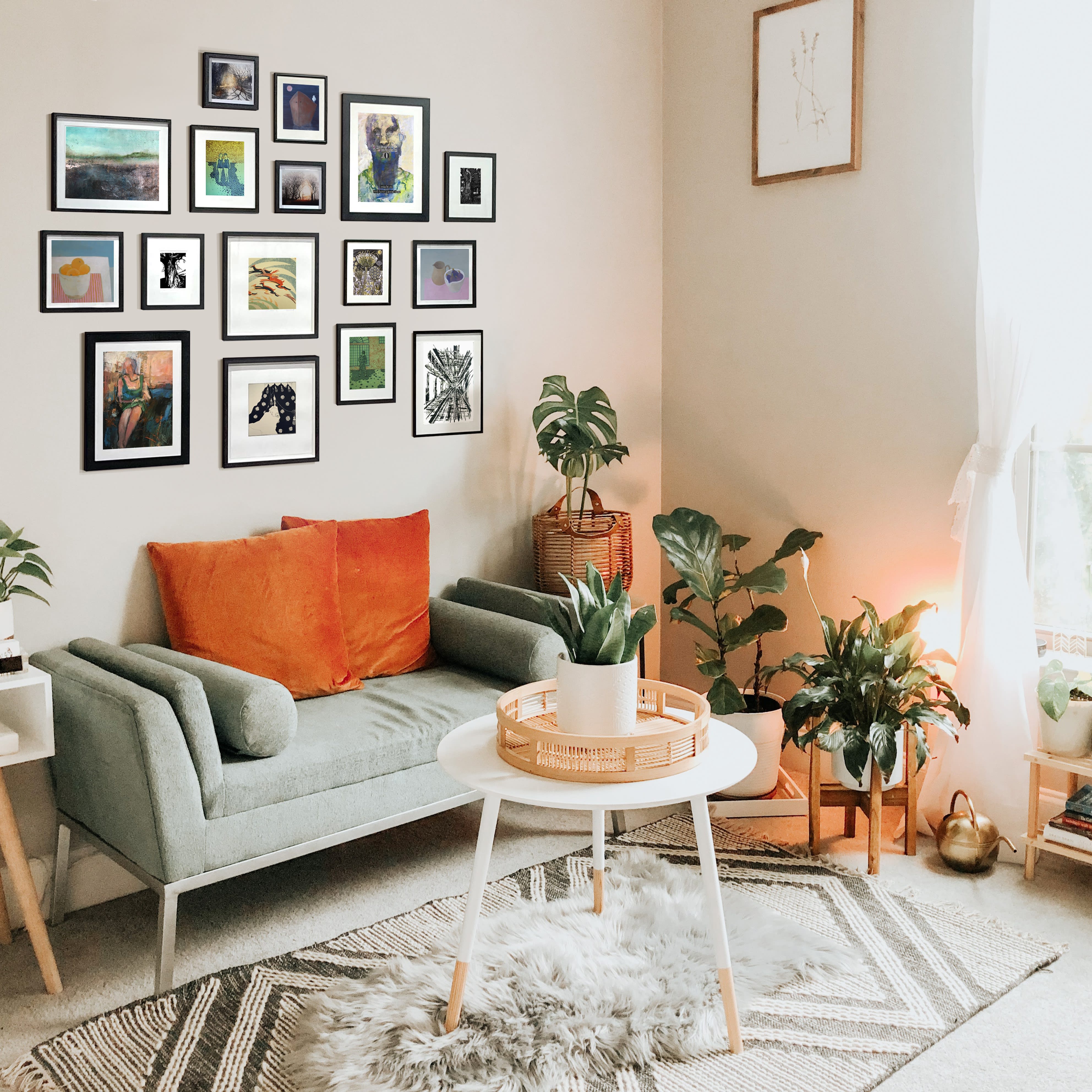 Feeling inspired? Be sure to check out our Online Store, which features brilliant original and affordable unframed works by members of the Royal Watercolour Society and Royal Society of Painter-Printmakers! All works are available to buy immediately and have delivered directly to your door.
More like this on the Blog...
Read: 5 top tips for collecting art on a budget
Read: Artwork to complement your living space
Read: Home is where the art is
Read: Three Reasons Why Art Makes the Perfect Gift
February 19, 2021