At Bankside Gallery, we often hear the phrase, 'I'd love to buy this picture but I wouldn't know where to display it'. In an effort to make original art more accessible to you, we got in touch with interior stylist Heather Milner to talk about the different ways that you can display an artwork, and how it can transform your living space.
Heather selected some of her favourite paintings and original prints from our current exhibition, Off the Wall, to give us some ideas...
---
1. Bring inspiration to your work space with a vibrant painting
Take a break from your screen to glance at the intricate and inspiring artwork displayed near your desk. A distraction from your work can sometimes be welcome and according to The Guardian, art in a work environment can boost productivity, lower stress and increase wellbeing.
Artwork pictured: Chloe Fremantle ARWS, Wall and Trees 2, gouache, £450 framed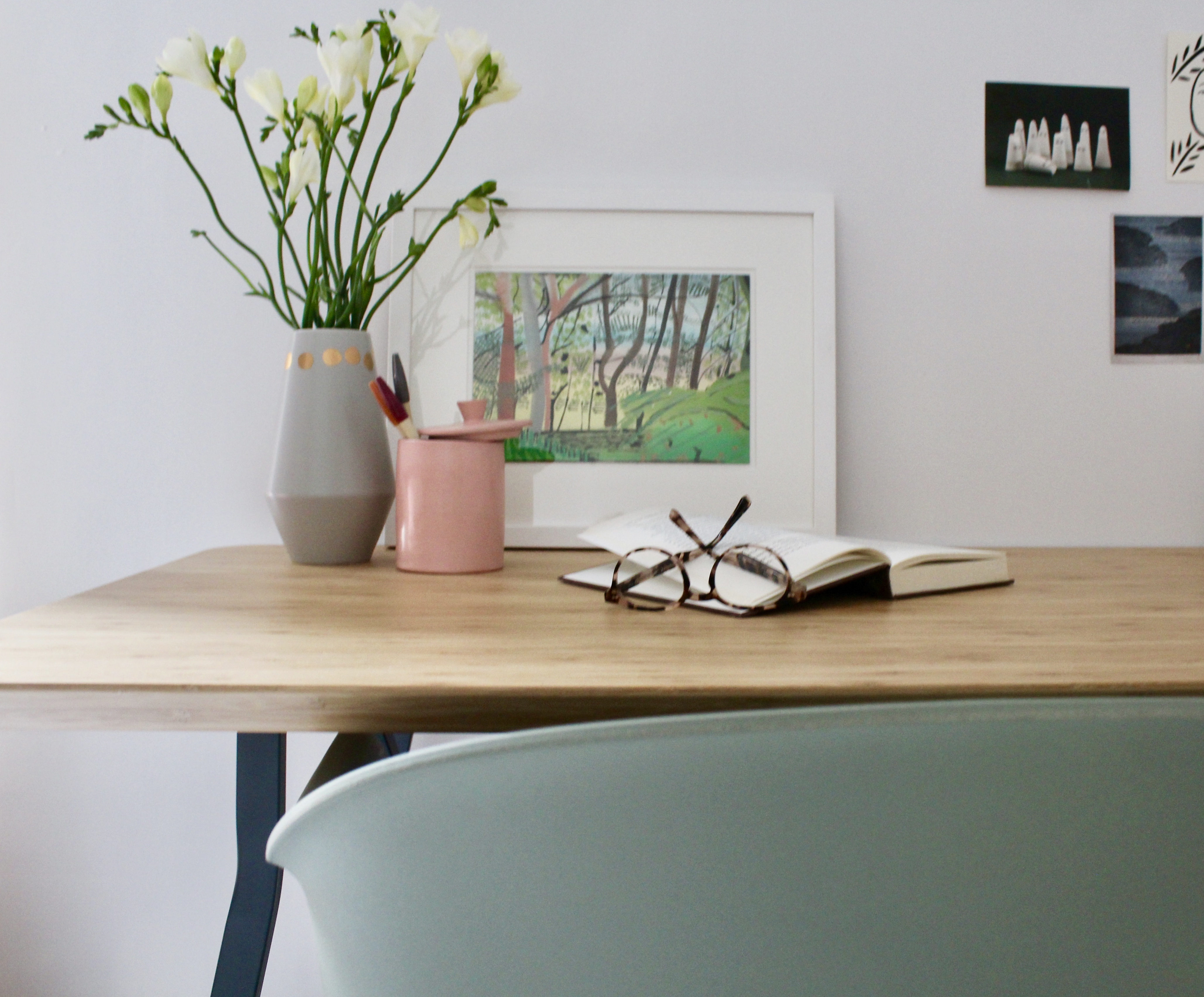 2. Add a splash of colour to your kitchen
The colour in your kitchen doesn't only have to come from what's in your saucepan. A person's kitchen is often described as the 'hub of the home' and what better place to display a talking point for when you're entertaining guests.
Artwork pictured: Louise Davies RE, Skies End, etching £240 framed
3. Don't be afraid to display contrasting styles together
Sometimes all you need is a similar colour between artworks to really make them sit well together. The two artworks pictured couldn't be more different in terms of style, however the comparable warm hues really make both artworks sing in this bedroom setting.
Artwork pictured left: Jane Lewis RWS, Heading Back, indian & drawing ink, £240 framed
Artwork pictured right: David Hamilton RWS, Trundle to the South, watercolour & gouache, £600 framed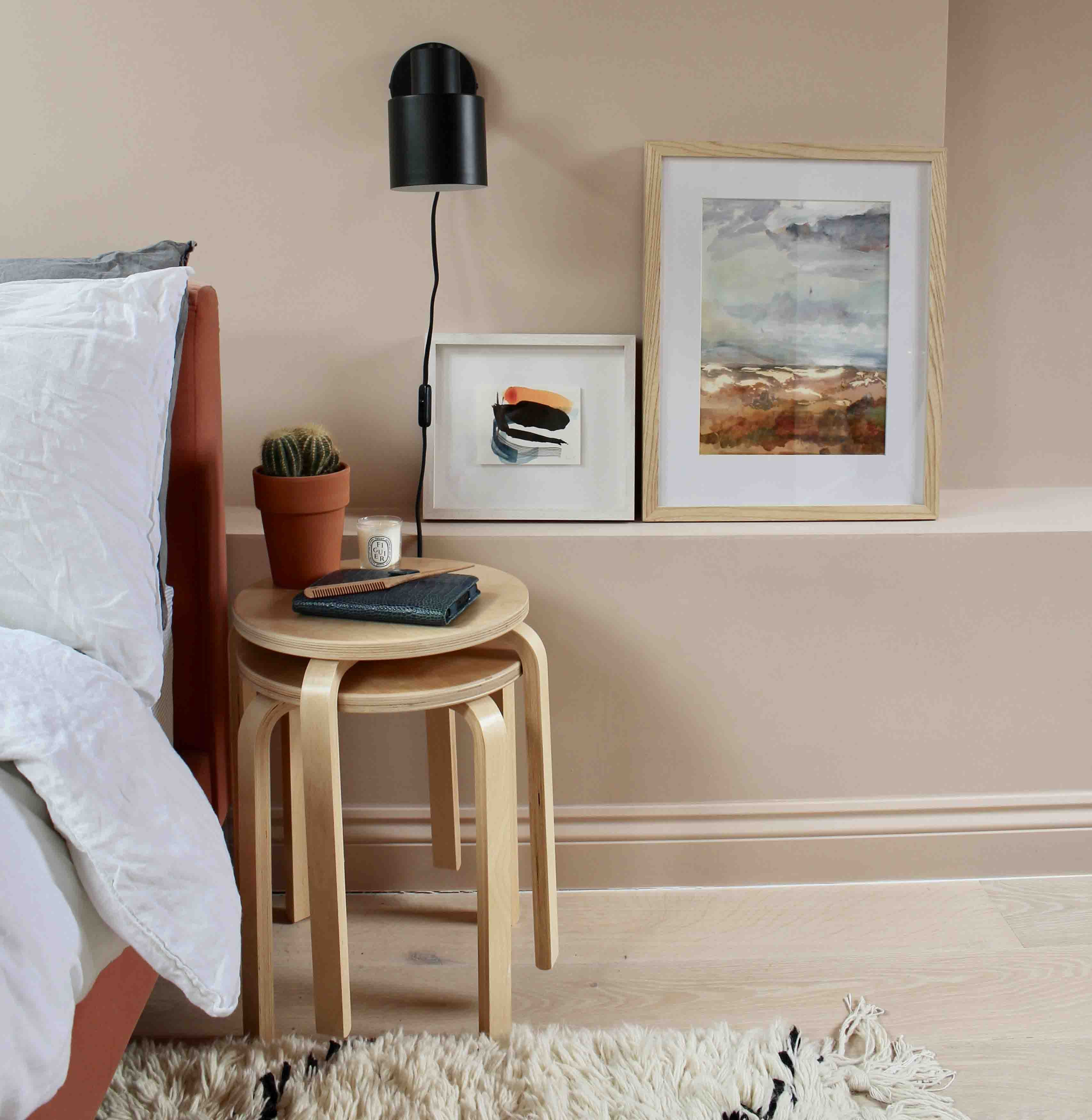 4. You don't need a plain wall to hang a picture on!
Be daring with your display choices and contrast your artwork with a statement wallpaper. Selecting a piece with the right mood or colour scheme can create a great focal point in a room with an already striking flavour.
Artwork pictured: Roy Willingham RE, Dawn Pool, wood engraving, £140 framed
5. Artworks don't necessarily need to be hung on a wall
If your home is rented, landlords can often prohibit any fixtures being added to the walls, making it difficult for you to hang any artwork. If this is the case, take the restriction as a creative challange. 'Propping' artworks on shelves and ledges around your home can work as well as hanging on the wall.
Please note: the radiator pictured is not functioning. We do not recommend displaying original artworks in close proximity to a heat source.
Artwork pictured: Hammer Chen ARE, You Means a Lot, lithograph, £255 framed
---
More like this on the Blog...
Read: Home is where the art is
Read: The Art of the Gallery Wall: Tips & Tricks for Curating your own Gallery Wall
Read: Three Reasons Why Art Makes the Perfect Gift
August 17, 2018