Annie Williams trained and worked as a nurse before studying art at City and Guilds in the sixties. Her recent work has been almost entirely still-life, playing with shapes, pattern and colour, and mixing the familiar with abstraction. Her foregrounds are a composition of a few simple objects, usually pots and ceramics, and backgrounds are created from textiles or old newspaper cuttings, and even some unfinished paintings as a starting point.
Interview: Matilda Barratt in conversation with Annie Williams RWS RE.
---
Could you start by telling us a little bit about yourself and your practice?
I grew up in the art world; several members of my family were painters including my father, a portrait painter, and as a child in the post was era, I was determined not to go down that route. My relationship with him was a difficult one and we were forever struggling financially, which is why I decided to train as a nurse, despite art being my favourite subject at school.
Was the move from working as a nurse to working as a full-time artist at all daunting?
It was my youngest sister going to art school that later changed my mind. I was so envious of what she was doing, so I started going to evening classes at Edinburgh art college. I had been nursing in Edinburgh, then moved back to London. I was really happy at City and Guilds, most of all in the etching room there under the tutelage of Henry Wilkinson who was so encouraging.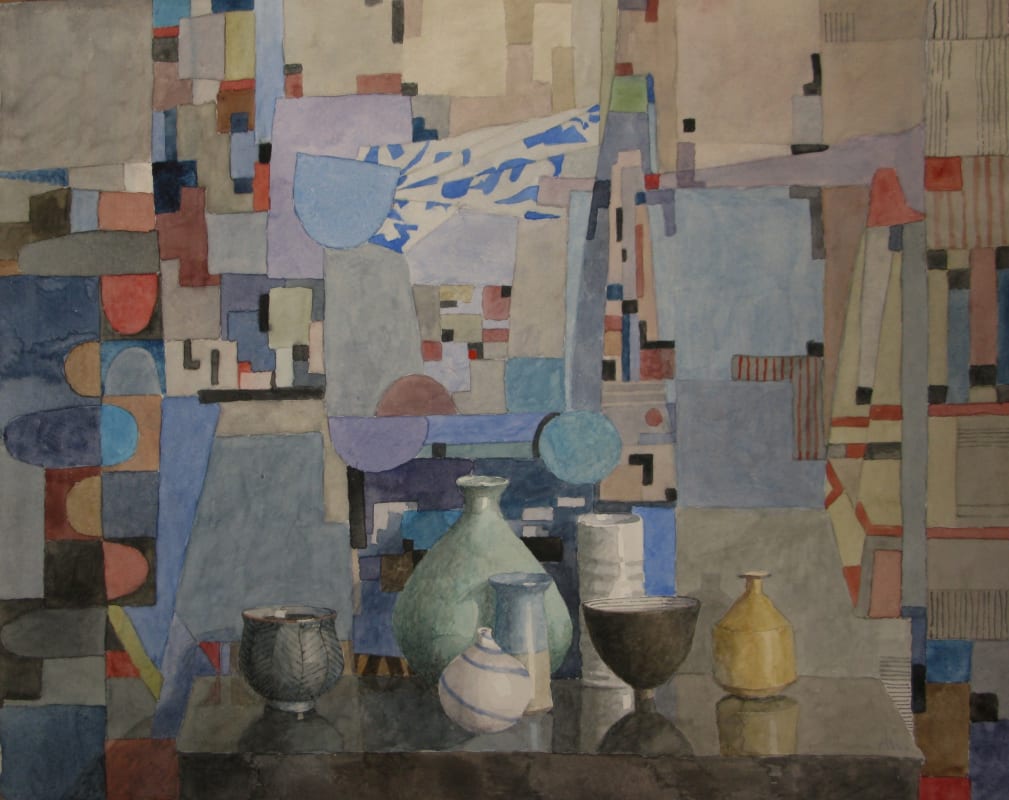 Annie Williams RWS RE, Composition with Seven Pots, watercolour. £850 framed,
How has your work changed and evolved over time?
My subject matter has changed considerably over the years. It used to be more related to the world around me; I painted lots of interiors, my own and those of friends. I was very inspired by the paintings of Bonnard and Matisse. I didn't use watercolour until I was mainly working at home - much less messy with children underfoot!
I'm interested to know how your art fits into your everyday life. When do you create, and where do you find inspiration?
My everyday life has to fit around the painting most of the time. I paint most days, ideally in the morning when the light is best, but I'm getting a bit lazy at getting started now, and I do try to fit in a walk every day. I have a small studio at the top of the house where I paint and an etching press on the floor below, doubling as a spare bedroom!
Your still life artworks are such an exciting display of pattern and colour, mixing the familiar with abstraction, and precision with suggestion. What is your process behind these paintings and prints?
One of my sisters was a potter, which started my interest in collecting and painting ceramics. I've always loved patterns and fabrics and colours and lots of the painting when I was at college in the sixties was abstract. I like the discipline that including the pots in the work gives me. My backgrounds now are nearly all abstract, either made up or worked from an arrangement I set up in the studio from a collage of paper cutouts pinned onto a board. This is the part of the painting I both enjoy and struggle with most, it is often completely unplanned - I make a mark and take it from there, it's a wonderful chance to choose colour combinations. The paper I paint on makes a huge difference; I do like a highly sized smooth surface to work on where I can wash out areas and I often overpaint with gouache. A painting is often altered months after it was initially started. I do take a lot of inspiration from visiting exhibitions.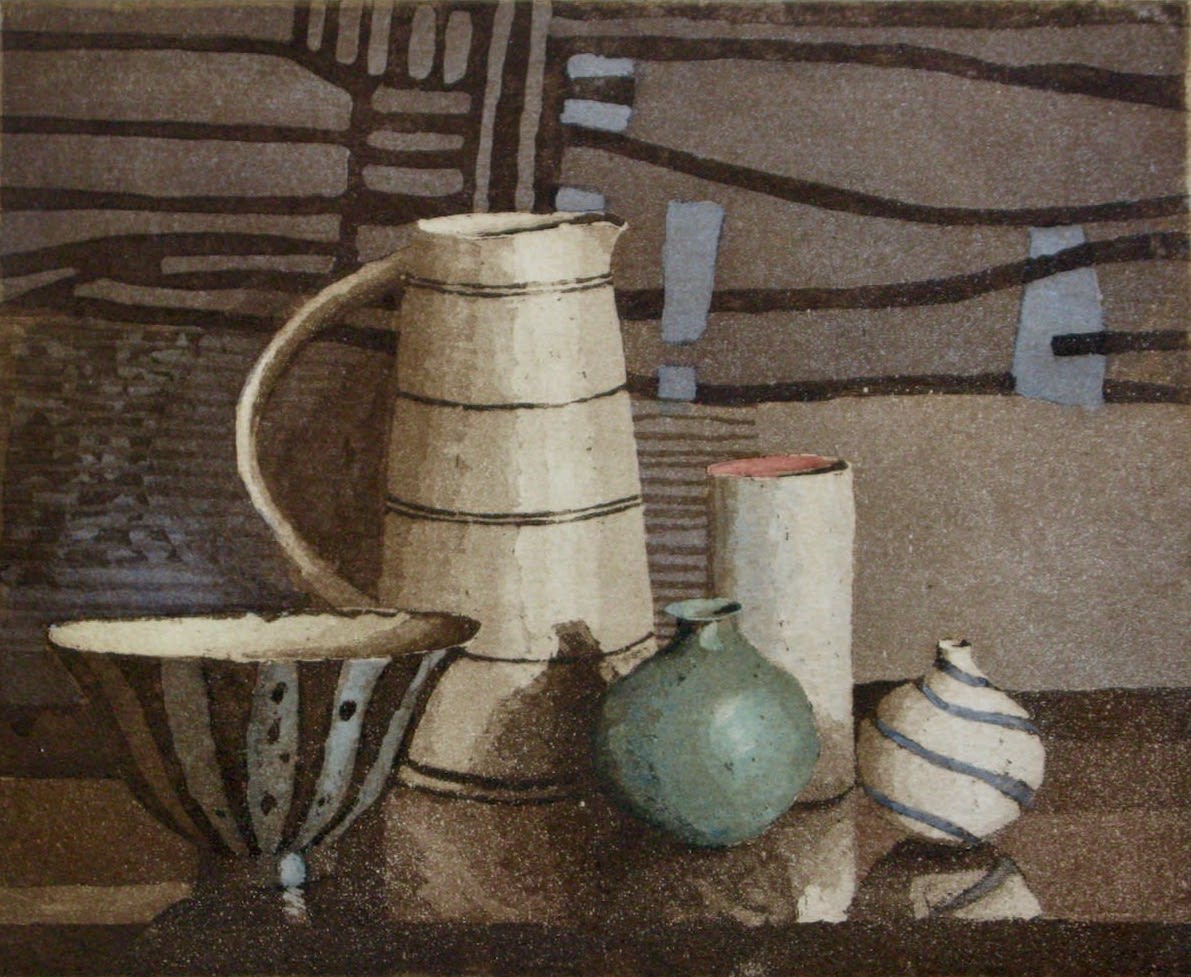 Annie Williams RWS RE, Still Life with Country Jug, etching & wash. £140 unframed. Shop here.
Do you keep a sketchbook? Do you ever use drawings to inform your work?
I have filled many sketch books over the years although perhaps less so recently. My etchings are worked either from drawings or paintings. I think drawing is very important and I know I should do more of it.
How has the pandemic affected you, both personally and professionally? Have you found it has changed your relationship to painting and creating?
The pandemic has been more of a sadness that has curtailed my social life; no private views, difficulty visiting exhibitions etc. I have sold a number of pictures online but I am much happier if I can see my work on the gallery wall.
What are the most challenging and most rewarding things about being an artist?
For me the most challenging thing about being an artist is trying to work out and achieve what one has set out to create, trying to expand one's ideas, try something new, something I've found more difficult as old age approaches.
The most rewarding is just being able to be an artist, keep having challenges, keeping the mind active and acquiring the skills to create. I am never bored and it is an extra bonus if someone likes the work enough to want to buy it.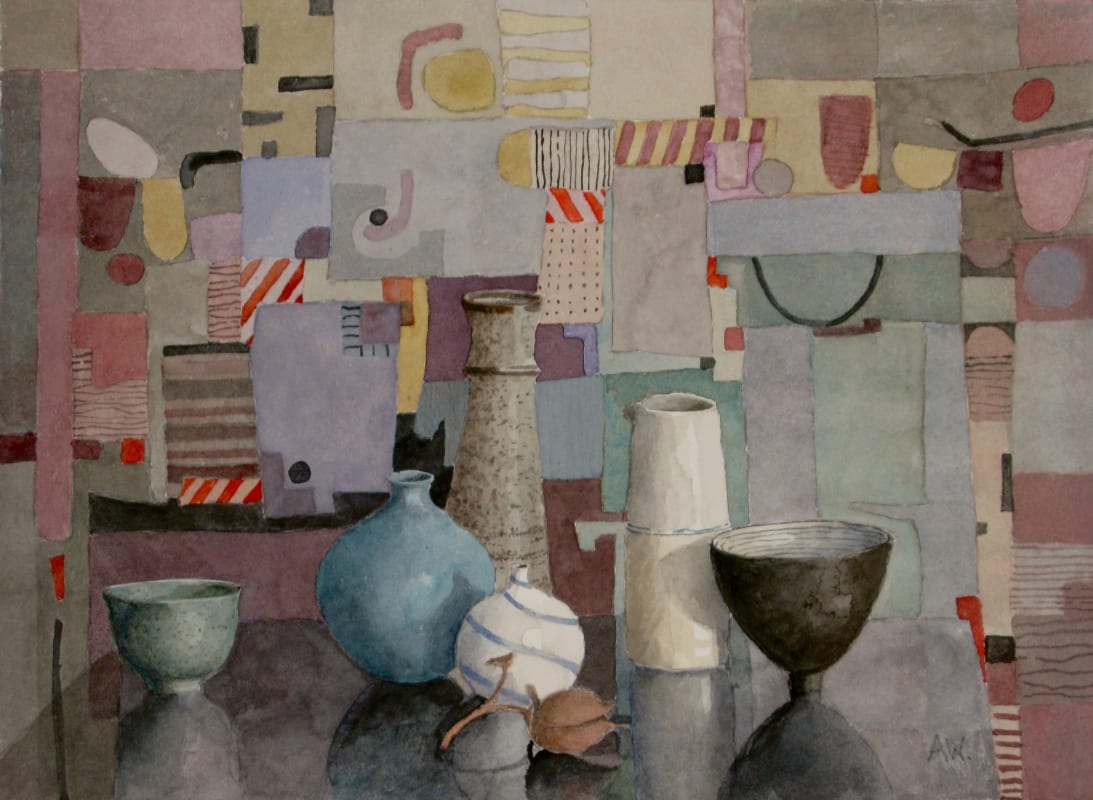 Annie Williams RWS RE, Pots and Doodles II, watercolour. £500 framed.
Finally, what would be your advice for aspiring creatives who perhaps think a career in art seems out of reach?
I'm not sure what advice to give, I think it is very important to be happy in whatever choice one makes, but I think it can be difficult now unless you have other means of support eg. teaching or the commercial world. It's a wonderful career if one is prepared to work hard and accept the odd rejection, the rewards can be huge.
---
If you would like to find out more about Annie, you can view her artist's page here and browse more of her artworks through the button below!
More like this on the Blog...
Read: Mural Design & Still Life: Interview with Wendy Jacob RWS
Read: Stop to Think: Interview with Gerry Baptist RWS RE
Read: Landscape and Light: Interview with Richard Pikesley RWS
Read: Interview with Gertie Young RWS
Read: Interview with Jill Leman PRWS
Read: The Poetry of the Everyday: Interview with Anita Klein PPRE Hon. RWS
Read: Interview with Akash Bhatt RWS
February 24, 2022