A highly accomplished and renowned printmaker, Anita Klein's subject matter has always been small moments: being besieged by two children wanting hugs at the swimming pool, mending a daughter's teddy bear, choosing a guinea pig, a first day at school – but for all their apparent simplicity, they capture the rich essence of a minor domestic moment.
Here we caught up with Anita to find out more about her life and work, and why she chooses to celebrate 'the poetry of the everyday'.
Interview: Matilda Barratt in conversation with Anita Klein PPRE Hon RWS.
---
Could you start by telling us a bit about you and your practice?
I am a painter and printmaker and see both painting and printmaking as central to my work. These days I mostly begin a new picture with drawings in my sketchbook, and then I paint in acrylic on canvas. Ideally I like the figures in my paintings to be larger than lifesize. Some paintings tend to lend themselves to further interpretation as prints, and I choose the printmaking medium that most suits the feeling of the image and what I want to explore further about it. Lately I have mostly concentrated on linocut, but many people know my drypoint etchings best, and I do still do these, as well as screenprint, woodcut, carborundum and wood engraving.
Did you always know you wanted to be an artist? What are your earliest memories of creativity?
Yes I always drew obsessively as a child and have been quite single-minded. My childhood drawings, like most children, were pictures of my everyday life; my sister waking me up, my mum doing exercises. My current work continues this theme.
What was your experience of art school like? And what routes have your career taken since?
I am lucky to be old enough to have had 7 years at art school with a full maintenance grant and no fees. I did a foundation course at Chelsea, a 4 year degree in painting at the Slade then 2 years postgraduate printmaking also at the Slade. All that time enabled me to take wrong turns and go down dead ends before finding my own subject matter. Figurative painting was not fashionable at the time. The options seemed to be either making grainy videos of "shocking" performance pieces or making huge, macho, abstract gestural paintings. I spent 2 years painting pure abstract work before I bored myself and, after much soul searching, returned to my childhood diary making. This subject-matter seemed quite embarrassing for a long time and I first turned to printmaking as a way of justifying making small black and white drawings. I was extremely lucky that Paula Rego was a regular visiting tutor and took me under her wing. We learnt printmaking at the same time and she was hugely encouraging.
What was it that first attracted you to printmaking?
As I said, at first it was a way to call a small black and white drawing a finished piece. But very soon I became excited by the endless mark-making possibilities of all the different print media. At the Slade I made hundreds of lithographs and woodcuts, but I was pregnant with my first child when I left, and didn't have a studio. So I switched to making drypoints on aluminium which I could do at my kitchen table while my baby slept. Once a week I went to an evening class and printed my week's work.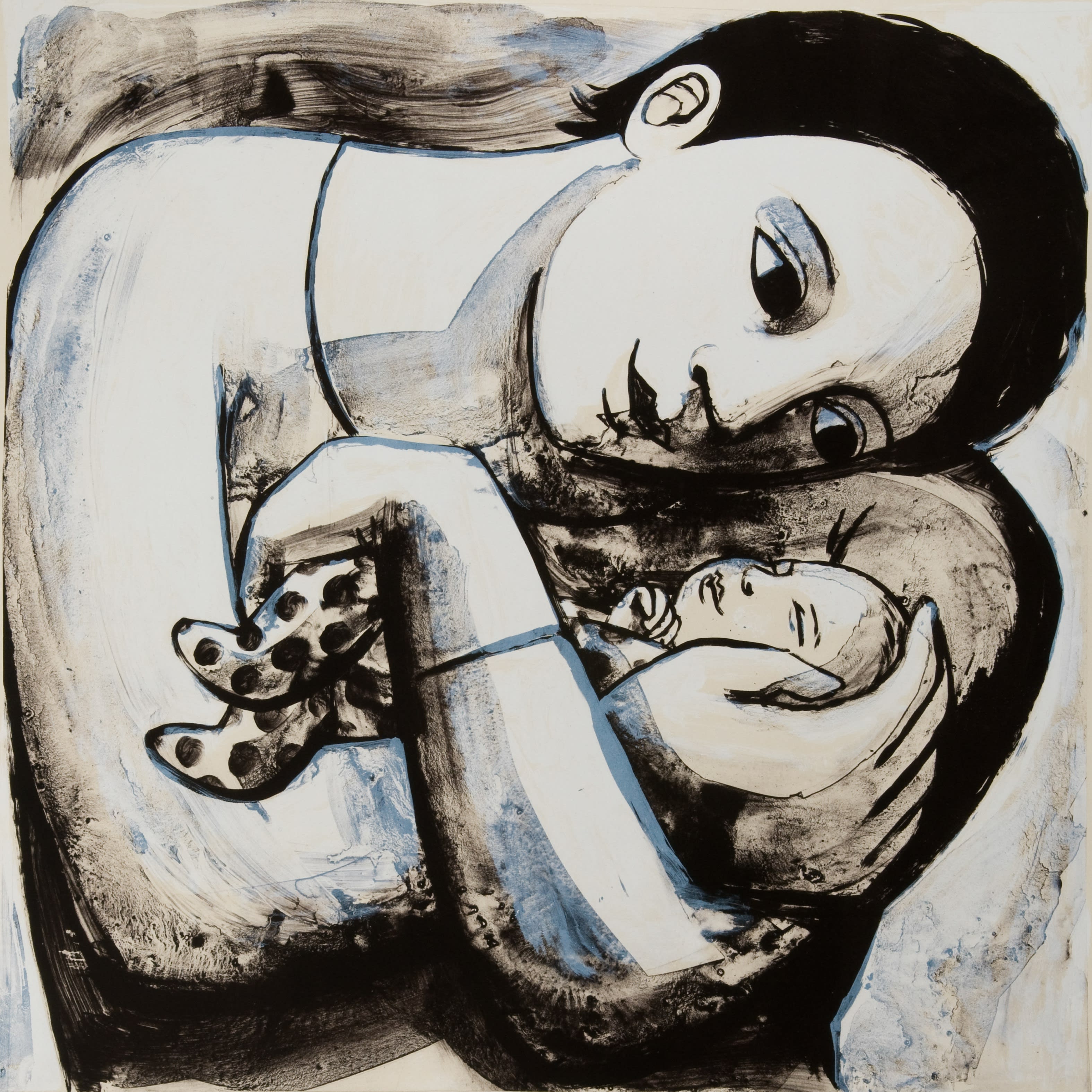 You have said of your work that you wish to celebrate 'the poetry of the everyday'. Why is this? What draws you to depicting the little, ordinary things in daily life like having breakfast together with your family?
I have always been extremely aware of the fragility of ordinary life. This might be because I grew up listening to my father and his parents and relatives talk about their experience of loss as Hungarian Jews living in Romania until 1955, and their subsequent life as refugees. I knew as a very young child that I could take nothing for granted, and my work is a kind of counting my blessings for my peaceful and privileged life. Sadly, many people have had to see this fragility more clearly in the past year as our everyday lives have been stripped back and limited by the pandemic.
What is the importance of composition in your work?
I am very upset by bad design! Somehow visual balance is extremely important to me. When a picture is not well composed it gives me a kind of noisy headache and I take great pains in my work to achieve abstract harmony and balance. What I am aiming for is the silence and stillness that comes when the last piece fits into a jigsaw puzzle, so I do a lot of correcting and rubbing out what might seem to be quick drawings.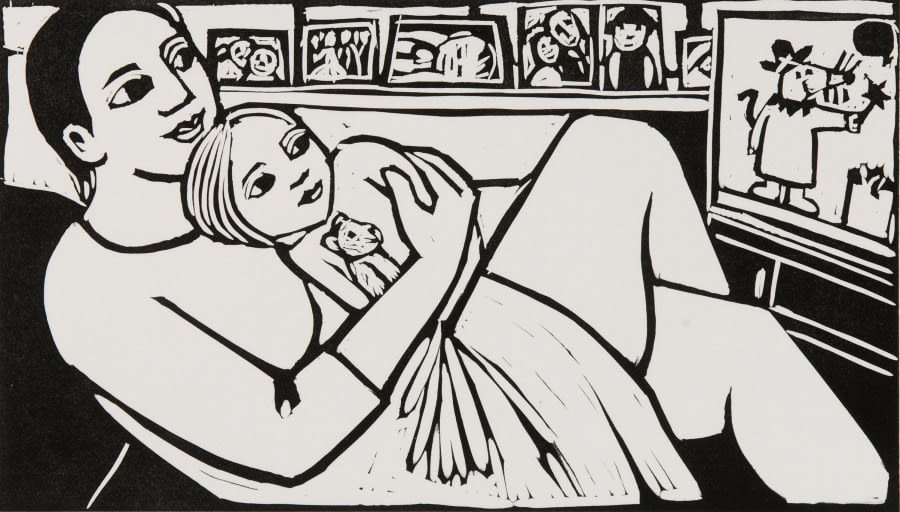 How has your style changed or developed over the years?
Style is not something you can really control. If you paint and draw honestly it's like your speaking voice; instantly recognisable. My style has changed very gradually over the years as I have gained confidence in being myself and have less and less interest in other people's opinions or in making what looks like "art".
You typically spend your time between London and Italy - you have said that Italy is where you can dream and experiment with your work; I imagine it must have been difficult this past year not being able to get away much.
Yes this has been difficult. Until the pandemic I nearly always painted in my studio in Italy. This is just a room in a small flat in a village in Tuscany, but working there is like a retreat, where I can paint completely alone, with no distractions and nobody else's needs to consider. I have surprised myself by managing to paint in England this year, but I'm so looking forward to my regular retreats when they become possible again.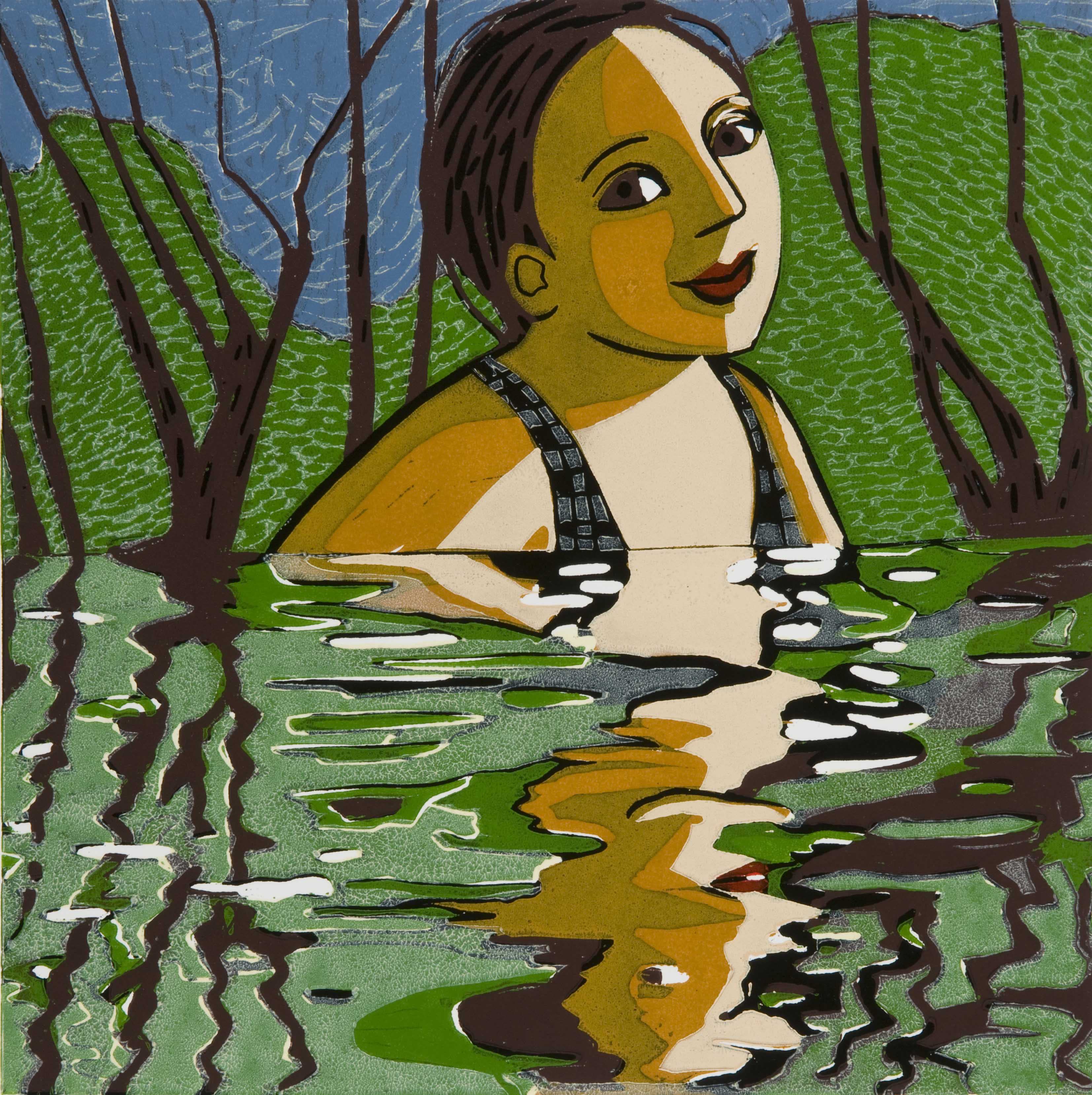 How has the pandemic affected you, both personally and professionally? Have you found it has changed your relationship to drawing and creating?
The biggest difference has been no being able to work in Italy. And to a certain extent I have been painting what I do miss rather that what I would miss; closeness to family, and swimming! Last summer, with the pools still closed, I discovered swimming in the London docks which has been absolutely wonderful. I was planning to continue this through the winter, and managed to do this until New Year's Day, after which the docks were closed for the current lockdown. I have been very envious of people who live by water, but I'm hoping that Londoners will soon be able to resume swimming.
Finally, do you have any words of wisdom for aspiring artists and printmakers?
Be yourself, don't try to be original, and bounce back from a million rejections!
---
If you would like to find out more about Anita, visit her website here. You can also browse more of her artworks through the button below!
More like this on the Blog...
Read: Interview with Akash Bhatt
Read: Interview with Richard Pikesley
Read: Interview with Sumi Perera
Read: Interview with Peter Lloyd
Read / Watch: Linocut Printing: In the Studio with Anita Klein
Read / Watch: Relief Printing: In the Studio with Trevor Price
Read / Watch: Abstract Art: In the Studio with Lisa Traxler
February 4, 2021