Richard Pikesley RWS is a painter with a love for landscape and the effects of light and weather. He began his artistic career at the Harrow School of Art before going to study at the City of Canterbury College of Art in 1970 for three years.
We were thrilled to catch up with Richard and find out a little more about his life and work, and also hear about how these past few months of lockdown have affected his practice.
Interview: Matilda Barratt in conversation with Richard Pikesley RWS.
---
Did you always know you wanted to be an artist? What are your earliest memories of creativity?
"I have no memory of a time when I wasn't playing with making images. As far back as I can reach into my childhood I can see scraps of paper covered with drawings of anything and everything. Later on, at a rather traditional boys' school I was heading for a science career but finding refuge in the art room. At about the same time, a girlfriend whose father was an artist, took me to see the Van Gogh Exhibition at the Hayward Gallery, there was no turning back after that. Our teacher was the RE member, TD (Don) Plenderleith who alongside his beautiful linocuts, made wood engravings and painted. He was very supportive and encouraging when I made a very late change of trajectory and applied for the Foundation Course at Harrow School of Art."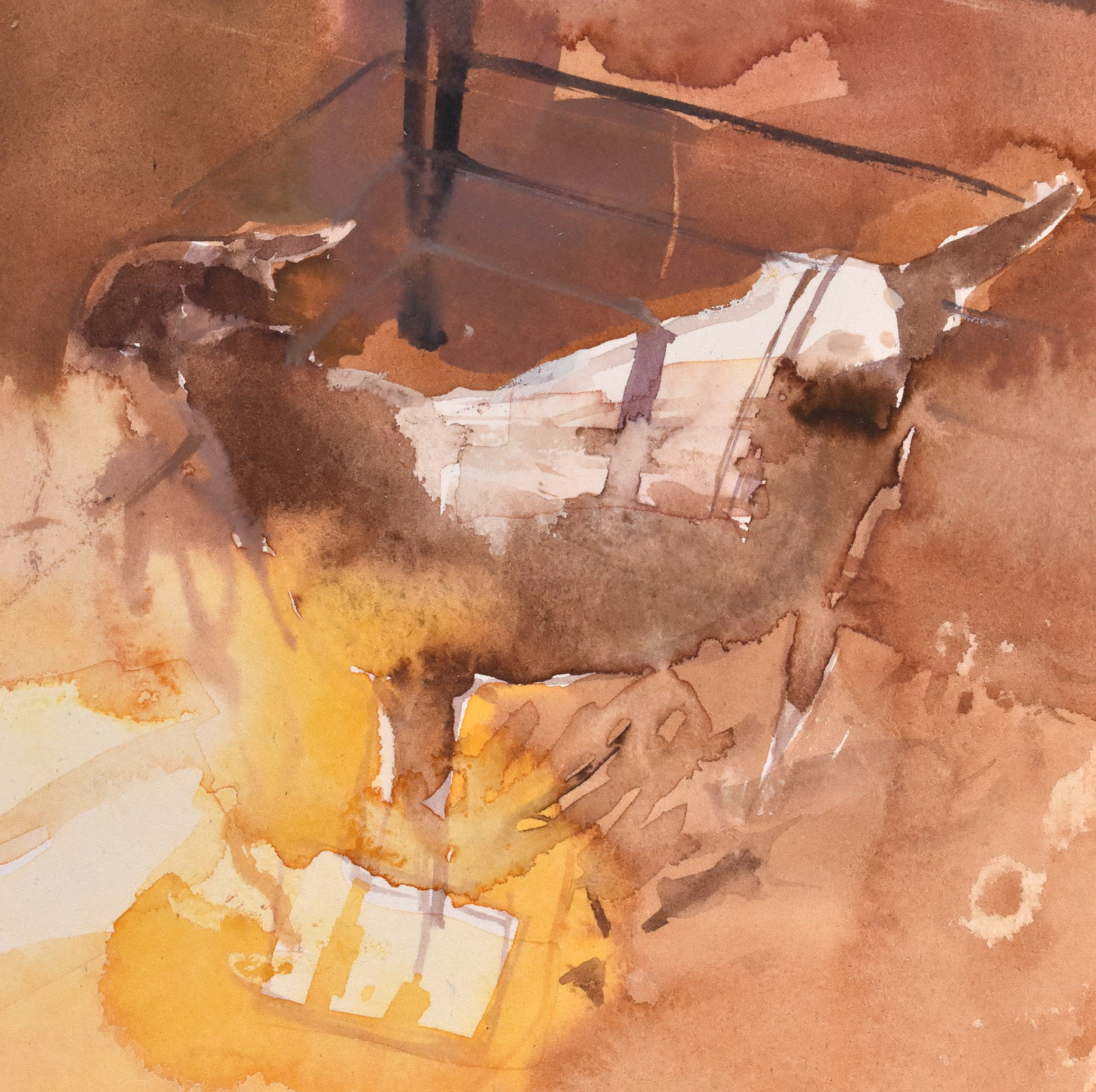 What was your experience of Art College like?
"Harrow was amazing. I'd been squeezing in one afternoon a week of 'recreational art' at school and I was suddenly thrown in with good young students who'd already put in some time honing their skills. It made me determined to learn fast and being exposed to such good teaching, my feeling of needing to catch up was like rocket fuel. Harrow at the end of the sixties had a vibrant fashion course alongside studio ceramics and illustration courses which were the very best. My own teachers included Phil Hicks who taught sculpture, the amazing draughtsman, Sam Marshall and of course Ken Howard.
"After a year at Harrow I moved on to Canterbury to study fine art. This was a more difficult time. After the structure of Harrow, the freewheeling 'put twenty students in a big studio and let's see what happens' kind of approach didn't initially suit me. But once again I was so lucky with my teachers once I had sought out their help. The extraordinary Ian Dury, later of 'Blockheads' fame was my tutor for a year and I think something of his driven quality probably rubbed off on me, and I learnt a lot about the history of Rock 'n Roll!"
What routes has your career taken? I understand that you taught in a number of schools up until 1990. Has this had an influence on your practice later down the line?
"After Canterbury I trained for a year at London University to become an art teacher. I was about to be married and needed a day job to pay the gas bill while I carried on painting as much as I could. Several posts teaching in schools seemed to be mostly chosen for the quality of the commute, and a job teaching at a school in High Wycombe gave me a drive to and from work across the high Chiltern Hills. This led me to start a habit of carrying painting gear in the panniers of my crumbling motor bike so that I could paint landscape on my way home from work. This stayed with me when in 1980 I moved to where I now live on the Dorset coast and taught in Weymouth. By 1990, I was selling a few paintings and decided to 'give up the day job' , but the enjoyment of painting early and late stayed with me and I still love painting outside right up to the point where I can't see what I'm doing."
What inspires you? Is there something in particular that you seek to convey in your work?
"I've always thought it's more about perspiration than inspiration. For me to get excited it has to be more than topography or the big view. The way that clouds might be stacked up, repeating forms in the landscape would be the sort of thing that gives me a way in. I work quite fast on the spot, and am quite happy to set something aside if the light or the subject have moved on. The process becomes a sort of three way conversation between the subject, the sheet of paper or board, and me."
Landscape and light are rich themes in your work. Could you tell us a bit more about this?
"I love the way that the fall of a moving cloud shadow tells you so much more about the landscape than flat, bright daylight. Running into autumn just now I'm looking forward to the theatrical quality of a low sun. For me, the biggest challenge in painting is somehow squeezing that huge range of natural light into the tiny scale of light to dark in mere pigment."
What does a typical day look like for you? And how have you found these past few months? Has the lockdown had any impact on your work or perhaps your relationship to drawing and painting?
"My studio is an old barn next to the house. In the winter the first job each day is to light the woodburner if I'm not painting outside. On days when I can get out and paint in the landscape I'll watch the weather forecast and decide where I might paint. We took the decision some years ago to convert another shed into a place where I could make frames. I've always liked the way that potters have a cycle of work where each task, building, decorating, firing takes the whole focus for a certain time then revolves back to the beginning of the cycle. I set aside three or four weeks before a show to make frames. It's good to have something to satisfy the fiddly, nitpicky side of my nature and I build up a decent head of frustration at not painting; more rocket fuel, so that I get back to painting each time with an extra degree of energy.
"The last few months have been weirdly satisfying for me. I felt guilty about this at first, there's plenty of room on our smallholding for me to find somewhere to paint, and I felt so sad for anyone locked into a small space with no human contact. I think it gave me a sense of extra focus in a weird way, even if it did stop me painting in some of the places I love."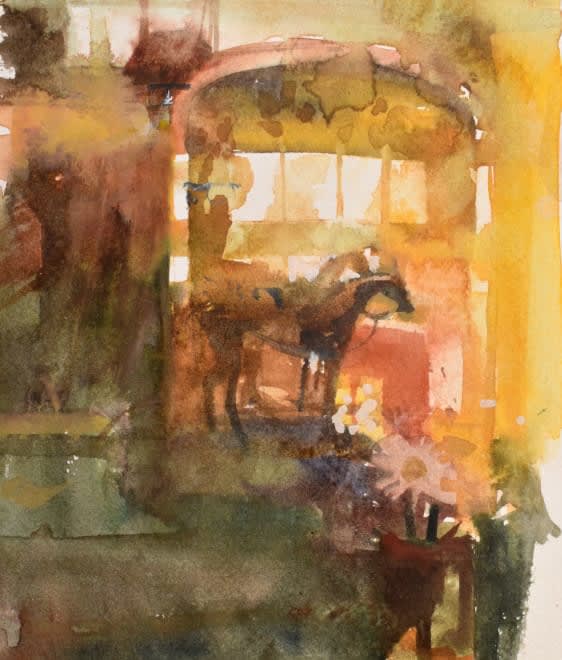 Finally, do you have any words of wisdom for aspiring creatives who perhaps think a career in art seems out of reach?
"It really isn't out of reach, but you do need a degree of tenacity and to know that you're in it for the long haul. I think it takes time to grow into a way of working which is truly your own and doesn't feeling like putting on someone else's shoes. Pushing paint around all day is a funny way to make a living. You'll find out who you are, might not make a lot of money, but you'll be doing something which can be deeply satisfying."
---
More like this on the Blog...
Read: Interview with Akash Bhatt
Read: Interview with Sumi Perera
Read: Interview with Peter Lloyd
Read: The Poetry of the Everyday: Interview with Anita Klein
Read: Frank Kiely RE: Sketches in Lockdown
October 7, 2020