Sumi Perera RE is an interdisciplinary artist who merges many techniques and materials to generate hybrid prints. Sumi's work invariably exploits her background as a doctor, scientist and artist, working in the East (Sri Lanka, her native country), and the West (the United Kingdom, her adoptive country). She combines traditional printmaking methods with contemporary techniques, often harnessing stitch to form mixed-media assemblages.
Among her many impressive achievements, Sumi has undertaken several residencies, won a number of international awards and has been chosen to exhibit at many of the world's major galleries. We were delighted to catch up with Sumi and find out more about her 'nomadic' upbringing, her creative process and her background in medicine, as well as the ongoing influence of both science and architecture in her work.
Interview: Matilda Barratt in conversation with Sumi Perera RE.
---
After having worked as a doctor in Sri Lanka (your native country) and a scientist in the UK (your adoptive country), you went on to complete an MA at Camberwell College of Arts, London, in 2003-4. What was the inspiration behind this seemingly major career swing into the field of arts?
"The main reason was that my Virology research team based in London moved to Edinburgh. I took it as a sign that I should do an MA. I must point out, however, that for me it was not a major swing nor a difficult decision, but quite a natural progression.
"I have always been an artist for as long as I can remember – so for more than 60 years! The decision to do an MA was merely seeking professional endorsement at that stage of my life. Which it did, by opening many doors: including the Tate Britain acquiring 3 works during my MA (on a personal cultural colonial narrative) and another 6 works since then.
"I grew up in an environment where my family never set ourselves boundaries. There were various professionals who all had thriving careers as artists, designers and musicians, dressmakers and caterers alongside their day jobs (the latter two ran professional bridal services and party packages). In my teenage years, in the 70s, I designed and drew sketches for furniture in our house and garden to be built by master craftsmen.
"Prior to doing the MA at Camberwell, I had taken part in many open submission exhibitions, won a few national prizes and had my work exhibited in public galleries."
[Fig. 1]
Whilst I imagine it's hard to summarise given the sheer breadth of techniques and processes that you use, could you tell us a bit about your creative practice?
"I am a post-disciplinary artist who makes interactive mixed media assemblages and installations. Printmaking is my major practice; I use traditional methods: etching, screen-printing, mezzotint, dry-point, collagraphs; relief methods: linocut, woodcut and woodblock; and contemporary methods: Computer Numerical Controlled techniques such as laser cutting & engraving, sand-blasting; thermochromics and electro conductive inks to make touch responsive works that change colour and emit sound.
"2B Or Not 2B (to commemorate Shakespeare's 400thanniversary; [Fig.1]) is a 12 track sound installation made using electroconductive ink. It features a series of soundwaves created by 2B & Non-2B pencils writing on different substrates, typewriter keys, Morse Code and Thespian actors interpreting the phrase. This was a finalist at the Ruskin Prize, and has toured to many venues in UK, Venice, California & Austin USA.
"I choose processes instinctively to match and connect to the materials in the themes explored. For instance: sandblasted glass was the primary starting point for the print and artist book installation, Shattering the Glass Ceiling, which was designed for the Freud Museum. White vintage textile clip-on collars were the inspiration behind the series, Top 10 White Collar Crime, a series of mezzotints, of which the artist book was acquired for the Tate Britain Collection and the Stroud International Textile Festival. In Vino Veritas-Saxa Loquuntar II [Fig. 2] is a lithograph I made during the Lithography Artist Residency at Pierre Presse, the 9th Century Abbey. I mounted the lithograph upon a 'fake' lithostone I created with clay, which was shown at the Masters Screen & Stone."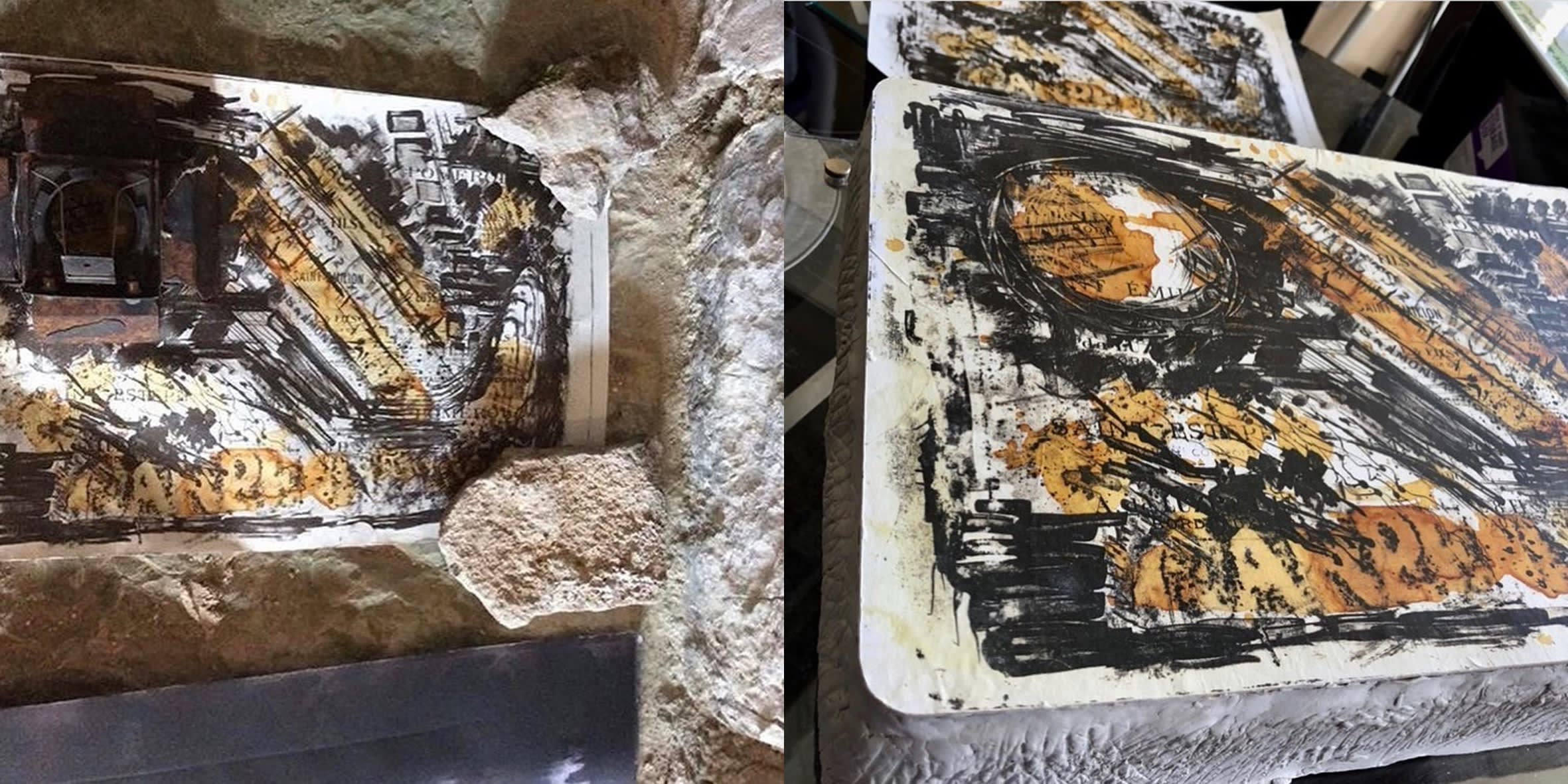 [Fig. 2]
Is the process just as important as the outcome?
"Yes, very much so. In some instances, the process has become even more important than the finished product! I often leave works intentionally 'unfinished' and even allow the configuration of the presented work at public exhibitions to change over the course of its exposition.
"I also often reverse the editorial control in some works, and invite the viewer to engage, interact with and truly immerse themselves in the work. I give them artistic license to inscribe, erase, change the sequence, rearrange the alignment and offer alternate possibilities by making mobile multi-modular units."
I know that your medical and scientific backgrounds continue to greatly influence the work that you do now. Could you tell our readers a bit about the ways in which these aspects of your life complement each other and work hand-in-hand?
"At first, I was quite adamant I would leave my medical and scientific background behind and totally distance my work as an artist. Of course, that did not happen! Obviously, one's subconscious overrides any such unnatural impulse and takes over, and the work becomes semi-autobiographical and seamless… often almost like an edgy, lateral 'self-portrait'.
"My training as a doctor and scientist is not that different to my artistic practice; in all three, we learn rules and principles. But in each individual case, we have to be open minded, to learn to be flexible and think outside the box. We need to be able to see any situation from different angles and consider alternate possibilities. Collaboration is of key importance in everything.
"I know there are purists who boast that they make only original work, and do not depend on another 'hand'. But we all gain from the history of art - we sit on giants' shoulders. The substrates we work upon: the original paper maker, the canvas weaver & stretcher etc.; the materials we use: the choice of inks, the pencils, the brushes, the metals - they are all made or produced by another.
"For 14 years I have initiated many collaborative projects involving hundreds of participants: Sumi Perera et al [Fig. 3]. Many of these began right here at Bankside Gallery with members of the Royal Society of Painters-Printmakers kickstarting it.
[Fig. 3]
Many people might believe that art and science are entirely unrelated. Through combining the two fields within your work, do you hope to communicate something that perhaps art or science alone cannot?
"Yes, I think that through combining art and science, I am able to question moral and ethical issues without the baggage and weight of providing a solution or treatment. I have the freedom to start conversations that I want others to become deeply embedded in, to form their own opinions about and to carry on the exploration further. My artwork is not a manual or a textbook, but more of an open-ended discussion. I make available certain facts and angles to any theme, present them as individual 'frames', and encourage the viewer to mix and match and re-imagine different scenarios. Almost acting like a detective solving a dilemma or problem!"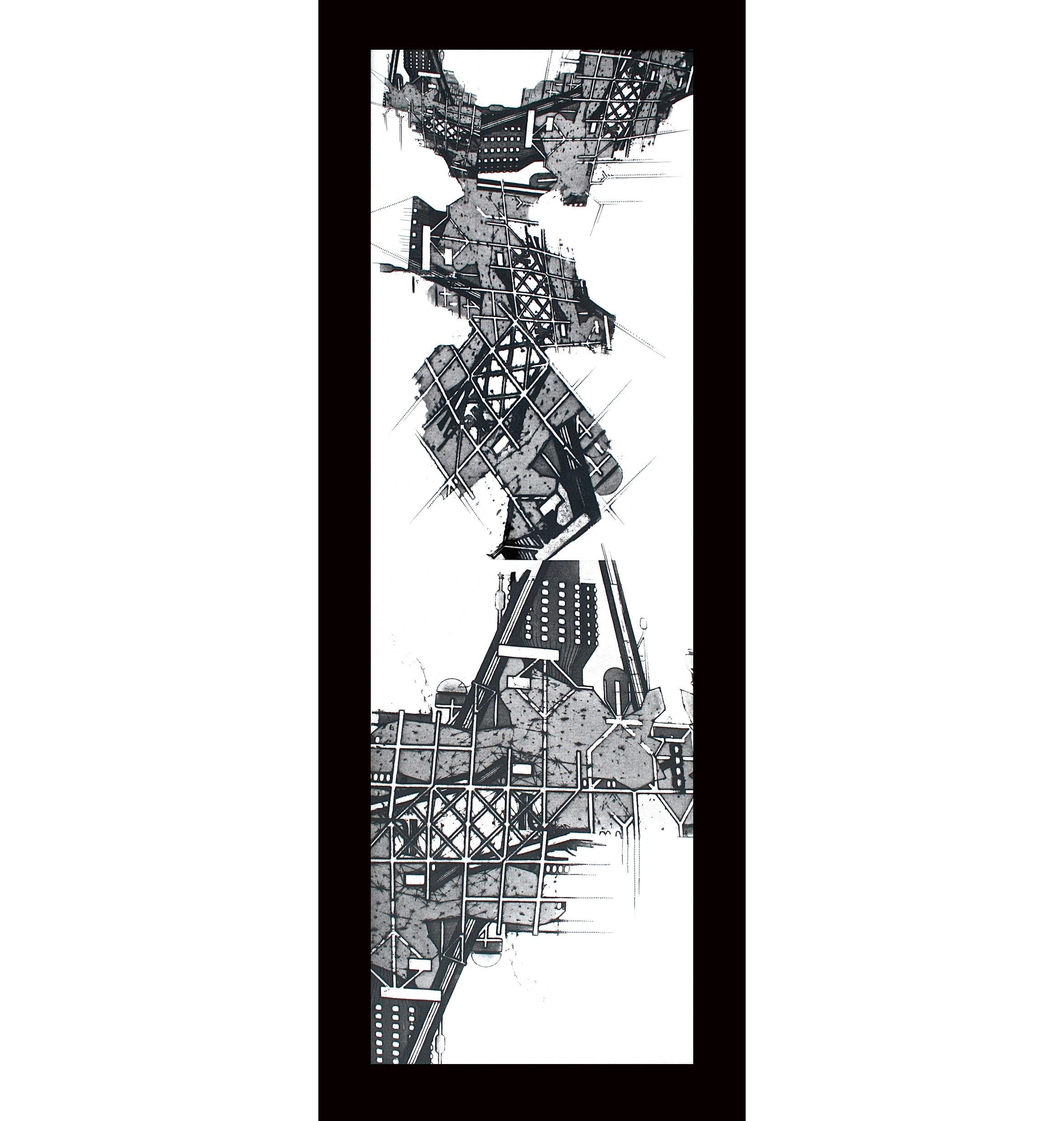 [Fig. 4]
I'd love to hear more about the influence of architecture in your practice. What is it that interests you about shelter and the built environment?
"Shelter is a basic need. My early nomadic existence, moving between many countries from the age of 3, living in small basic units on the edge of uncertainty, growing up in the UK and Sri Lanka during a protracted civil war, has all made me understand the importance of the built, the unbuilt and the rebuilt structures. It is not merely the aesthetic consideration, but far more importantly the socio-political ethical implications of responsibly built structures and systems that intrigue me the most.
"Rebuilding The Built [Fig. 4] was awarded the Prix de Print in Art in Print USA by K Alkaukas from the Museum of Modern Art New York. It was inspired by the plans/blueprints we drew up after we wed in the 80s for a house that still remains unbuilt due to the war and other unforeseen circumstances.
"Another series of ongoing artist books, Building Blocks Book [Fig. 5], was awarded the 1st Prize at Shelter in Boston and was acquired to many academic institutions in the USA. It was awarded the 1st Prize at the Society of Bookbinders Conference in 2009 UK and the Southern Cross University Book Award in Australia, and was acquired for its collection.

[Fig. 5]
You were the first recipient of a guest artist fellowship, six-week residency and solo show in Venice at the Scuola Internazionale di Grafica, awarded to a member of the Royal Society of Painter-Printmakers. The main themes for this body of study were a reflection on Ruskin's thinking – I imagine much of his work resonates with your own. What was this experience like for you? Has it impacted your work since?
"Yes, Ruskin's writing and thinking underpins most of my work, especially his thoughts expressed in The Stones of Venice and The Lamps of Architecture. Not only did I draw upon his role as the ultimate polymath: an art historian and artist, but far more importantly, his thinking as a social reformist in the Victorian era. His wisdom and vision encapsulated within those two books has always and will always sway my thinking.
"Materials were harvested from my home and combined with materials from Venice to create interactive installations paying tribute to Aldus Manutius (circa 1452-1515) a leading Venetian scholar/typographer. This is the reason why most of the prints were layered and presented as multi-page flip-book charts, a variation of artist books.
"One series depicted seven mezzotints of lamps, placed on a backdrop of monoprints and screen-prints that lit up and switched off upon touch. This was a nod to Ruskin as they were laboriously executed celebrating the artisan qualities of printmaking. With a conceptual wink to Martin Creed's Turner Prize-winning work No: 227 (simply a light going on and off for 5 seconds within an empty room).
"I took part in the Festival of Edible Books: Life is like a Box of Chocolates, with etching plates inked using chocolate paste. The design motifs were architectural drawings of the various different shapes of pasta, etched on metal but printed on slices of bread instead of paper. I did consider using Rice paper (the staple carbohydrate meal in Sri Lanka). However it did not survive the pressure of passing through a heavy press! Again a wink and nod to my hybrid cultural exposure: British, Sri Lankan and Italian. Venice is the country I have spent the third longest period of my 64 years, outside my native and adoptive countries.
"For my project, Unbuilding Blocks Trilogy, for the Italian calligraphic group: Venetiae Incipit Scriptorium at Scuola, I hung a very long 3 strand etching, cut and stitched, from the ceiling to the floor that trailed on the ground. As the acqua alta - high tide - sirens were sounded, to warn of the imminent flooding of the city, some of these prints were clipped up and others lowered in order to capture and record the rising water levels.
"The sounds of sirens, the gondoliers singing and church bells chiming, the chugging of the vaporetto, the noisy Vandercook letterpress, the jet washes of the screen-print room... these were all recorded in a 12 track touch receptive sound installation: Inside Out-Outside In."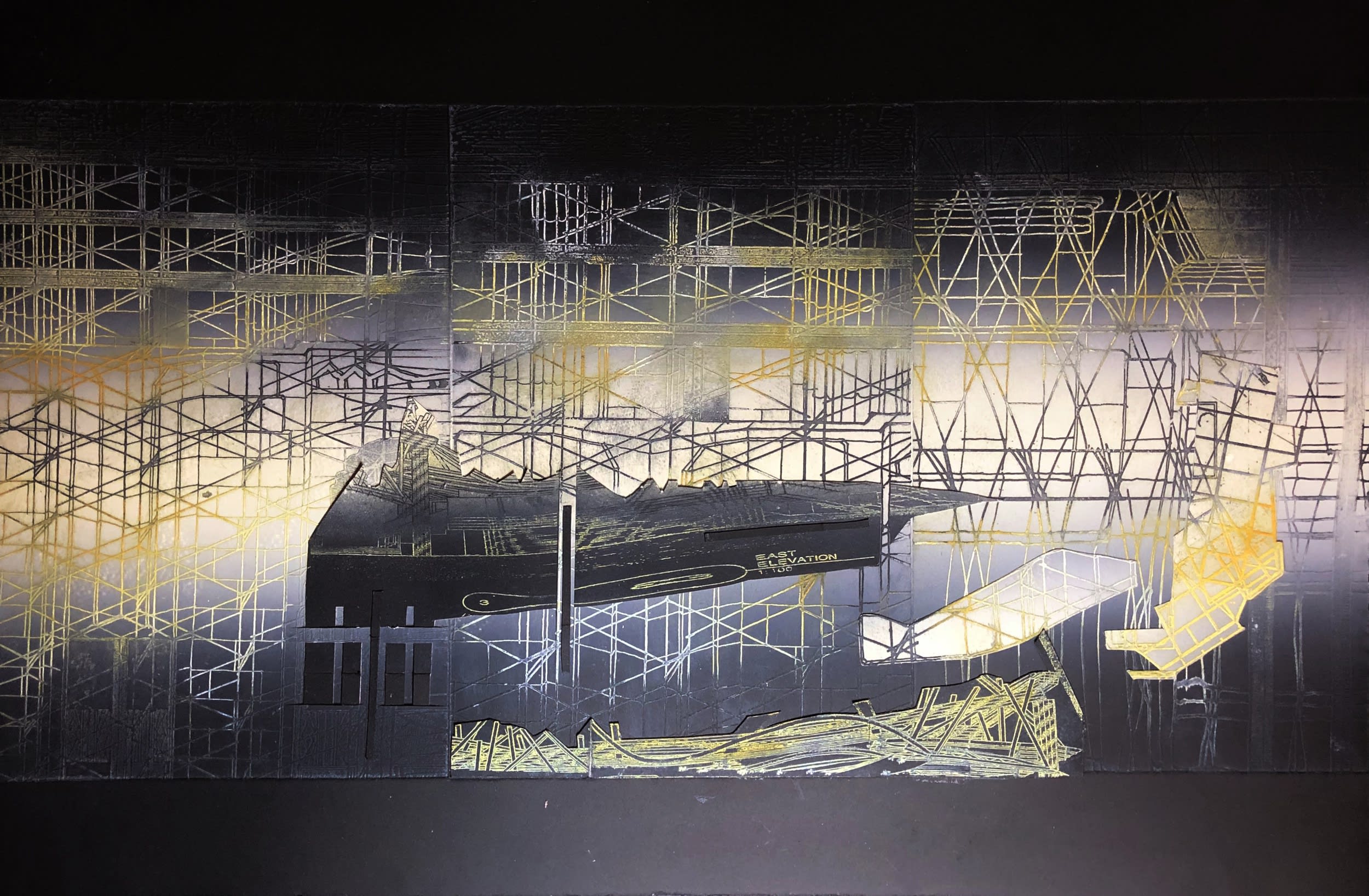 [Fig. 6]
Despite the arts being a platform well suited to empowering and championing diversity, the UK arts sector remains steeped in inequality. Do you have any hopes for the future or changes you would like to see?
"Small changes have already occurred in terms of gender diversity – but obviously not enough. Last year we saw the appointment of the 1st female president of the Royal Academy, Rebecca Salter PRA after 251 years, now also a Hon RE. Nevertheless, we still have many more areas of inequality to address to correct the imbalance.
"This year was the first time the UK dedicated a month to celebrate South Asian issues, its history and culture, a region colonised by the British Empire for centuries. Over the past few months we have seen many protest marches all over the world highlighting the racial inequalities that exist in every walk of life."
Your daughters, Suda and Suvey, have both followed in their mother's footsteps, bridging the gap between the arts and sciences and blazing the trail for future interdisciplinary creatives. I understand that you have worked on a few collaborations with your daughters and other family members (including one with your then one-month-old granddaughter!). I love the idea of art through the generations and was wondering if you would tell us a little more about it. Is this a bit of a family tradition?
"Yes, both my parents were artists; my dad was a Professor of Pathology, he painted all his life and has his artwork hung in the presidential residence in Sri Lanka; my mum was a pianist and everything she did - whether it was cooking, gardening or re-arranging the house - was a work of art.
"My eldest daughter Suda is an international conflict analyst and lectures at Sussex University. She has collaborated with me since she was at school. A poem, performance and animation we did together in 2004 is in the Tate collection: 10-20, Sizing Up the Opposition.
"My youngest daughter Suvey is a doctor and has collaborated with me on many projects including an underground installation dedicated to Laurence Sterne within the Williamson Tunnels, during the Liverpool Biennale in 2008. Most recently, her graphic score she designed and composed was interpreted and performed by the London Sinfonietta by the Oboist Melinda Maxwell during a lockdown concert.
"I consider these familial traits to be entirely down to shared interests and growing up with a common love and passion for what we do. I will not bore you nor the readers with many names within the art world that have such strong family connections… let's take the most recent conveners of the current RA Summer Exhibition: The Wilson Twins: Jane & Louise…"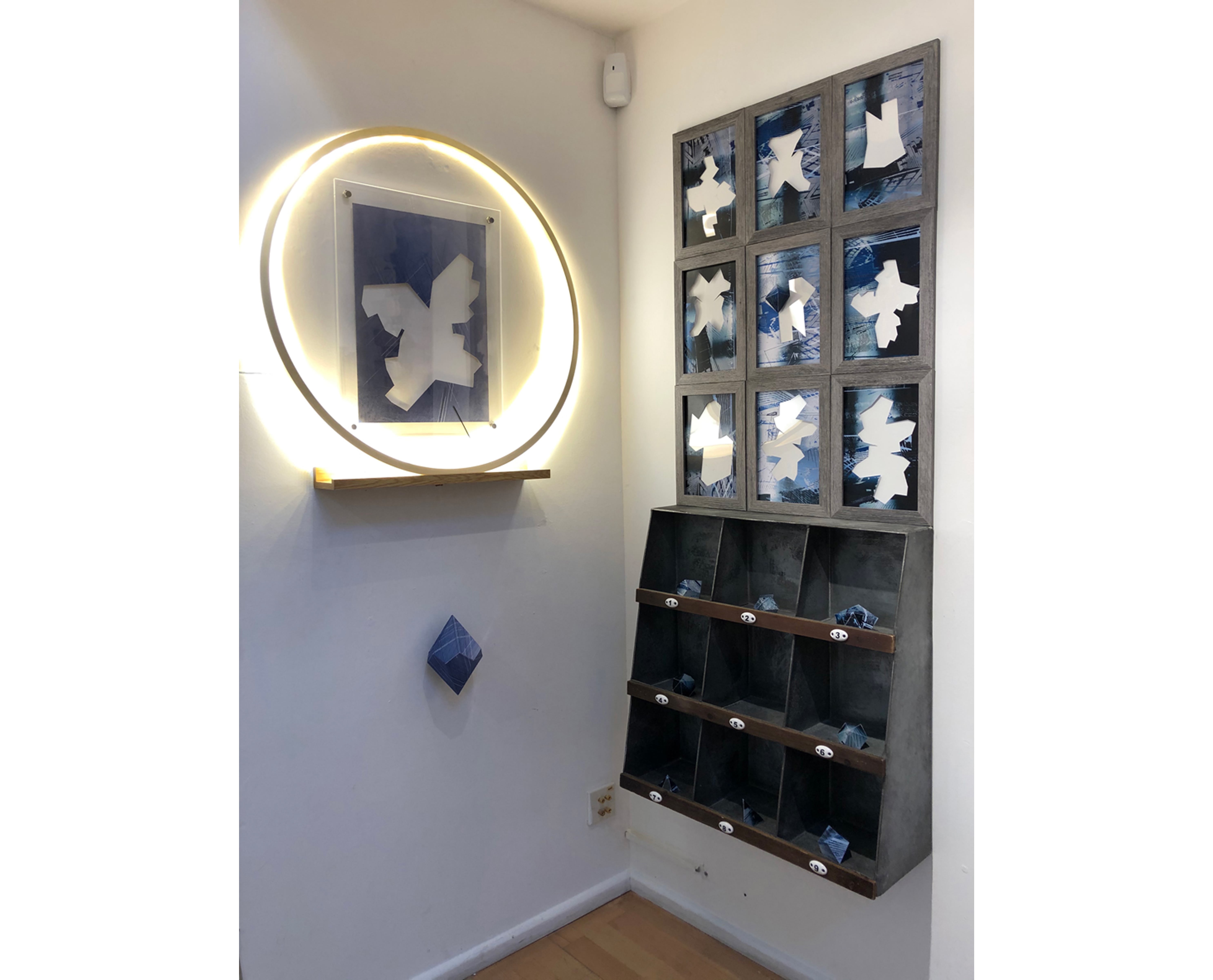 [Fig. 7]
What's next? What exciting things are you working on at the moment?
"I am curating an exhibition: Wish You/We Were Here/There, for The London Group, the UK's oldest artist collective. It's a three-part exhibition: an online show reflecting on our experiences during lockdown, followed by an offline exchange touring exhibition. Its first venue will be in January 2021 in the Principality of Liechtenstein at the Cultural Centre. My final aim is to encourage a majority of non-printmakers in this group to produce a limited edition series of works for acquisition into public collections.
"Leonie Bradley, the editor of Printmaking Today, has asked me to write an article for the next issue: #WorkInProgress, to explain my practice with folded and manipulated 3-dimensional prints, a course which I taught at the Royal Academy last year. This is part of an ongoing light installation series titled: Feeling the Blues…. [Fig. 7] Variations of this work were accepted for the 40th Anniversary of the Megaloprint Studio in Australia during lockdown. Another series has also been accepted for a project: Net Gains at Central Booking New York to be published in a book.
"I am devising a new light installation titled In the Dark III to be shown in a completely darkened gallery, at the Cello Factory in London at the beginning of 2021. Earlier this year I took part in a similar project Even Darker II, in the same venue, under the same unlit conditions, with my touch reactive light installation Quo Vadis [Fig. 8]. This was a multi-modular installation illuminated by battery operated internal lighting, UV threads and inks that were reactivated upon touch. This was also presented at a solo exhibition: Liminal Spaces III at the West Yorkshire Print Workshop, NOPE (National Open Print Exhibition) at Bankside Gallery and at the Woolwich Contemporary Print Fair 2019.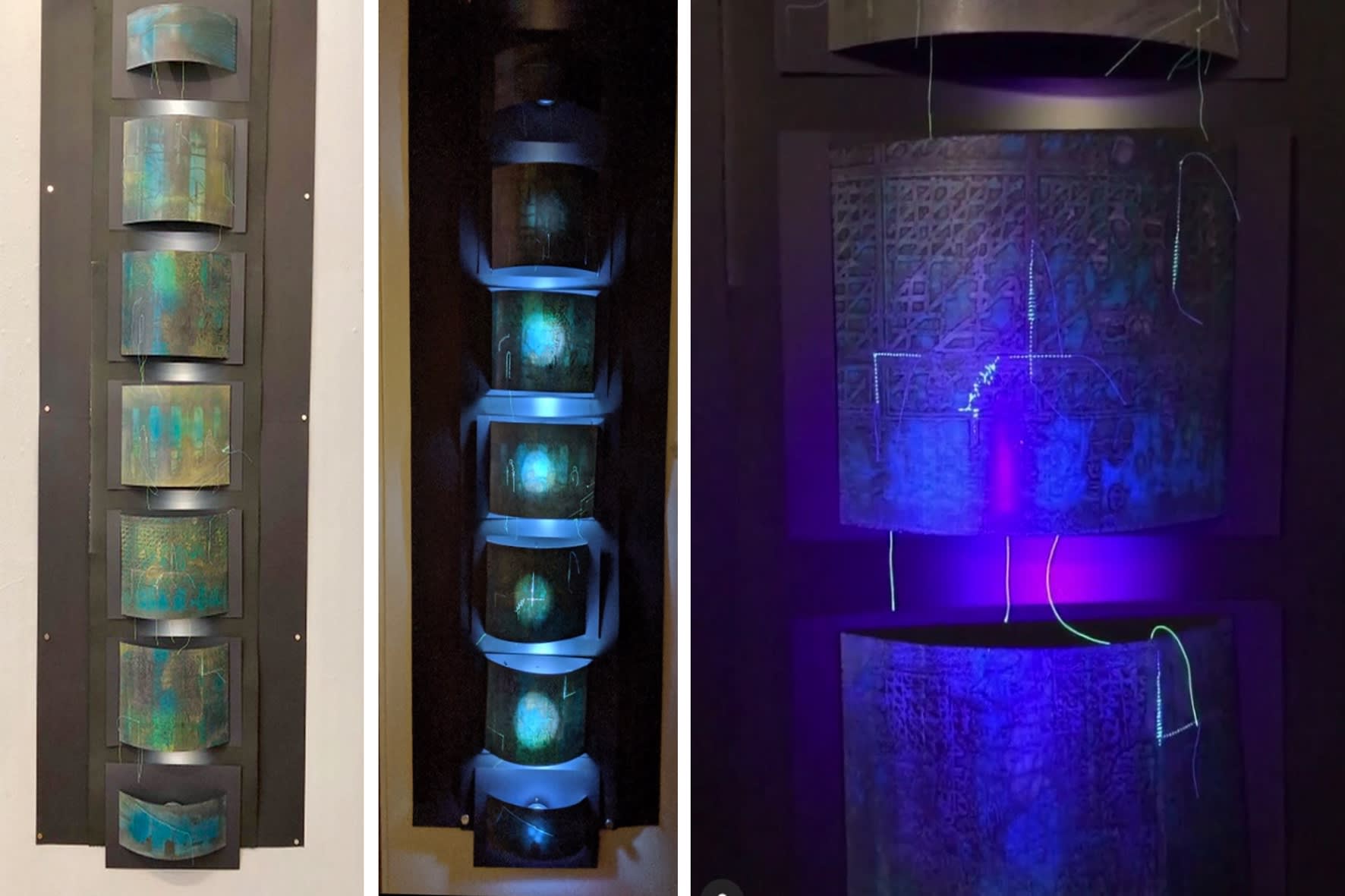 [Fig. 8]
"Secession-Inside Out-Outside In is an artist book made in response to Peter Downsbroughs' book at the Secession Building in Vienna Austria. This book undresses itself by a detachable spine that allows the book to swing from a codex format into a concertina format. This book along with other artist books will be shown at Printed Matter, New York & at BABE, at the Arnolofini, Bristol next year.
"I am also leading a satellite group Sympoeisis for the exhibition: Thinking Of Place II, which will be presented at Impact 11, The International Contemporary Printmaking Conference in Hong Kong, which will then become a touring exhibition to many countries.
"Another artist book I made with 4 other artists titled Grounded, for the exhibition Arid Lands, is part of an international collaborative touring exhibition. It was in Spain before lockdown, and is being held on 'ice' until borders become safe for it tour to Mexico, then Phoenix Arizona USA, and finally back to London."
---
[Fig. 1]: 2B OR NOT 2B-Detail & In Situ LIMINAL SPACES. Finalist at the Ruskin Prize 2017, The Neo:Print Prize 2016, The Summer Exhibition at the London Print Studio, Festival of Print, and most recently at the International Contemporary Exhibition, Print Austin USA 2020.
[Fig. 2]: IN VIVO VERITAS-SAXA LOQUUNTAR [II]
[Fig. 3]: Sumi Perera et al. at Bankside Gallery
[Fig. 4]: REBUILDING THE UNBUILT [Y BLOCK]
[Fig. 4]: BUILDING BLOCKS BOOK
[Fig. 6]: Unbuilding Blocks - In Lockdown, etching, aquatint & collage, £325 Framed. Find out more.
[Fig. 7]: FEELING THE BLUES-Installation of Hybrid Prints
[Fig. 8]: QUO VADIS [Where are you (we) going]-[Apologies to Martin Creed's work number 227]-COMPOSITE of UNLIT, LIT & UV LIT stages
---
Rebuilding the Built: http://artinprint.org/prix/no-13-rebuilding-the-unbuilt-y-block-by-sumi-perera/
Sumi Perera et al: http://www.bookarts.uwe.ac.uk/sumiexh/
Series of works dedicated to architecture, STRUCTURED, at Gallery 57, Arundel:
https://www.gallery57.co.uk/sumi-perera
State of Residency: http://www.thelondongroup.com/state-of-residency/
The London Group, Wish You/We Were Here/There: http://www.thelondongroup.com/wish-you-we-were-here-there/
---
More like this on the Blog...
Read: Interview with Julia Midgley
Read: Interview with Akash Bhatt
Read: Interview with Richard Pikesley
Read: Interview with Peter Lloyd
Read: The Poetry of the Everyday: Interview with Anita Klein
Read: Frank Kiely RE: Sketches in Lockdown
December 2, 2020