In February 2020, the Society of Wood Engravers held their Centenary Exhibition at Bankside Gallery. Leonie Bradley, Editor of Printmaking Today, went behind the scenes to find out how her mum, Hilary Paynter, has been instrumental in putting together a consistently high quality annual exhibition.
Not only did you help revive the Society of Wood Engravers (SWE) in the 1980s, you have been organising the annual exhibition for over 40 years! The SWE has taken an annual slot at Bankside Gallery for 20 years, was this part of a long-term plan?
"I had no long-term plan. Survival of the SWE has always been rather precarious and we lurched from year to year hoping to continue.
"I had been passionately involved with the SWE and RE for many years as Hon.Sec. of both and wanted to bring my two great passions together. By 2000, the SWE was beginning to be financially viable and although we made a loss overall, it was important to see the wood engravings in such a prestigious venue. I remember at the first PV, Anita Klein who was President at the time and had a lovely woodcut in the show, commenting that "The RE exhibitions should look this good." That then started a debate in the RE about consistent framing."
Hilary Paynter RE, Seal Island, 680x570mm, £6,000
Isn't it unusual for group shows to be framed uniformly?
"In the early days of the SWE revival, artists brought framed work and we had a devil of a job to hang the shows. There was almost no discussion of the images, it was purely a question of the frames: we had to search for square gold frames to hang next to tall black ones and find anything that could hang next to a bright green mount! In addition, I would be lumbered for years with framed work that people didn't bother to collect. As the SWE's reputation grew and we received more and more international submissions, I started paying to get these works framed. When these were not selected, it was a huge problem for me, which was when I started framing the overseas work myself. Gradually, I encouraged distant and "too busy" UK members to send work that I would frame. This improved both the quality of the entries and the look of the work on the walls. Eventually, we asked for work from everywhere to be sent unframed and I took on the job of framing it.
"We now have about 200 light oak frames, which are practically indestructible, and museum-quality, acid-free mounts. Each year, when one tour ends, the work is removed from the frames and the next batch of prints is fixed in place. We have had many compliments from galleries across the UK about the appearance of the exhibitions."
There are also compliments about the quality of the work. How is this standard maintained?
"All our exhibitions are rigorously selected. I am afraid that members have no privileges in the SWE, no automatic right to be included. This is something I have fought to maintain for many years. Most members are happy to subject themselves to this principle knowing that inclusion is deserved. Because of this, and the high standard of framing, I am able to book a range of galleries across the UK two and three years ahead. They know they can depend on receiving a quality exhibition.
"Virtually uniquely now, we select from original prints. Most open shows are selected digitally. It means our submission fees are fairly high but it represents incredible value if an artist is selected as the fee includes framing and touring to six to eight galleries over the year."
Hilary Teaching, Photo: Leonie Bradley
What happens to the exhibition after Bankside Gallery?
"We have regular yearly visits to North Wall Gallery in Oxford and Zillah Bell in Thirsk. Other galleries we visit nearly always want the SWE to return and we try to fit them in. However, I always try to include new venues and remote areas. We cannot complain that people don't know about wood engraving unless we make an effort to take it to them. We have taken the annual exhibition to Shetland three times and have sent the show, out of its frames to Italy, Russia and China. We also offer demonstrations and workshops at each venue and there is an illustrated catalogue."
Does the SWE receive any funding?
"We are totally dependent on volunteers and have never received any public funding. This makes for a close-knit group who are dedicated and extremely hard-working. In the last couple of years, we've been a victim of our own success and recent projects have put such a strain on the volunteers who did not realise that so much of their time would be swallowed up. One of these projects is the Seasons, 80 prints, one by almost every current member in a limited edition of 20 box sets."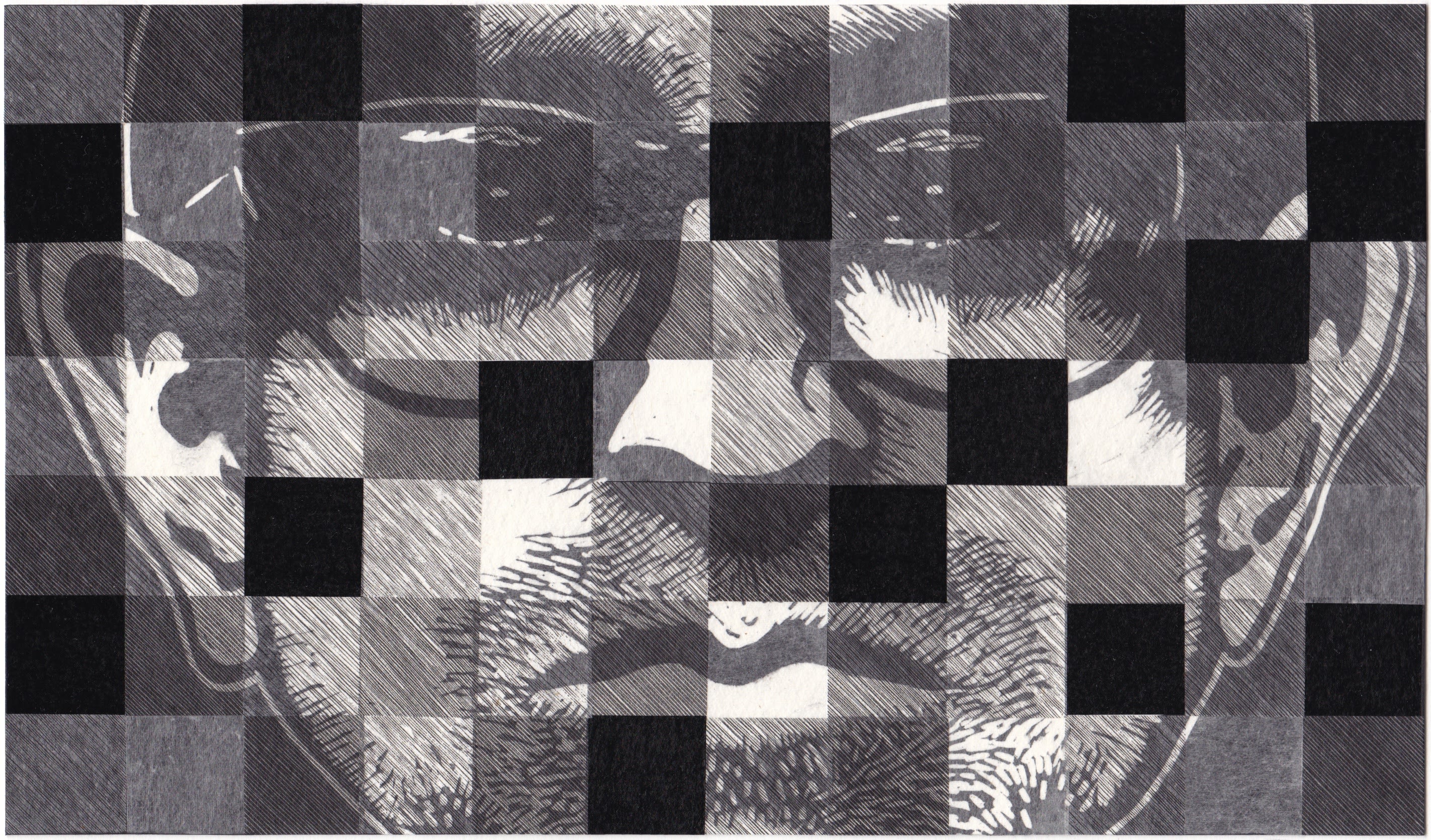 Leonie Bradley, Shadow Profile
I am often asked how I juggle the magazine and my own practice and I tell them you are my role model! How do you fit in your own work?
"Until 2000, I had been working full time, first as Head of Special Needs in a comprehensive school, later as an Educational Psychologist and had learned to maximise my time. I also had two children and shopping and washing to cram in. I learned to work directly on the block with a rudimentary sketch eliminating the need to refine and trace designs. It was risky but fun and often involved some maneuvering to adjust unwanted marks.
"Someone told me early on that no-one would take me seriously as an artist while I spent too much time on the SWE and other people, but in fact the opposite has been true. I have thoroughly enjoyed organising the exhibitions and helping newcomers to get involved - and the V&A recently bought 67 of my wood engravings for the permanent collection. Their exhibition Making an Impression included a work of mine. I am very happy about that."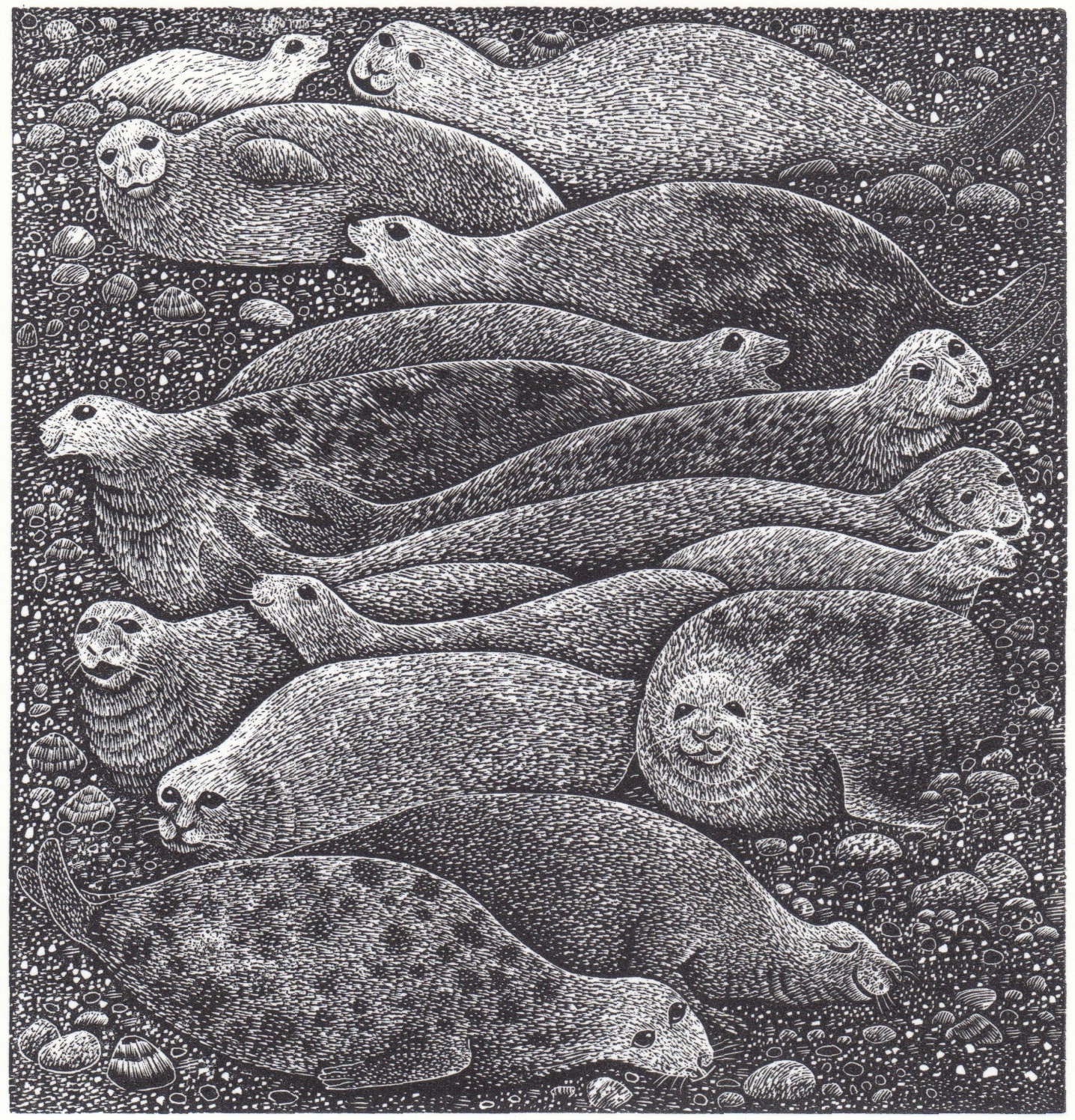 Hilary Paynter RE, Seals, 120x120mm, £85
---
More like this on the Blog...
Read: Interview with Akash Bhatt
Read: Interview with Richard Pikesley
Read: Interview with Sumi Perera
Read: Interview with Peter Lloyd
Read / Watch: Linocut Printing: In the Studio with Anita Klein
Read / Watch: Relief Printing: In the Studio with Trevor Price
Read / Watch: Abstract Art: In the Studio with Lisa Traxler
January 25, 2022