Too much art, not enough space? You are not alone. No matter your budget, collecting and displaying art is a wonderful way to bring your home to life… But what do you do if your interior simply cannot accommodate all of it?
Well, firstly, you may need to adjust your mind-set – your home is capable of much more than you give it credit. Small-space living is becoming an increasingly common way of life, be it out of choice or necessity, and while it may be tricky to navigate maximising these spaces without making them feel cluttered, they offer lots of exciting opportunities alongside some unique challenges.
Smaller spaces are deceptively well suited to a growing art collection; they simply require a little extra creativity. Art is a great way to employ colour and design to trick the eye into perceiving a space as bigger than it is. A few cleverly curated paintings or prints can have a truly profound impact on even the tiniest of homes.
We have outlined some top tips for displaying your art when you are pressed for space.
Artwork: Sally McLaren RE, Song, carborundum. £1500 unframed. Enquire.
1. Don't be afraid to go big.
Small-space living doesn't have to mean small-scale everything. It is a common misconception that only large spaces can accommodate large artworks!
Large pieces of art feel luxurious in small rooms, helping to define the space (particularly in an open-plan layout) and make a room seem bigger than it is. As opposed to large-scale statement furniture, which can easily overwhelm a small room, a large piece of artwork provides that same impact without taking up valuable floor space.
Of course, the other benefit of large-scale art is that it keeps things nice and simple. If you are feeling overwhelmed at the concept of curating lots of different artworks, one large piece is all you need to liven up the space and leave a lasting impression.
Consider adding a statement piece somewhere prominent and visible, for example front and centre in your living room or above your dining table or mantelpiece to anchor the space.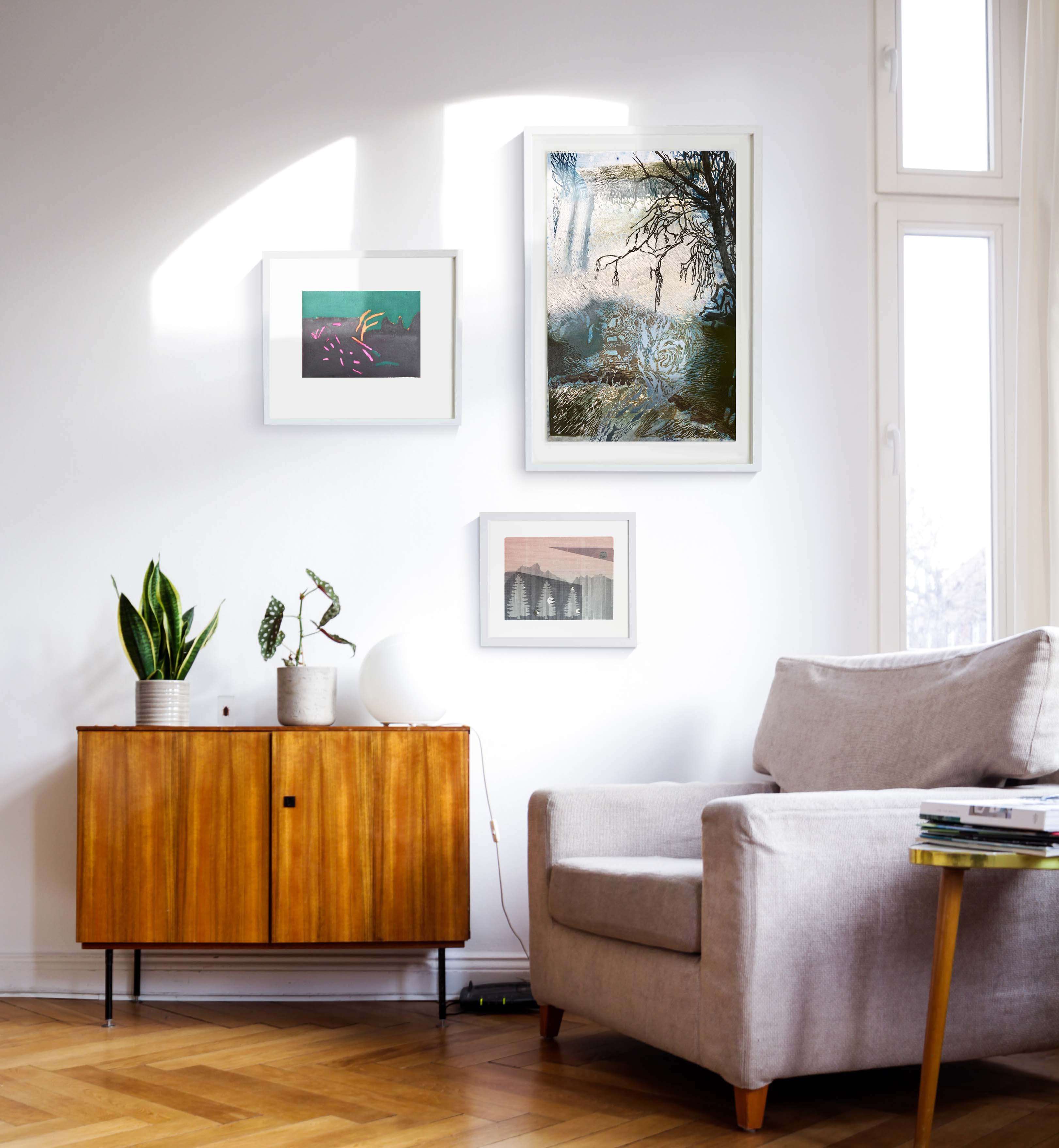 Left artwork: Ursula Leach RE, Winter Hedge, carborundum & hand painting. £470 framed £400 unframed. Enquire.
Top right artwork: Julia Manning RE, West Lydford Weir, Memories of Picnics, Paddling with Nets and Wild Swimming, woodcut, linocut & stencils. £950 framed £750 unframed. Enquire.
Bottom right artwork: Sharon Lee RE, Blade Change, lithograph with chine collé. £360 framed £280 unframed. Enquire.
2. Have fun mixing up scales.
If you are feeling a little braver and would like to display multiple artworks together, make sure to have fun playing with the shape and scale – hanging large and small pieces together creates an immense amount of visual interest, and adds balance and depth to a room. This style of hang is typically known as a 'gallery wall' or 'salon style' hang.
In small spaces in particular it is important to concentrate these clusters in specific areas or zones, giving them focus and purpose (rather than letting them sprawl out across the entire wall). This will help to add dimension to your space without it feeling chaotic or cramped. If you are a bit lost on where to hang your gallery wall you can use your furniture as a tool for zoning, for example displaying the artworks directly above your sofa or bed. Read more top tips for curating your own gallery wall here!
It goes without saying that this method also allows you to really make the most of whatever wall space you have, so it is a good option for anyone with limited space and an ever-growing art collection.
3. Or keep things symmetrical…
For those of you that love a cluster wall, but are craving a little symmetry, you can also opt for a more clean and uniform layout using similar sized and shaped works. A neat grid layout is very well suited to compact spaces and can read as one large piece of artwork. Make sure that the works you use have matching frames for maximum impact!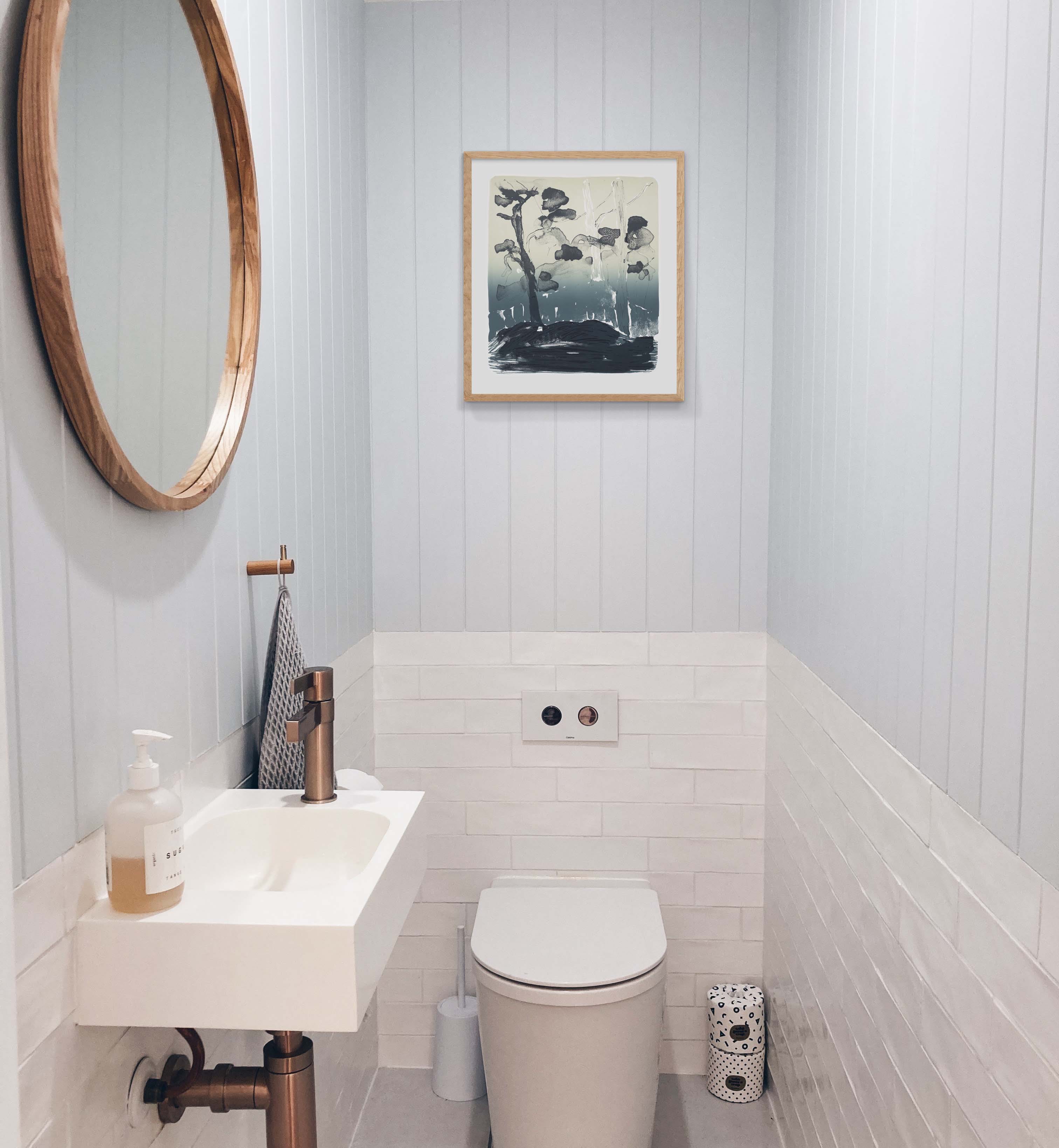 Artwork: Danielle Creenaune ARE, Near Ground, lithograph. £540 framed £420 unframed. Enquire.
4. Utilise unexpected and unarticulated spaces.
When living in a small space it's important to utilise all of the space that you have. Instead of limiting yourself to the typical places, why not hang your art in more unconventional places like bathrooms, kitchens and awkward nooks? Don't look at this as purely a solution to a lack of space – it's exciting to showcase art where you would least expect it, and an opportunity to let loose and have fun.
5. Be clever with white space.
When curating the art in your home, the blank or white space is almost as important as the art itself. As great as it is to have lots of interest in a room, you also want to give the eye some clear resting space.
While there is no right or wrong way to display your art, there are some basic rules of thumb that you can follow. When hanging multiple works, spacing is key; we typically suggest around 5cm between small works, and 10cm between larger works. You can find out more about how to hang art from our in-house hanging specialist here.
It is about finding that balance; bare white walls can appear cold and characterless, while walls with no breathing space can easily become claustrophobic. Determining the perfect ratio of blank wall space to art will depend mostly on the scale and context of the space. If you are struggling to visualise, try tracing the works' outlines onto paper and cutting them out. Tape these cut-outs to the wall (making sure to use masking tape, or any other adhesive that will not damage the walls) in various arrangements until you have the perfect balance!
6. Work vertically.
Another sure-fire way to give the illusion of space is to display your works above eye level, or hang them vertically. This is particularly effective in the higher spaces in our homes, for example above door frames, and vertical spaces in our homes, for example between windows. By directing your gaze upward it gives an added sense of height and space to a room.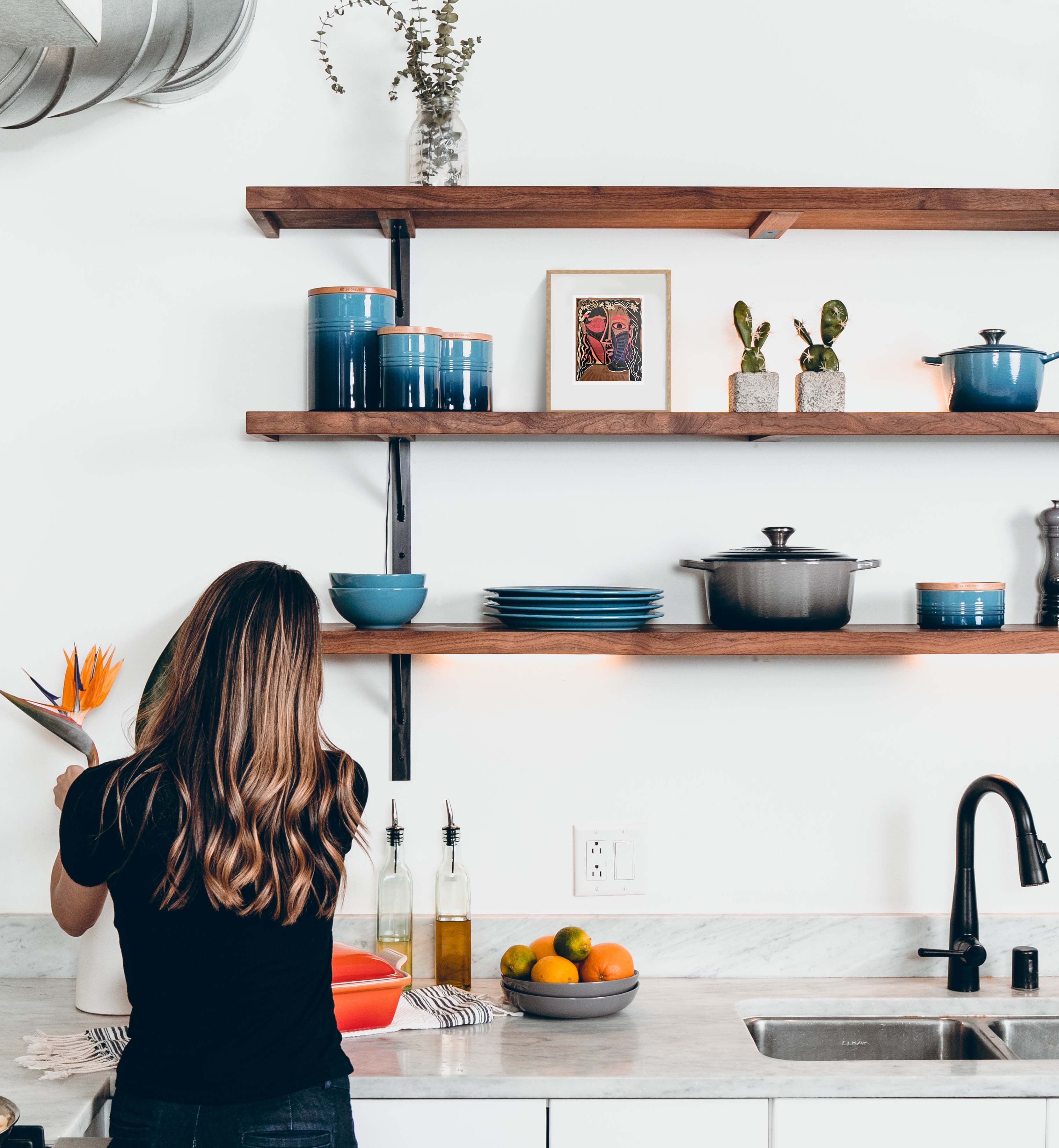 Artwork: Dale Devereux Barker RE, West Dean Picasso, linocut. £90 framed. Enquire.
7. Not all art need be on the wall…
Finally, a brilliant solution to dwindling wall space: don't hang art on the wall! Small artworks can simply be rested on any flat surfaces in your home; window sills, bookcases, dressers etc.
Bookcases, for example, take up lots of room. Such large furnishings command so much wall space, of course you're going to struggle to fit your art in elsewhere! If you can incorporate some of your art into the display of books, you will not only be solving your wall space conundrum but also curating little moments of intrigue – your shelving is transformed into a pretty fantastic art display.
Simple. Effective. No nails required.
---
All of the artworks featured in this article are currently on show in the RE Original Prints Exhibition 2022 at Bankside Gallery! You can find out more about the exhibition and browse the artworks here.
Feeling inspired? Be sure to check out our Online Store, which features brilliant original and affordable unframed works by members of the Royal Watercolour Society and Royal Society of Painter-Printmakers! All works are available to buy immediately and have delivered directly to your door.
More like this on the Blog…
May 4, 2022