It's no secret that art has the power to bring us joy - and there is no reason why this should be confined to the walls of a gallery or museum. Studies have proven that the visual arts have a transformative effect on both our mood and our surroundings, many showing that even the simple act of looking at art releases endorphins which help to combat stress and pain.


We put a lot of time, thought and energy into making our homes joyful and relaxing places to be, and art is usually - unsurprisingly - one of our first ports of call. But how do you go about finding and choosing art that is going to bring you joy?

We have outlined some tips for finding affordable, original art that makes you happy.


Artwork:
Richenda Court ARE
,
Band of Independence
, linocut. £290 unframed.
Enquire
.
1. Look for art that reflects your passions.
Consciously or unconsciously, the items that we gather over time say a lot about who we are and what we value. Our personal taste becomes a powerful form of expression, particularly when we embrace it and welcome it into our homes. This in turn can inspire thought and stimulate discussion; the very presence of artwork in a domestic setting opens the doors to sharing thoughts and impressions. This print entitled 'band of independence' is likely to appeal to someone with a musical streak, and is a lovely opportunity to reflect this passion and open discussions around it.


Artwork:
Anita Klein PPRE Hon. RWS
,
Balcony in Spring
, linocut. £750 unframed.
Enquire
.

2. Consider what atmosphere you want to achieve.
When it comes to decorating our homes, we will typically select paint colours and furnishings that help to create a desired atmosphere or aesthetic. There's no reason why it should stop there! Artworks establish and enhance the personality of a space. If you are looking to create a calming space to lift your spirits, for example, you can't go far wrong with this print by Anita Klein PPRE Hon. RWS showing a woman enjoying a quiet moment on her balcony in the sun. Perfection.


Artwork:
Gertie Young RWS
,
At the Villa
, gouache on card, £360 unframed.
Enquire
.
3. Dream of happy times.
Art can transport you to another place and time altogether - be that somewhere you know and love, or somewhere you have always dreamed of visiting. If you're on the hunt for the perfect artwork to bring you joy, try looking for seascapes and holiday-scenes that remind you of happy memories, or give you that little bit of escapism that you might need, say, on a drizzly Monday morning in January. This way, no matter the view from your own window, you'll always have something to gaze into for inspiration and hope for things to come.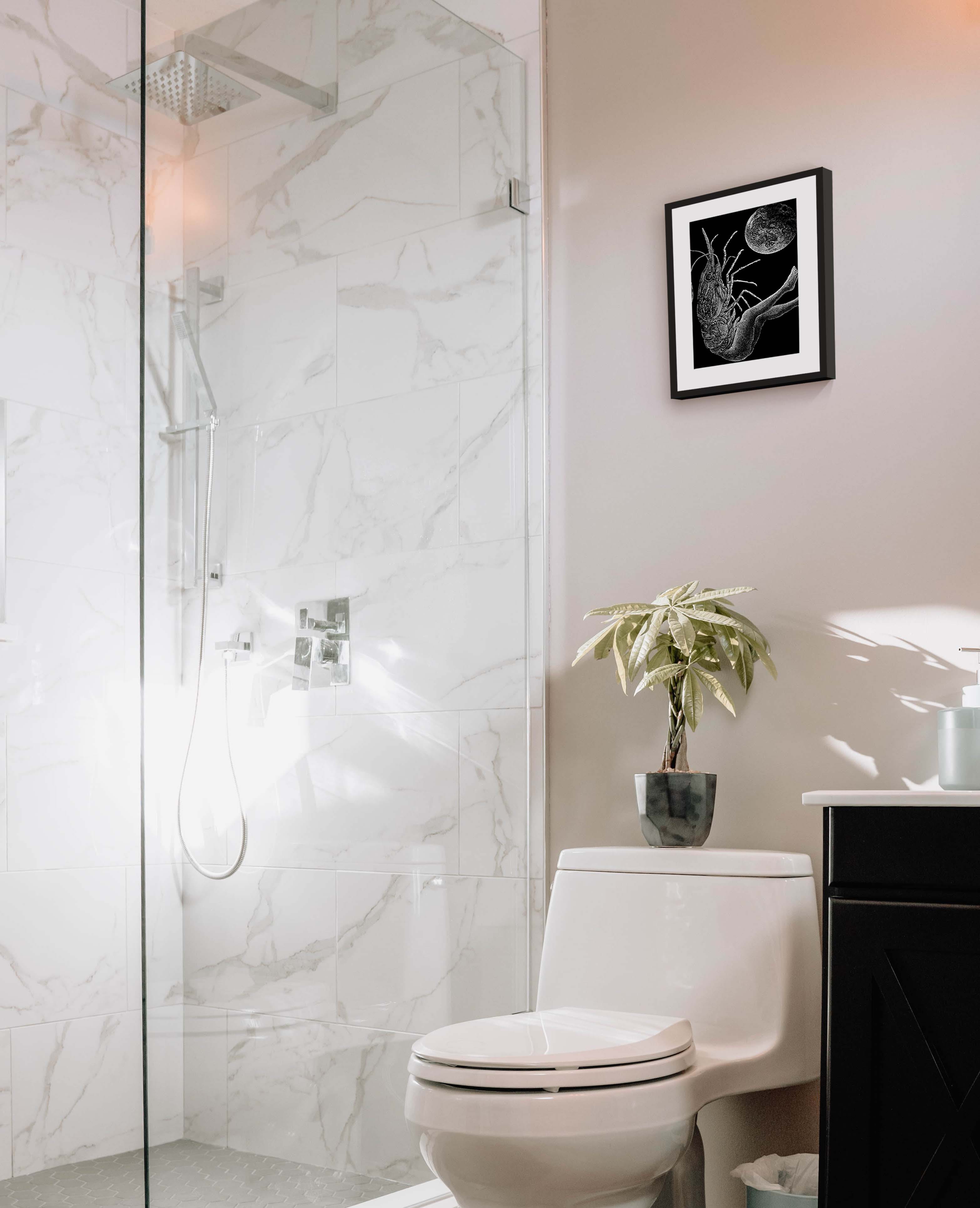 Artwork:
Raphael Appignanesi ARE
,
A Prawn Contemplating the Moon
, relief etching. £180 unframed.
Enquire
.
4. Look for art that makes you smile - or even laugh!
If you're someone that loves a good laugh, then why not reflect that in the art on your walls? Laughter is the best medicine, after all. This rather unusual image of a curious little prawn contemplating the moon is enough to put a smile on anyones face (particularly when found somewhere as unexpected as the bathroom).
Artwork:
Jill Leman PRWS
,
Anemones from St Ives
, acrylic. £450 unframed.
Enquire
.
5. Embrace the joys of small-scale art.
Not all art needs to be a huge statement piece. Small-scale artworks are often the perfect solution for tying a room together, brightening up a mantelpiece or articulating under-utilised spaces. This charming little painting by Jill Leman PRWS will ensure that you have a beautiful bouquet of flowers all year round - if that's not a mood-booster then we're not sure what is!
Artwork:
Mychael Barratt PPRE Hon. RWS
,
Made in London
, silkscreen & woodcut. £850 unframed.
Enquire
.
6. Don't overthink it, simply choose what lifts your spirits.
Ultimately, there's not always a clear logic to what artwork is going to bring you joy - perhaps a particular colour palette sings, you find the subject matter appealing or you relate to the underlying message of the work. Whatever it is, trust your gut.
Try not to overthink it; looking for original art is just as exciting as owning it, so don't deny yourself the opportunity to enjoy the process.
If the artwork appeals to you and instantly lifts your spirits, chances are you have found something that you would live alongside very happily.
---

Feeling inspired? Be sure to check out our Online Store, which features brilliant original and affordable unframed works by members of the Royal Watercolour Society and Royal Society of Painter-Printmakers! All works are available to buy immediately and have delivered directly to your door.
More like this on the Blog...
August 9, 2022